Bushnell Forge 8x42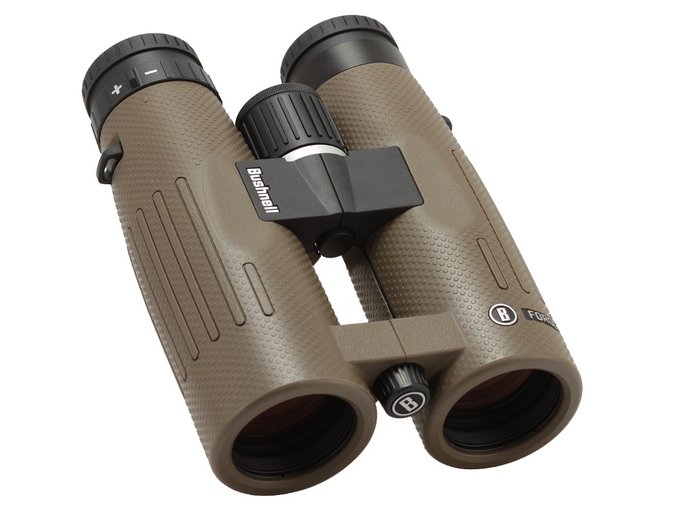 In 2018 the Bushnell company remade their binoculars line-up completely and the Forge series was one of the novelties, presented at that time. It consisted of four roof prism models with the following parameters: 10x30, 8x42, 10x42 and 15x56.
The appearance, build quality, and price of the Forge series are very similar to the Legend M line which one representative,
the 10x42 model
we've already had an opportunity to test. The construction of this pair of binoculars is based on Schmidt-Pechan roof prisms which are PC-3 phase coated. The reflective surfaces are covered by DPC (Dielectric Prism Coating) layers and all air-to-glass surfaces are coated by FMC layers (Fully Multi-Coated). In the optical path you find low dispersion ED glass.
The binoculars is compliant with IPX7 (can be immersed into water in the depth of 1 meter for up to 30 minutes) and are nitrogen purged.
Buyers get a joined cap for eyepieces, two objective caps with special fixing, a strap, a soft case, a hard case, a cleaning cloth and an additional harness. The binoculars come with lifetime warranty of the producer.
Manufacturer data
Magnification
Lens diameter
Angular field of view
Prisms
Eye relief
Weight
Price
8
42
142/1000(8.1o)
BaK-4/roof
19 mm
873 g
1699 PLN
Results of the review
Real front lens diameter
Left: 41.92+/- 0.05 mm
Right: 41.91+/- 0.05 mm
8 / 8.0 pkt
Real magnification
7.87+/- 0.05x
3/3.0
Transmission
85.4+/- 1%
13/25.0
Chromatic aberration
Very low in the centre and on the edge – an excellent result!
9/10.0
Astigmatism
Slight.
7.6/10.0
Distortion
Distance of the first curved line from the field of view centre compared to the field of view radius: 60% +\- 3%
7/10.0
Coma
Starts already at 60% of field of view and is approaching high values on the very edge.
5.1/10.0
Blurring at the edge of the FOV
Blur occurs in a distance of 77% ± 4% from the field of view centre.
5/10.0
Darkening at the edge the FOV
Moderate.
3.8/5.0
Whiteness of the image
Slight green-yellow hue.
4/5.0
Collimation
Perfect.
5/5.0
Internal reflections

| | |
| --- | --- |
| Left: | Right: |
| | |

Nice!
4.2/5.0
Housing
A long and big open hinge construction but, because of that, it is comfortable to hold and to look through. Objective lenses hidden in the casing over 1 cm deep. Comfortable thumb indents help with the handling. Good quality rubber armour, matt and rough which sticks out near objectives a bit. Comfortable, rubber, twist-up eyecups with 4 stops. Produced in China.
7.5/8.0
Focusing
Big, comfortable, rubberized and ribbed central wheel. Its full turn takes an angle of 580 degrees. It moves smoothly and is well damped, without any squelching. Individual focusing on the right eyepiece in a form of a movable ring with distinct ribs. It moves the outer element.
4.5/5.0
Tripod
There is a comfortable exit but at the front of the instrument, far from the gravity centre.
2/3.0
Interpupilary distance
from 55.5 to 73.9mm
4/6.0
Closest focusing distance
1.60 meters/
2/2.0
Eyepieces FOV
Apparent field of view of 62.6 deg (according to simple formula) and 57.4 deg (according to tangent formula).
12.5/20.0
Field of view
Measured by us amounted to 7.96 +/- 0.04 degrees and was by 0.14 of a degree narrower than stated in official specifications. A wide field for this class of equipment.
6.5/8.0
Quality of the interior of the barrels
Interior of tubes is dark, matted and ribbed. A clearly accented aperture visible several centimeters deep. Dark bottom, well matted. Very clean.
5/5.0
Vignetting

| | |
| --- | --- |
| Left: | Right: |
| | |

OL: 0.60%, OR: 3.61%
5.5/8.0
Prisms quality
High quality BaK-4.
8/8.0
Antireflection coatings
Pink on objectives, bluish-green on prisms, purple-pink-yellow on eyepieces. Medium intensity.
4.5/5.0
Warranty [years]
lifetime
6/6.0
Final result

75.1%

142.7 / 190 pkt
Econo result
0pkt.
Summary
Pros:
solid, well-made, waterproof casing,
good field of view,
sensational correction of chromatic aberration,
slight astigmatism,
sensible distortion correction,
lmoderate brightness loss on the edge of the field of view,
good colour rendering,
rich accessory kit,
dark areas near exit pupils,
perfect blackening and cleanliness inside the tubes,
high quality BaK-4 glass prisms,
high quality coatings,
sharp images already from 1.60 metres,
lifetime warranty of the producer,
very good price-performance ratio.
Cons:
truncated right exit pupil.
I have to admit, sometimes it seems the producers do read our reviews. When we tested the Bushnell Legend M, the direct predecessor of the Forge series, we noticed that front elements were positioned rather shallowly in the casing. It meant they were not only easier to damage or scratch but also the instrument could catch reflections caused by side light. When it comes to the Forge series the barrels were redesigned – now they look not only sturdier but are also longer and heavier. Because of that the outer elements are hidden about 1 cm deep in the casings.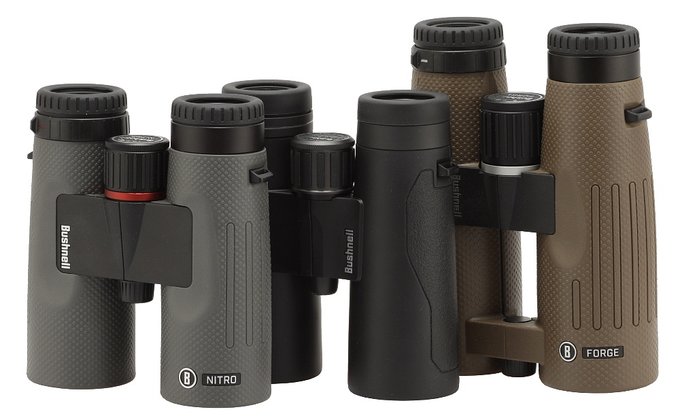 Bushnell Nitro 10x42, Bushnell Engage 8x42 and Bushnell Forge 8x42.
The final result of the Forge 8x42 in our test and also partial test results in particular categories show that the transition from the Legend M to Forge is rather an evolution than a revolution. Both pairs of binoculars correct astigmatism and chromatic aberration in a perfect way so their images in the field centre are of really high quality. Both instruments have some problems when it comes to coma and sharpness on the edge of the field and they feature truncated exit pupils, a flaw that shouldn't exist in a set of binoculars with these parameters.
We are also surprised by a slightly lower Forge model transmission value than that of the Bushnell Legend M. Over three percent mean a significant difference at this price-point. It is difficult to say what caused it: different coatings, differences in quality of particular specimens or the fact that we tested the 8x42 model, with a noticeably different optical construction than that of a 10x42 device.
As a kind of consolation we can mention the fact that the transmission didn't decrease much for blue and purple light, remaining well over 70% even on the ultraviolet border.
Still it should be noticed that transmission of over 85% at this price-point, well below 500 Euro, is not a slip-up but rather a typical value.
What's more, for about 400 Euro you really get a lot in terms of accessories. This very solid, stylish instrument, waterproof to boot, comes with a really rich accessory kit and excellent warranty conditions. The wide field of view and excellent results in many optical categories are also worth noticing. Overall, the Bushnell Forge 8x42 is a pair of binoculars which we highly recommend to anybody without any second thoughts.