Vortex Triumph HD 10x42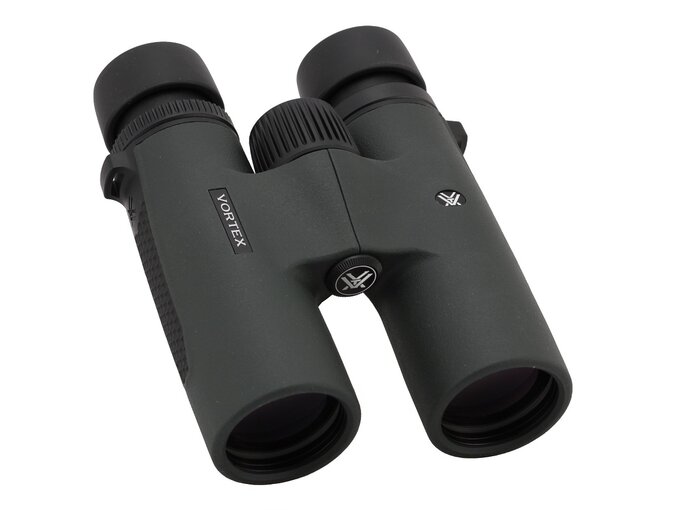 At the beginning of June 2023 the American Vortex company presented their newest pair of binoculars belonging to the entry-level price point. We think here of the roof prism Triumph HD 0X42 that, right after the launch, was offered for 149 USD.
The Vortex Triumph HD 10x42 provides a field of 6.4 degrees and its eye relief distance is 17 mm. Its optical system is closed in a stylish, sealed, waterproof barrel that is nitrogen-purged. The instrument weighs less than 650 grams.
The HD symbol in its name doesn't mean that low dispersion glass elements are present in the objective lenses. Still, the producers emphasize the fact that their optical system is optimized for the best correction of chromatic aberration.
Buyers get in the box with the binoculars: a case with a separate strap, a dedicated, wide strap for the binoculars, a cleaning cloth, instruction manual, and a set of caps for objectives and eyepieces. The product comes with a lifetime warranty of the producer.
Manufacturer data
Magnification
Lens diameter
Angular field of view
Prisms
Eye relief
Weight
Price
10
42
112/1000(6.4o)
BaK-4/roof
17 mm
649 g
479 PLN
Results of the review
Real front lens diameter
Left: 41.05+/- 0.05 mm
Right: 41.05+/- 0.05 mm
3 / 8.0 pkt
Real magnification
9.82+/- 0.05x
3/3.0
Transmission
76.6+/- 1%
8/25.0
Chromatic aberration
Medium in the centre, high on the edge.
3/10.0
Astigmatism
Moderate.
6/10.0
Distortion
Distance of the first curved line from the field of view centre compared to the field of view radius: 40% +\- 4%
4/10.0
Coma
Appears in a distance of 60% from the field centre and is a bit higher than medium on the very edge.
5.3/10.0
Blurring at the edge of the FOV
Blur occurs in a distance of 67% ± 4% from the field of view centre.
2/10.0
Darkening at the edge the FOV
Distinct.
2.8/5.0
Whiteness of the image
Surprisingly good. Transmission curve is quite flat, with a slight dip in the centre and a surplus of red light so images come with very delicate red colouring.
4/5.0
Collimation
Perfect.
5/5.0
Internal reflections

| | |
| --- | --- |
| Left: | Right: |
| | |

Areas near exit pupils are a bit too bright. Distinct false pupil. .
2.2/5.0
Housing
Both the appearance of the casing and the first handling make you think that you deal with a pair of binoculars several times more expensive. This impression remains even after taking a closer look. Rubber armour is of sensible quality, it sticks to the body of the binoculars properly well. You can't pull it off either near objectives nor on the barrel. Its smell isn't unpleasant, contrary to many other cheap binoculars. Tubes can be regulated properly well and with good resistance. Eyecups are big, rubberized, with three detention stops. The binoculars stick to your eye very well and is a joy to handle. The instrument was produced in China.
7.5/8.0
Focusing
Big, comfortable, and ribbed central wheel. Unfortunately it isn't properly damped, there are places where it turns very easy. Additionally, during focusing you can hear some squelching noises.Running through the whole range takes a turn through an angle of 590 deg. Dioptre correction done through a significant, ribbed ring on the right eyepiece. It moves smoothly, is properly damped, but it also moves the outer element.
3/5.0
Tripod
Accessible exit.
3/3.0
Interpupilary distance
from 54.1 to 75.8mm
5/6.0
Closest focusing distance
4.7 meters.
0.5/2.0
Eyepieces FOV
Apparent field of view of 62.1 deg (simplified formula) and 56.9 deg (tangent formula).
11.5/20.0
Field of view
Measured by us amounted to 6.23 ± 0.04 degrees and was just slightly narrower than stated in specifications. A sensible field for this class of equipment.
6.5/8.0
Quality of the interior of the barrels
Dark tubes, very smooth, without any ribs but not completely matt. Near the prisms blackening is a bit better, with a more matt surface, but still it's not very dark. Some apertures are visible. Bottom near the prisms is gray and matt. Surprisingly clean inside.
3.8/5.0
Vignetting

| | |
| --- | --- |
| Left: | Right: |
| | |

OL: 2.41%, OR: 0.67%
6/8.0
Prisms quality
Good quality BaK-4 glass.
8/8.0
Antireflection coatings
Greenish coatings on objectives and eyepieces. Prisms are very shiny and, most likely, are devoid of any anti-reflection coatings. In eyepieces we also found at least one air-to-glass surface that was more bright than the others and didn't colour beam of light. Medium intensity of coatings.
3/5.0
Warranty [years]
lifetime
6/6.0
Final result

59%

112.1 / 190 pkt
Econo result
0pkt.
Summary
Pros:
surprisingly solid and well-put-together barrel at this price-point,
moderate astigmatism,
proper colour rendering,
clean and sensibly blackened interior of the tubes,
good quality prisms made of BaK-4 glass,
rich accessory kit,
lifetime warranty.
Cons:
low transmission,
significant chromatic aberration,
fast decrease of image sharpness as you move away from the centre of the field,
truncated exit pupils,
casual attitude of the producers towards official declarations concerning the parameters of the binoculars.
A very casual attitude towards declared parameters is nothing new when it comes to the lowest price range binoculars and the Triumph is not an exception here. The diameters of its objectives are about 1 mm smaller than the declared 42 mm. Similar things can be said about its field of view and magnification but, fortunately, here the differences are slight. Strangely enough, Vortex also act to their disadvantage: both the producers and the Polish distributor state that the weight of the binoculars amounts to 649 grams, a typical value for 42 mm class instruments, nothing suspicious at all. Still, when we put the binoculars we got for testing on our scale the result was 596 grams. It makes the Triumph one of the lighter 10x42 instruments, available on the market.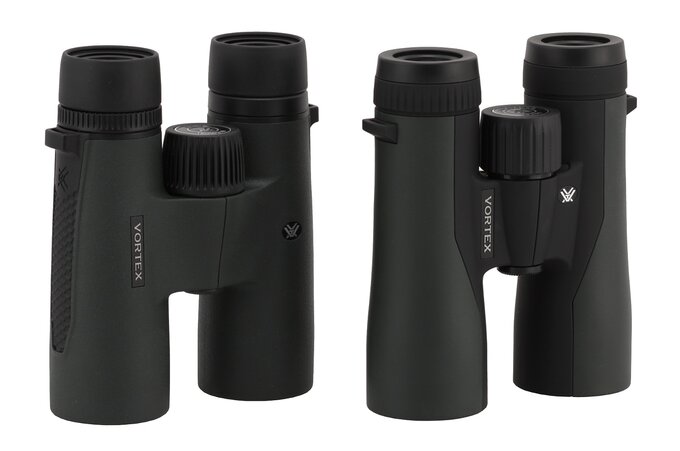 Vortex Triumph HD 10x42 and Vortex Crossfire HD 10x42.
Of course if you keep in mind the fact that this pair of binoculars cost less than 150 USD, you have to admit for such a sum of money you get a lot of advantages and very decent results. First of all, the Triumph looks and performs like a set of binoculars several times more expensive. You can't notice any traces of obvious economizing: build quality and the design are very good, the binoculars are functional, stylish, comfortable to handle and to look through.
Of course finer details are another story – blackening and ribbing of inner tubes could have been better, exit pupils could have been more round, and the area next to them – more dark. The central wheel could have been more precise, and the minimum focusing distance should be closer to 2-3 meters.
Savings can be observed also when it comes to the coatings. You deal here with the simplest, greenish multi-layer variant of them, with a significant dip in the centre of the visible spectrum. What's more, some optical elements inside the binoculars shine very brightly, suggesting that they are not covered by anything at all.
The result? Transmission doesn't exceed even 80% in the centre of the visible spectrum, a value that cannot impress anybody. Of course the Vortex should be also praised for its coatings and glass elements as they don't lose a lot light in blue and purple part of the spectrum so its colour rendering is more than decent.
Even several years ago the launch of the Triumph would be nothing special, something I would shrug off and move forward. Why? At that time such a piece of equipment would face very strong rivals like the Delta Optical Forest II or the Olympus EXPS-I. Times have changed, though, inflation being as it is, and the binoculars I mentioned here don't cost about 150 USD but significantly more than 200 USD. In such a situation the Vortex Triumph HD 10X42, with its price tag of 150 USD, fills a gap in the market very well indeed. With all its assets it is a quite interesting alternative especially if you don't want to spend more than 150 USD on a pair of binos.