Bushnell Legend M 10x42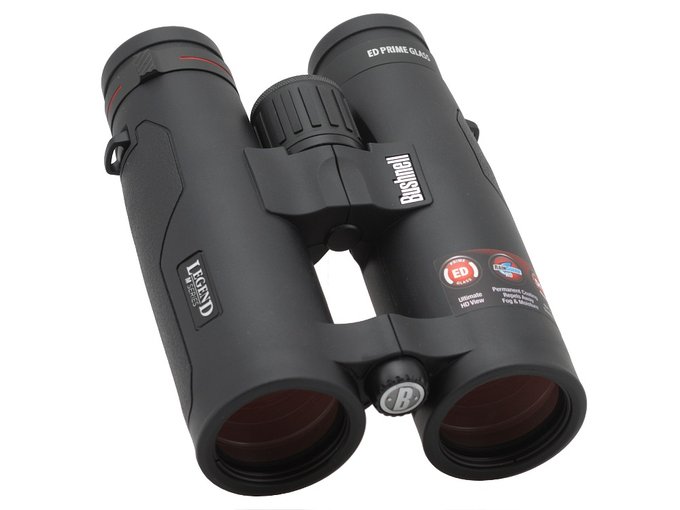 The Legend series produced by the American Bushnell company have been featured in their line-up for many years and in different variants. In 2015 they reorganized it and divided into as many as three lines, called Legend E, Legend L and Legend M. All of them include 8x42 and 10x42 models.
For our tests we managed to obtain the Bushnell Legend M 10x42. It is a roof prism device with Schmidt-Pechan prisms, dielectric and phase correction coatings. All air-to-glass surfaces are covered by Ultra Wide Band multicoatings. What's more, the outer lens surfaces are protected by hydrophobic RainGuard® HD layers.
The casing of the lens is made of magnesium composites and covered by high quality rubber armour. The body is waterproof and nitrogen-filled.
Buyers get two caps, a hard case, a soft pouch and a strap. The product comes with lifetime warranty of the producer.
Manufacturer data
Magnification
Lens diameter
Angular field of view
Prisms
Eye relief
Weight
Price
10
42
113/1000(6.4o)
BaK-4/roof
22 mm
751 g
1799 PLN
Results of the review
Real front lens diameter
Left: 42.05+/- 0.05 mm
Right: 42.05+/- 0.05 mm
8 / 8.0 pkt
Real magnification
10.06+/- 0.05x
3/3.0
Transmission
88.7+/- 1%
16/25.0
Chromatic aberration
Low in the centre, lower than medium on the edge.
8.2/10.0
Astigmatism
Negligible!
9/10.0
Distortion
The distance between the first curved line and the field centre compared to the field of view radius: 45% +\- 5%
5/10.0
Coma
Appears in a distance of 60-65% of the field of view radius and on the very edge is on a borderline between medium and high values.
5/10.0
Blurring at the edge of the FOV
Blur occurs In a distance of 82% ± 3% from the field of view centre.
6/10.0
Darkening at the edge the FOV
Noticeable.
3.2/5.0
Whiteness of the image
Very nice! The transmission curve is almost flat.
4.6/5.0
Collimation
Idealna.
5/5.0
Internal reflections

| | |
| --- | --- |
| Left: | Right: |
| | |

A slight arch next to the pupil. Overall quite well.
4.1/5.0
Housing
An open hinge construction, long and quite big but, because of that, comfortable to handle and to look through. Thumb indentations help as well. Rubber armour of good quality, mostly matt. It sticks out slightly near the objectives which are very shallow. Comfortable, rubberized eyecups with 3 stops.
7/8.0
Focusing
Big, comfortable central wheel with rubberized ribs. Its full turn amounts to 690 degrees. It moves smoothly and is well-damped, without any squelching. Individual focusing done through a slide ring on the right eyepiece. The ring is not ribbed at all and it moves the outer element.
4.3/5.0
Tripod
A comfortable tripod exit but at the front of the instrument, far from the mass centre.
2/3.0
Interpupilary distance
from 55.2 to 73.8mm
4/6.0
Closest focusing distance
1.85 metra.
2/2.0
Eyepieces FOV
Apparent field of view of 65.1 deg (according to simple formula) and 59.2 deg (according to tangnet formula).
14/20.0
Field of view
Measured by us amounted to 6.47 +/- 0.04 degrees and it was slightly wider than in official specifications. A big field for this class of equipment.
7.5/8.0
Quality of the interior of the barrels
The deeper part of the tubes and bottom are black, matt and well baffled. Tubes near the objective lenses are suspiciously light. They are revealed during the shift of the focusing element and perhaps somebody has forgotten they should be blackened as well.
3.9/5.0
Vignetting

| | |
| --- | --- |
| Left: | Right: |
| | |

OL: 2.50%, OR: 1.55%
Slightly truncated exit pupils.
5.5/8.0
Prisms quality
High quality BaK-4.
8/8.0
Antireflection coatings
Pink on objectives, bluish on the prisms, purple-pink-yellow on eyepieces. Medium intensity.
4.5/5.0
Warranty [years]
lifetime
6/6.0
Final result

76.7%

145.8 / 190 pkt
Econo result
0pkt.
Summary
Pros:
solid casing,
wide field of view,
good transmission,
sensibly corrected chromatic aberration,
negligible astigmatism,
very good colour rendition,
sharp images already from 1.85 metres,
good quality prisms made of BaK-4 glass,
good quality antireflection coatings on all air-to-glass surfaces,
proper cleanliness and blackening inside tubes.
Cons:

I have to state at once that the tested pair of binoculars made a very positive impression on me. It was obvious the producer did what they can to provide all the best. As a result their product is solidly made, put into a waterproof, magnesium composites casing, it comes with a wide field of view, a very comfortable eye relief, and really good quality coatings of every type (antireflection, dielectric, phase correction and hydrophobic as well). As a result the transmission graph and colour rendering are looking uncommonly good for a roof instrument costing around 300 USD.

The binoculars aren't exactly faultless but most of their flaws are not especially bothersome. Of course you would like to have more sharper edges of the frame, a lower level of coma and distortion but, with such a price tag, you shouldn't expect miracles.
In fact the only serious issue which might limit the number of the Bushnell Legend M prospective buyers is its size.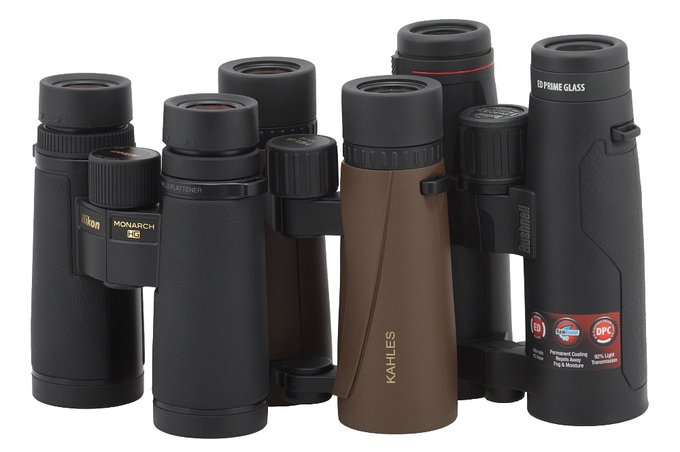 Nikon Monarch HG 10x42, Kahles Helia 10x42 and Bushnell Legend M 10x42.

In the photo above the Bushnell is positioned next to models produced by Nikon and Kahles we've tested not so long ago. Even though two other binoculars aren't exactly small, the Bushnell still is the biggest in the group.
Of course you have to remember you can't have everything. A small, lightweight, handy set of binoculars, optically perfect and with a price tag of 300 USD like the price of the Bushnell, most likely doesn't exist.