Swarovski CL Companion 8x30 B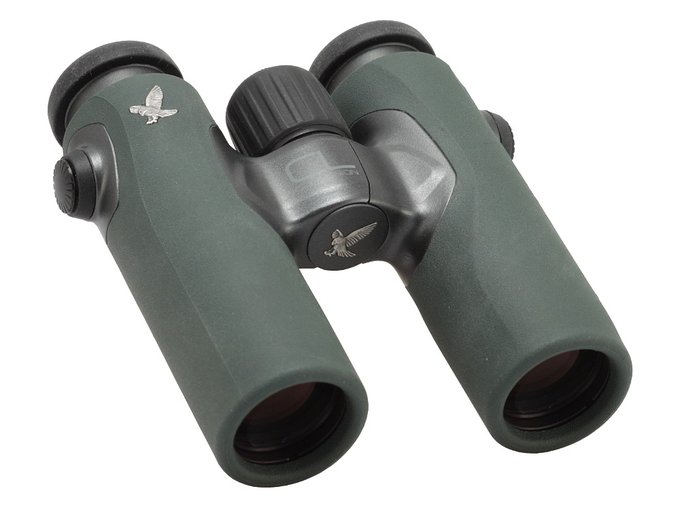 First specimens of Swarovski CL Companion binoculars were presented in May 2011 and, to be honest, I wasn't especially impressed. Used to high quality optics produced by Swarovski company I admit I was a tad disappointed by their optical properties and their fields of view were too narrow at least if you asked me.
In October 2017 the market was shown the successors of both models. Compared to the older pairs of binoculars their fields of view increased and now they amount to 7.6 and 6.2 for the 8×30 and 10×30 binoculars respectively. Their physical weight decreased as well and interpupilary distances increased. It seems all these changes went to the right direction; in the following chart you can also find a comparison between properties of new and old models.
The company boast of using high quality optics, Schmidt-Pechan roof prisms, and top-of-the-range SWAROBRIGHT, SWAROTOP, and SWARODUR coatings, which task is to maximize the transmission of the instrument. Additionally, the outer elements of objective lenses and eyepieces feature SWAROCLEAN layers. The binoculars are nitrogen-purged and waterproof.
It's worth adding that the standard box content doesn't include either a case or a strap - you have to buy them separately. While you can choose among three possible versions of the package, differing in colour and materials, their prices I found absurdly high – depending on the version you have to pay from 120 to less than 200 Euro. Taking into account the fact that for 200 Euro you can buy a quite sensible pair of binoculars with a strap, both caps and a case included, I think the Swarovski company is really over the top.
This series pairs of binoculars come with a 10-year warranty perriod.
Manufacturer data
Magnification
Lens diameter
Angular field of view
Prisms
Eye relief
Weight
Price
8
30
132/1000(7.6o)
BaK-4/roof
16 mm
490 g
3900 PLN
Results of the review
Real front lens diameter
Left: 30.2+/- 0.05 mm
Right: 30.2+/- 0.05 mm
8 / 8.0 pkt
Real magnification
7.99+/- 0.05x
3/3.0
Transmission
89.9+/- 1%
17/25.0
Chromatic aberration
Low in the centre but high on the edge.
4.5/10.0
Astigmatism
Very low.
8.6/10.0
Distortion
Distance of the first curved line from the field centre compared to the field of view radius: 90.8% ±2%
10/10.0
Coma
Appears in a distance of 75% of the radius from the field centre and is between low and medium on the very edge.
8.3/10.0
Blurring at the edge of the FOV
Blur occurs in a distance of 92.5% ± 3% from the field of view centre.
8.5/10.0
Darkening at the edge the FOV
Slight.
4/5.0
Whiteness of the image
Practically flat transmission graph in the range from 440 to 640 nm. A slight loss of purple light.
4.8/5.0
Collimation
Perfect.
5/5.0
Internal reflections

| | |
| --- | --- |
| Left: | Right: |
| | |

Leaves a lot to be desired.
3.8/5.0
Housing
Small and handy, comfortable to hold and to look through. It could have been even shorter as outer elements of objectives are hidden inside the tubes almost 1 cm deep. Matt rubber padding which sticks to your hands and is not slippery at all, with thumb indents. Rubberized eyecups move smoothly. Rubber padding near objectives sticks out slightly. Produced in Austria.
7.7/8.0
Focusing
Ordinarily-sized central screw which turns evenly with slight but still acceptable resistance. Full turn through an angle of about 580 degrees. Individual focusing done by depressing the centre of the screw. Nothing moves outside. No objections in this category.
5/5.0
Tripod
No tripod exit. In the 8x32 test all binoculars were given an average value of 1.5 points in this category as a tripod exit is rarely used in this class of equipment.
1.5/3.0
Interpupilary distance
from 54.8 to 75mm
5/6.0
Closest focusing distance
2.3 meters
1/2.0
Eyepieces FOV
Apparent field of view of 60.0 deg (according to simple formula) and 55.3 deg (according to tangent formula).
11/20.0
Field of view
Measured by us amounted to 7.51 +/- 0.04 degrees and was slightly narrower than the field stated in official specifications. A sensible field for this class of equipment.
6/8.0
Quality of the interior of the barrels
Inner tubes dark, matted, and ribbed. Dark gray bottom near the prisms. The casing of focusing element with the track, circular in cross section, and a screw are noticeably shiny. Very clean.
4/5.0
Vignetting

| | |
| --- | --- |
| Left: | Right: |
| | |

OL: 0.80%, OR: 0.70%
7/8.0
Prisms quality
Good quality BaK-4
8/8.0
Antireflection coatings
Yellow-greenish-pink on objectives and eyepieces. Yellow-green on prisms. Low intensity.
5/5.0
Warranty [years]
10
4.5/6.0
Final result

79.6%

151.2 / 190 pkt
Econo result
0pkt.
Summary
Pros:
very stylish, solid, waterproof casing,
good transmission,
flat field of view, pin-sharp practically to the very edge,
excellent colour rendering,
very low astigmatism,
slight coma,
negligible distortion,
slight brightness loss on the edge of the field,
good quality prisms made of BaK-4 glass,
efficient antireflection coatings,
sensible blackening and cleanliness inside the tubes
Cons:
high chromatic aberration on the very edge of the field of view,
neither a case nor a strap in the box,
sharp image only from 2.3 metres.
The Swarovski CL Companion 8×30 B, tested here, is already the second generation of this series; it is evident that the producer has drawn proper conclusions from mistakes made in the design of the predecessor. As the first series didn't manage to interest me at all, mainly because of too narrow field of view which, additionally, wasn't corrected according to my expectations, in the case of the new model everything went as it should.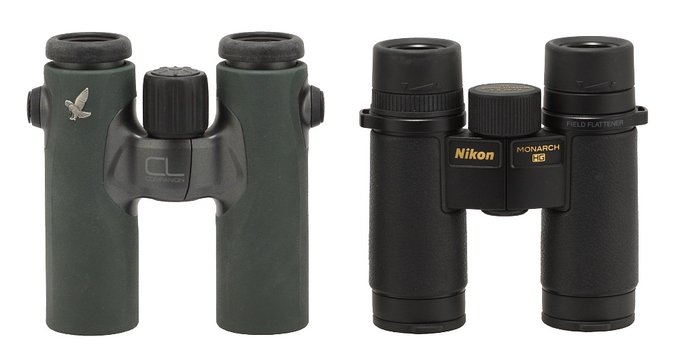 Swarovski CL Companion 8×30 and Nikon Monarch HG 8×30
As a result the new Swarovski CL Companion 8×30 B might be considered a shining example of how to construct a good pair of 8×30 binoculars. It has to be small, handy, and lightweight but solid. The optics inside should be of good quality. Of course such constructions cannot be cheap but no sensible person would expect that. Swarovski managed to achieve that much; taking it into account, the failure of the
Nikon Monarch HG 8×30
, a pair of binoculars which was launched after the Swarovski and was tested by us not so long ago, is especially surprising. When you are planning to launch a new model on the market you have to know how your direct rivals fare. If your merchandise is weaker and you try to sell it at a similar price, you are facing a possible market suicide.
Does the Swarovski have any flaws? Certainly, it's enough to glance at our 'cons' list. The lack of a strap and a case in the accessory kit I find simply bizzare. It seems like an unethical marketing trick – while the price of your pair of binoculars looks good when compared to prices of its direct rivals potential customers find out that they have to put up more money, roughly from 120 to 200 Euro, in order to get the whole set. I dread to think what will happen after a possible release of the third generation. Perhaps, tempted by the price of the binoculars, you will go to the shop only to find out that you have to purchase eyepieces with eyecups separately because they aren't included in the box...
Traditionally, the Swarovski's chromatic aberration on the edge is bothersome but, as it was present even in the better Swarovski EL Swarovision series instruments we didn't expect it would disappear in cheaper models.
Narrow tubes of the binoculars mean you can put them very close together. It makes observations from a small distance really comfortable, without the necessity of squinting. Still the Swarovski didn't make use of it because its minimal focusing distance amounts to as much as 2.3 meters. To be honest we expected a result of 1-1.5 meters.
Of course it's pointless to focus on the flaws which are neither numerous nor serious. The binoculars features more good points in important categories and it's a very well-done product. Overall,if you are looking for a small, lightweight and handy pair of binoculars which can resist many years of wear and tear, the Swarovski CL Companion 8×30 B is completely recommendable.