Bushnell Legend Ultra HD 8x36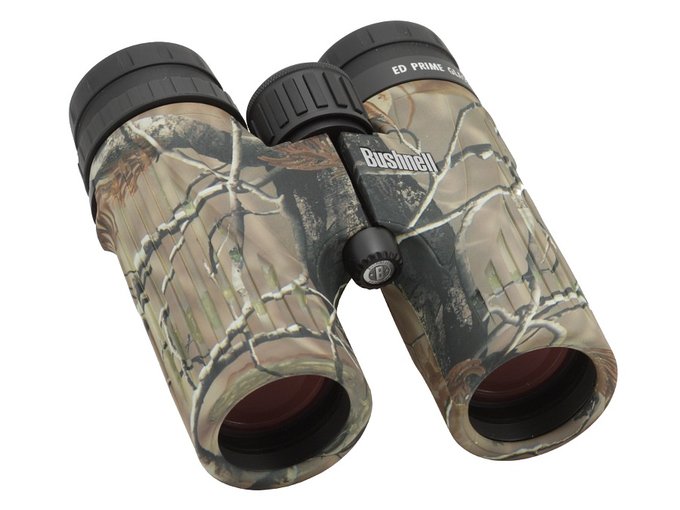 The American Bushnell company feature a very wide line-up of binoculars and somewhere in the middle of their price point range you can find a series called Legend Ultra HD which consists of models with the following parameters: 8x26, 10x26, 10x25, 8x36, 10x36, 8x42 and 10x42. First two of these pairs of binoculars are reversed Porro prisms, the rest are roof prism Schmidt-Pechan devices.
The producer boasts of using low dispersion ED glass, high quality antireflection coatings, and hydrophobic RainGuard HD coatings. The length of the warranty period is really impressive and you get a great accessory kit with every device.
Manufacturer data
Magnification
Lens diameter
Angular field of view
Prisms
Eye relief
Weight
Price
8
36
137/1000(7.8o)
BaK-4/roof
15.4 mm
582 g
1499 PLN
Results of the review
Real front lens diameter
Left: 36+/- 0.05 mm
Right: 36+/- 0.05 mm
8 / 8.0 pkt
Real magnification
7.86+/- 0.1x
3/3.0
Transmission
81.1+/- 1%
10/15.0
Chromatic aberration
Slight in the centre, noticeably lower than medium on the edge.
8/10.0
Astigmatism
Slight.
7.7/10.0
Distortion
The distance of the first curved line from the field centre compared to the field of view radius : 33% ± 4%
3/10.0
Coma
Appears in a distance of 65% of the field of view radius and on the very edge is near the high level.
5.1/10.0
Blurring at the edge of the FOV
The blur occurs in a distance of 69% ± 3% from the field of vision centre.
3/10.0
Darkening at the edge the FOV
Slight.
3.9/5.0
Whiteness of the image
Yellow-cream hue. The highest transmission for the red light (89.3%), the lowest for the blue light.
3.7/5.0
Collimation
Perfect.
5/5.0
Internal reflections

| | |
| --- | --- |
| Left: | Right: |
| | |

False pupil with medium intensity.
2.9/5.0
Housing
Very small and shapely for the 8x36 parameters. In fact it is more like an 8x32 model. The camo armour looks quite nice. Very comfortable to hold and to look through. Good quality matt rubber padding which sticks to your hands properly. The rubber is a bit too loose near the objective lenses and in different parts of the casing. Smooth regulation of eyecups. Produced in China.
7/8.0
Focusing
Comfortable, big central wheel with rubber ribs. Its full range amounts to 540 degrees. Individual focusing done by a ring on the right eyepiece which moves up and down. It moves the outer lens too.
4.5/5.0
Tripod
There is a comfortable access.
3/3.0
Interpupilary distance
from 56.4 to 73.6mm
4/6.0
Closest focusing distance
1.50 m.
2/2.0
Eyepieces FOV
Apparent field of view of 62.1 degrees.
7/10.0
Field of view
Measured by us amounted to 7.88 +\- 0.03 degrees and it was a tad wider than stated by the producer. A quite good field for this class of equipment.
6.5/8.0
Quality of the interior of the barrels
Tubes properly matted and blackened. A lot of apertures. Quite dark bottom. Some specks of dust.
4/5.0
Vignetting

| | |
| --- | --- |
| Left: | Right: |
| | |

OL: 2.78%, OR: 0.59%
5/8.0
Prisms quality
Good quality BaK-4.
8/8.0
Antireflection coatings
Green-red-purple on objectives, green on eyepieces, yellow-green on the prisms. Medium intensity.
4.5/5.0
Warranty [years]
30
5/6.0
Final result

72.8%

123.8 / 170 pkt
Econo result
0pkt.
Summary
Pros:
shapely, handy and physically light casing,
very efficient correction of chromatic aberration,
slight astigmatism,
moderate brightness loss on the edge of the field,
nice darkening of the interior of the tubes,
good quality prisms made of BaK-4 glass,
rich accessory kit,
long warranty period.
Cons:
significant distortion, sharpness on the edge could have been better.

Let us begin with some remarks concerning the appearance and the casing of the tested pair of binoculars. Usually I am not a big fan of camouflage versions but here I admit the binoculars made a very positive impression – they are nice and pleasing to the eye. The shapely, handy casing, comfortable to hold and to look through, even improved that feeling. What's more the binoculars is not bigger than your typical 8x30 or 8x32 class instruments but it manages to deliver respectively 44% and 27% of light more. The difference is really noticeable!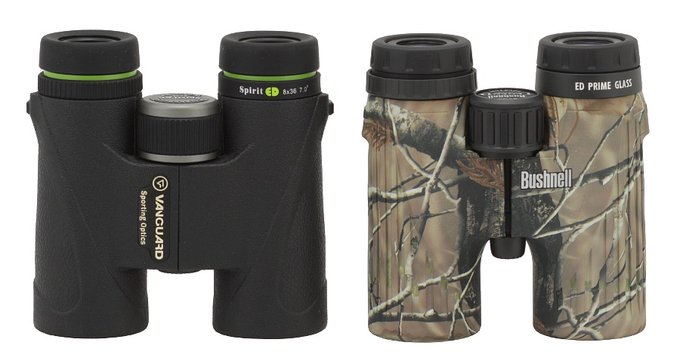 Vanguard Spirit ED 8x36 and Bushnell Legend Ultra HD 8x36.

What's more, good impressions don't disappear when you look through the binoculars. The proper combination of chromatic aberration correction and a slight level of astigmatism make the image in the centre very sharp and clear. The huge field of view provides exactly the comfort you should expect.
If you look closer, though, you can find flaws without any problems. First of all the edge of the field is not as sharp as you would like and it is additionally worsened by significant distortion. The transmission level could have been higher for this class of equipment. As a result, when you look at the price of this pair of binoculars, it might seem a bit too steep.
Still the overall score this device got in our test remains very good so the Bushnell Legend Ultra HD 8x36 should be considered a very well-done set of binoculars. It is recommendable especially to those who don't tolerate bad correction of chromatic aberration.