Swarovski Habicht 10x40 W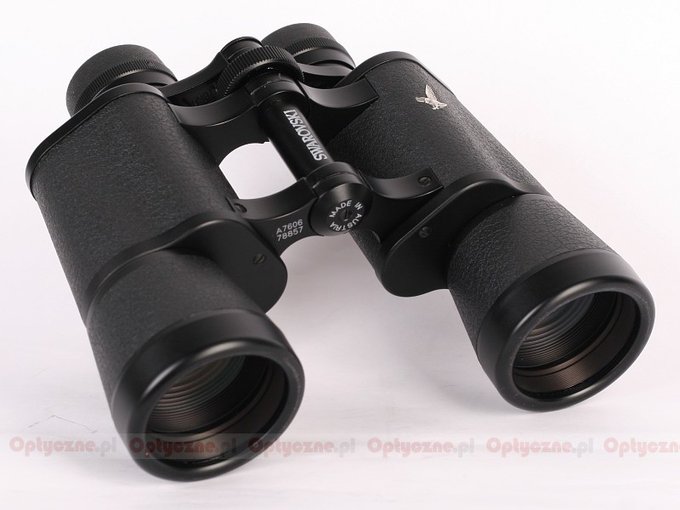 The Swarovski company doesn't have to be introduced. For several dozen years it has belonged to the world's top manufacturers of binoculars and spotting scopes. Its products are aimed mainly at hunters but they are also a great help to astronomers, ornithologists and ordinary tourists. The Habicht series, tested here, includes classic porro-prismatic models with the following parameters: 8x30, 7x42 and 10x40. Their mechanical-optical construction comes from the 40s of the twentieth century. Of course the quality of materials has changed since then. Among other things the highest class SWAROTOP and SWARDOUR coatings with reinforced durability were used (according to the producer after using these coatings the light losses on ona air-to- glass surface don't exceed 0.2%), the highest quality BaK-4 glass in prisms and additionally, the device was filled with nitrogen.
The 10x42 model sports eyepieces with as many as 6 elements which ensure a wide field of view and small dimensions of the whole instrument at the same time. We also get a classic 2-element objective lens.
The binoculars can work in the – 25 to +55 degrees C temperature range and be stored without any damage from –30 to +70 decrees C. They are splash-proof.
Manufacturer data
Magnification
Lens diameter
Angular field of view
Prisms
Eye relief
Weight
Price
10
40
108/1000(6.2o)
BaK-4/Porro
13 mm
690 g
3200 PLN
Results of the review
Real front lens diameter
Left: 40+/- 0.05 mm
Right: 40+/- 0.05 mm
8 / 8.0 pkt
Real magnification
10.5+/- 0.3x
2.5/3.0
Transmission
90+/- 3%
17.5/25.0
Chromatic aberration
Low in the centre and at the edge.
8.5/10.0
Astigmatism
Low.
7.9/10.0
Distortion
The distance of the first curved line from the field centre compared to the field of vision radius: 40% +\- 5%
4/10.0
Coma
Low.
6.9/10.0
Blurring at the edge of the FOV
The blur occurs in the distance of 77% +\- 3% from the field of view centre.
5/10.0
Darkening at the edge the FOV
Very slight.
4.8/5.0
Whiteness of the image
Perfect!
5/5.0
Collimation
Exemplary.
5/5.0
Internal reflections

| | |
| --- | --- |
| Left: | Right: |
| | |

Distinct and clear.
2/5.0
Housing
A classic! Beautiful, light and handy. Too small and not regulated eyecups are a flaw because you just "fall into the image" with your eyes. There are no caps for the objectives included.
6.1/8.0
Focusing
Quite narrow metal central screw whith a 480 degrees full turn. Comfortable work on the right objective. The bridge is stable, the objectives don't move sideways.
4.2/5.0
Tripod
There is a pipe to attach connector in the middle.
1/3.0
Interpupilary distance
from 47 to 75.8mm
6/6.0
Closest focusing distance
3.0 m.
1/2.0
Eyepieces FOV
Apparent field of view of 66 deg (according to simple formula) and 59.9 deg (according to tangent formula).
14/20.0
Field of view
Measured by us amounted to 6.28 +\- 0.03 degrees and was wider than in the specifications.
6.5/8.0
Quality of the interior of the barrels
Black and perfectly matt inner tube. Gray bottom but not very visible. Very clean!
5/5.0
Vignetting

| | |
| --- | --- |
| Left: | Right: |
| | |

Truncated exit pupils.
OL: 2.9%, OR: 1.5%.
5.5/8.0
Prisms quality
High quality BaK-4.
8/8.0
Antireflection coatings
Green-pink on objectives and prisms. Orange-green-pink on eyepieces. Low intensity.
5/5.0
Warranty [years]
30
5/6.0
Final result

76%


16th place in the overall ranking of the 10x42 binoculars test
144.4 / 190 pkt
Econo result
40th place in the econo ranking of the 10x42 binoculars test.
-2.4pkt.
Summary
Pros:
light, compact, handy and very stylish housing,
wide field of view,
perfect whiteness rendition,
chromatic aberration well corrected,
low astigmatism,
slight coma,
excellent quality of coatings and prisms,
negligible light fall-off at the edge of the field,
good transmission,
long warranty period.
Cons:
truncated pupils,
visible flares near the pupils,
distortion a bit too high,
very small eyecups which make the binoculars fall into your eyes.

This text won't be impartial at all because I must admit I am simply in love with the look of these binoculars, the way they lie in your hand, the way they smell… It is the classic look epitomized – just beautiful.
Writing here about too small eyecups, too high distortion or truncated pupils is like demanding from a 1966 Ford Mustang to comply with the contemporary requirements for emission of exhaustion fumes and to do 100 kilometers to five litres. It's not possible for the obvious reasons. For as obvious reasons the 60-year-old Habicht construction won't correct the distortion well and won't have a field of view sharp to the very edge but it is not the point, after all…
Have I already mentioned that this set of binoculars is beautiful? I think not. Let's say it, then. It is beautiful!
P.S. The binoculars are really beautiful!