Leica Ultravid 10x42 HD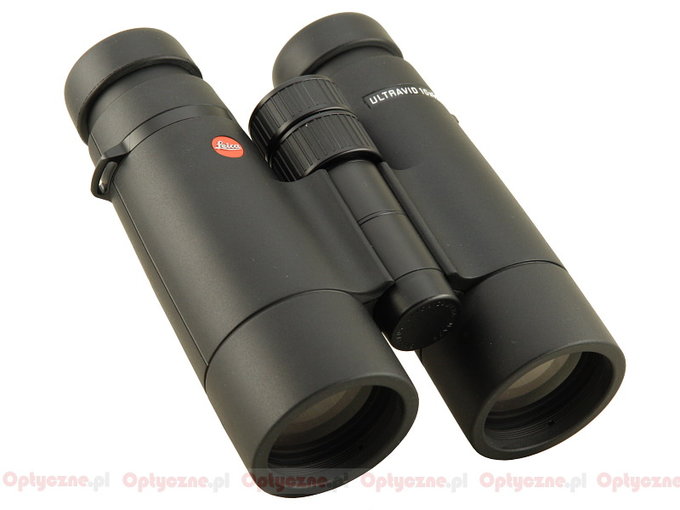 The Ultravid HD binoculars series was launched in 2007 substituting the Ultravid series. It consists of roof prism models with the objectives' diameters ranging from 20 to 50 mm. All these binoculars feature the Schmidt-Pechan prisms. To ensure a high transmission level they were covered by HighLux (HLS) dielectric coatings and additionally, by phase correction P40 coatings.
Compared to the previous version there are several differences – objectives are equipped with fluoride glass and there is better antireflection coating, which made it possible to increase the previous level of light transmission by at least a further 3%. Additionally the outer optical surfaces are covered by AquaDura coating which has water and dirt repelling properties, also making fingerprints, humidity and dirt particles much easier to remove.
The magnesium casing of the binoculars is covered by soft, matt rubber armour which is supposed to ensure a firm grip in all weather conditions. What's more, the binoculars are waterproof up to a depth of 5 meters and nitrogen-filled. The Ultravid HD binoculars can be used in the temperatures ranging from –25 to +60 °C. The buyer gets a neoprene strap, a Cordura case and joined eyepiece and objective caps in the box. This pair of binoculars comes with 10-year guarantee.
Manufacturer data
Magnification
Lens diameter
Angular field of view
Prisms
Eye relief
Weight
Price
10
42
112/1000(6.4o)
BaK-4/roof
16 mm
750 g
6900 PLN
Results of the review
Real front lens diameter
Left: 42.02+/- 0.05 mm
Right: 42.03+/- 0.05 mm
8 / 8.0 pkt
Real magnification
10.12+/- 0.05x
3/3.0
Transmission
88+/- 1.5%
15.5/25.0
Chromatic aberration
Low in the centre, noticeable on the edge.
6.7/10.0
Astigmatism
Negligible.
9.3/10.0
Distortion
The distance of the first curved line from the field centre compared to the field of view radius: 74% ± 3%
9/10.0
Coma
Appears in the distance of 75% of the radius from the field centre and is medium on the very edge.
7.6/10.0
Blurring at the edge of the FOV
The blur occurs in the distance of 81% ± 5% from the field of view centre.
6/10.0
Darkening at the edge the FOV
Almost imperceptible.
4.6/5.0
Whiteness of the image
Slight inclination of the transmission curve with the growing tendency toward the red part of the spectrum.
4.6/5.0
Collimation
Perfect.
5/5.0
Internal reflections

| | |
| --- | --- |
| Left: | Right: |
| | |

What's interesting, the result is noticeably worse than in the case of the 8x32 HD model. The background is not so dark.
3.4/5.0
Housing
One of the smaller 10x42 class binoculars. Solid and matt rubber armour. Nothing sticks out. Comfortable to hold and to look through. Rubberized eyecups with smooth regulation in the whole range. No reservations whatsoever.
8/8.0
Focusing
Comfortable central wheel which moves smoothly (the working range of 450 degrees); Individual focusing through click-stop on the central wheel. Nothing moves outside.
5/5.0
Tripod
Optional tripod adapter.
2/3.0
Interpupilary distance
from 54.2 to 75.8mm
5/6.0
Closest focusing distance
2.4 m
1.5/2.0
Eyepieces FOV
Apparent field of view of 64.4 deg (according to simple formula) and 58.7 deg (according to tangent formula).
13/20.0
Field of view
Measured by us amounted to 6.36 ± 0.04 degrees and, within the margin of error, was in accordance with specifications. Wide field of view for such a class of equipment.
7/8.0
Quality of the interior of the barrels
Black and matt inner tubes and the bottom. Some specks of dust on the prisms. On one part of the right prism very diminutive scratches.
3.9/5.0
Vignetting

| | |
| --- | --- |
| Left: | Right: |
| | |

OL 0.35%, OR: 0.50%
Truncated pupils but only very slightly.
7/8.0
Prisms quality
High quality BaK-4.
8/8.0
Antireflection coatings
Dark green on objectives and prisms, pink-orange on eyepieces. Low intensity.
5/5.0
Warranty [years]
10
4.5/6.0
Final result

80.3%

152.6 / 190 pkt
Econo result
0pkt.
Summary
Pros:
exceptionally solid and stylish casing, which is comfortable to hold,
good transmission,
excellent correction of astigmatism,
low coma,
slight chromatic aberration in the field centre,
very well-corrected distortion,
negligible brightness loss on the edge of the field,
high quality of prisms and coatings,
excellent blackening inside the tubes,
good whiteness rendering.
Wady:
a bit too high chromatic aberration near the edge of the field of view.
Leica binoculars are, by and large, in a class of their own. It would be foolish to expect a weak test result here. In the case of the Ultravid 10x42 model there were no serious slip-ups so a very high score, reaching almost 143 points, is nothing strange. What's interesting, though, even if you spend 2000 USD on the equipment of such a reputable producer as Leica you still don't have any guarantee that your set of binoculars will be the best in its class. Other top-of-the-range products of such rivals as Nikon, Swarovski or Zeiss can compete successfully with Leica and sometimes surpass it in terms of properties.
What sets the Leica apart then? Let's have a look at the following chart. Certainly its field of vision doesn't make it stick out because all other top models fit in the quite narrow range from 6.3-6.5 degrees. If you take into account the weight, though, you can find that the Leica is physically the lightest of all. The differences are perhaps not very big but still they can reach 50 grams. When it comes to physical dimensions only the Swarovski SLC HD can compete with the Leica – all other top pairs of binoculars are noticeably bigger.
We deal here with a similar situation as in the 8x32 class where Leica decided not only to implement the best optical properties but also tried very hard to produce a piece of equipment lighter and smaller than that manufactured by its most serious competitors. When it comes to optics, saving on weight and dimensions means always a compromise of a kind, influencing more or less optical properties.
At the end a short comparison between the tested binoculars and its earlier version, the Ultravid 10x42 model, tested by us before. The new HD series uses newer coatings which perhaps don't provide a significantly better transmission level but improve colour rendition. New coatings also make the cleaning of the outer elements easier. The field of view became slightly larger but, what's interesting, the chromatic aberration correction on the very edge of that increased field deteriorated. The distortion correction improved for a change. The final score of the new HD model is slightly higher and it would be even better if only Leica didn't shorten the guarantee period to 10 years.