Vortex Razor HD 10x42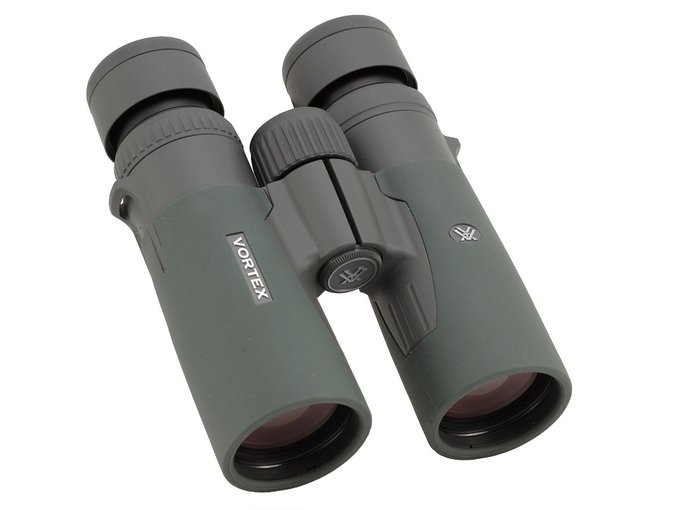 The Vortex Razor HD series was launched on the market in 2012 and not so long ago it represented the high-end, flagship line of that American producer. In 2019 it was suplemented by Razor UHD models but it remained in their product range.
The line consists of four roof prism binoculars and they are offered in the following versions: 8x42, 10x42, 10x50 and 12x50. As it used to be the top-of-the-range series the producer wasn't skimpy when it comes to the best technologies available. Like in the Viper HD series, you get low dispersion HD elements and the whole objective system corrects chromatic aberration in a better way because it got the APO marking, suggesting a fully apochromatic performance.
Of course you also deal with XR Plus Fully Multi-Coated layers on all air-to-glass surfaces. Additionally, you can find dielectric and phase-correction coatings on Schmidt-Pechan prisms. It's not all. The outer elements feature ArmorTek hydrophobic coatings which task is to make them scratch-free and also dirt and oil resistant.
The chasis is made of durable magnesium composites and padded with good quality rubber armour which is supposed to stick to your hands well. The binoculars are argon-purged and waterproof. Buyers get a set of caps, a strap, a stylish case and a harness in the box. The binoculars come with lifetime warranty of the producer.
Manufacturer data
Magnification
Lens diameter
Angular field of view
Prisms
Eye relief
Weight
Price
10
42
121/1000(6.9o)
BaK-4/roof
16.5 mm
703 g
3799 PLN
Results of the review
Real front lens diameter
Left: 42.15+/- 0.05 mm
Right: 42.15+/- 0.05 mm
8 / 8.0 pkt
Real magnification
10.11+/- 0.05x
3/3.0
Transmission
86.8+/- 1%
14/25.0
Chromatic aberration
Practically imperceptible in the centre, slight on the edge.
8.6/10.0
Astigmatism
Corrected in a sensational way – practically point-like images of stars.
9.7/10.0
Distortion
Distance of the first curved line from the field of view centre compared to the field of view radius: 46% ± 5%
5/10.0
Coma
Appears in a distance of 80% from the field centre and is slight on the edge.
8.7/10.0
Blurring at the edge of the FOV
Blur occurs in a distance of 92.5% ± 2% from the field of view centre.
8.5/10.0
Darkening at the edge the FOV
Slight.
4.1/5.0
Whiteness of the image
Very good. Flat transmission graph.
4.6/5.0
Collimation
Perfect.
5/5.0
Internal reflections

| | |
| --- | --- |
| Left: | Right: |
| | |

Relatively dark area near exit pupils.
4.1/5.0
Housing
Solid and shapely and really nice to look at – the designers did a great job because the binoculars are eye-catching, a round of applause. Very comfortable to hold and to look through. Good quality rubber armour which sticks closely to the housing and is just a little loose near objective lenses. Rubberized eyecups with four detention stops. Produced in China.
7.8/8.0
Focusing
Big and comfortable central wheel with ribs. Moves smoothly with slight but still acceptable resistance. Running through the whole range takes a turn through an angle of 570 degrees. A shifting, ribbed dioptre correction ring on the right eyepiece. It moves the outer element.
4.5/5.0
Tripod
A quite comfortable access.
3/3.0
Interpupilary distance
from 54.3 to 74.1mm
5/6.0
Closest focusing distance
1.55 meters.
2/2.0
Eyepieces FOV
Apparent field of view of 67.0 deg (according to simple formula) and 60.7 deg (according to tangent formula).
14.5/20.0
Field of view
Measured by us amounted to 6.63 +/- 0.05 degrees and it was a bit narrower than stated in official specifications. A quite large field for this class of equipment.
6.5/8.0
Quality of the interior of the barrels
Inner tubes strongly ribbed, dark and well-matted. Areas around prisms are dark but the cell comprising them is not covered by anything. Slight specks of dust.
4/5.0
Vignetting

| | |
| --- | --- |
| Left: | Right: |
| | |

OL: 6.9%, OR: 3.6%
2.5/8.0
Prisms quality
Good quality BaK-4.
8/8.0
Antireflection coatings
Yellow-pink on objectives, yellowish on prisms, purple-green-yellow on eyepieces. Low intensity.
5/5.0
Warranty [years]
lifetime
6/6.0
Final result

80.1%

152.1 / 190 pkt
Econo result
0pkt.
Summary
Pros:
shapely, solid, and stylish chasis made of magnesium composites,
wide field of view,
sensational correction of astigmatism,
very low chromatic aberration,
slight coma,
moderate brightness loss on the edge of the field,
sharp image up to over 90% of the field,
very good colour rendition,
high quality coatings,
good quality prisms made of BaK-4 glass,
minimum focusing distance from already 1.55 metres,
lifetime warranty,
dark areas around exit pupils,
good blackening of interiors of the tubes.
Cons:
Seldom we write about the appearance of a pair of binoculars in our tests – after all the matter is very subjective, depending on your particular tastes. Sill in this case I couldn't stop myself because let's face it, the design of the Razor HD 10x42 suits me perfectly. In my humble opinion the person responsible for the design of the chasis did a great job. The binoculars are not only a joy to look at but they are also ergonomic, very comfortable to hold and to look through, with great, well-balanced dimensions. Their real weight is even a bit lower than stated in specifications, amounting to 698 grams. Add to that a 148x128 mm chasis and you get a winning combination.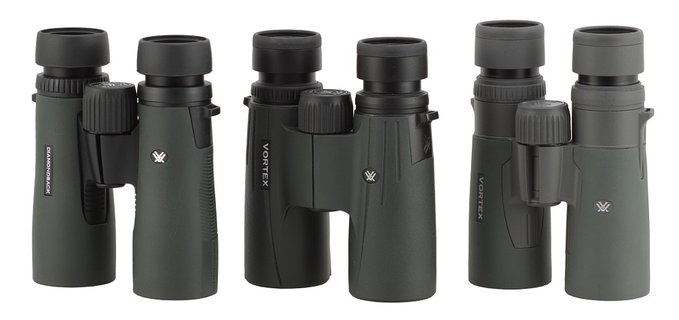 Vortex DIamondback 10×42, Vortex Viper HD 10×42 and Vortex Razor HD 10×42.
When it comes to the optics, let's starts with the disadvantages. The appearance of exit pupils, definitely more truncated than they should be, is an evident flaw. It seems the specialists focused too much on slender casing and, as a result, there was not enough space inside for big, non-vignetting prisms.
That's all, I suppose. If I wanted to carp a bit I would also mention the maximum transmission level which graph you can find below.
A value of 87% is perhaps not that bad but at the 1000 USD price point you would like to get something closer to 90%. Fortunately the graph remains quite flat so colour rendition is very natural, not providing any reasons to complain.
In the rest of our testing categories the binoculars fared well at least, exceedingly well from time to time. We were especially pleased with its sensational astigmatism and chromatic aberration correction – the claims of the producers about apochromatic system weren't just empty promises. Additionally, with a quite large field of view, they managed to curb coma and brightness loss on edges. What's more, that big field is sharp in over 90% of its surface, no mean feat.
Add to that proper blackening inside the tubes, dark areas around exit pupils, general cleanliness and high quality coatings and you get an instrument with really impressing number of assets.
Overall, we can say without hesitation that the Vortex Razor HD 10x42 is an excellent piece of equipment and a serious rival for such models as the Zeiss Conquest HD 10x42 or the Nikon Monarch HG 10x42, designed by very renowned producers.