Vortex Viper HD 10x42 (2018)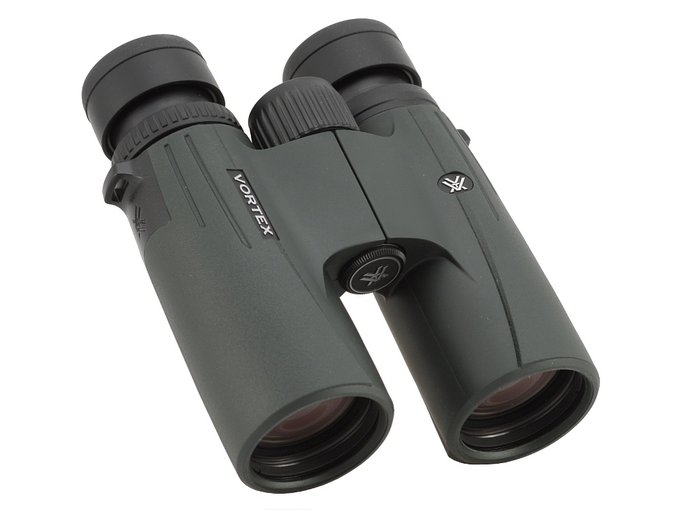 The 10×42 representative of the Vortex series, launched on the market in 2006, was actually one of black horses of our big test of different 10x42 binoculars.
In 2011 that series was modernized and its successors were called the Viper HD line; one of them we have tested and praised it a lot – we mean here the 10x42 instrument .
Year 2018 brought another change – the binoculars were given a completely new optical constructions and the number of models in that particular line-up decreased to four devices with the following parameters: 8×42, 10×42, 10×50 and 12×50.
In the case of the 10×42 model we noticed both positive and negative changes. The field of view increased from 6.1 to 6.5 degrees and the eye relief distance - from 16.5 to 17 mm, which was good. Unfortunately, the minimum focusing distance was lengthened from 1.7 to 2.0 meters and the binoculars were made bigger and heavier at the same time. Still, the producers didn't raise the price with the launch of new models, a rare occurence nowadays.
The manufacturers boast of using low dispersion HD glass and XR Fully Multi-Coated layers on all air-to-glass surfaces. Additionally, the Schmidt-Pechan prisms are also covered by dielectric and phase-correction coating. The outer elements are protected by hydrophobic ArmorTek layers which are supposed to make them scratch-resistant and prevent dirt and grease from sticking to the glass.
The casing of the binoculars is waterproof and argon filled. Buyers get a full set of caps, a strap, a stylish carry case and a chest harness. The product comes with a lifetime warranty of the producer.
Manufacturer data
Magnification
Lens diameter
Angular field of view
Prisms
Eye relief
Weight
Price
10
42
114/1000(6.5o)
BaK-4/roof
17 mm
705 g
2149 PLN
Results of the review
Real front lens diameter
Left: 42.01+/- 0.05 mm
Right: 42+/- 0.05 mm
8 / 8.0 pkt
Real magnification
10.06+/- 0.05x
3/3.0
Transmission
81.4+/- 1%
10/25.0
Chromatic aberration
Low in the centre, a bit higher than average on the edge.
7.1/10.0
Astigmatism
Negligible
8.8/10.0
Distortion
Distance of the first curved line from the field of view centre compared to the field of view radius: 46% ±3%
5/10.0
Coma
Starts already at 75% of field of view and is a bit higher than average on the very edge
7.4/10.0
Blurring at the edge of the FOV
Blur occurs in a distance of 89% ± 3% from the field of view centre.
8/10.0
Darkening at the edge the FOV
Very low.
4.3/5.0
Whiteness of the image
A dip in the transmission graph for green light so the images have a slight orange hue.
4/5.0
Collimation
Perfect.
5/5.0
Internal reflections

| | |
| --- | --- |
| Left: | Right: |
| | |

Bright arches near the exit pupil
3.5/5.0
Housing
Solid and comfortable to hold and to look through. Good quality rubber armour which sticks to your hands properly well but sticks out near objective lenses a bit. Rubberized, twist-up eyecups with four stops. Produced in China.
7.5/8.0
Focusing
Big, comfortable central wheel which performs as it should. Its full turn takes an angle of 520 degrees. Individual focusing on the right eyepiece in a form of a comfortable ring. It moves the outer element.
4.5/5.0
Tripod
A quite comfortable access
3/3.0
Interpupilary distance
from 55 to 74.8mm
5/6.0
Closest focusing distance
1.90 meters.
2/2.0
Eyepieces FOV
Apparent field of view of 66.9 deg (according to simple formula) and 60.6 deg (according to tangent formula).
14.5/20.0
Field of view
Measured by us amounted to 6.65 ±0.04 degrees and it was even a big wider than stated in official specifications.
7.5/8.0
Quality of the interior of the barrels
Inner tubes are dark, sensibly matted and intensively ribbed. Dark bottom; only a narrow rim around prisms sticks out a bit because it is too brigh. Very clean inside!
4.5/5.0
Vignetting

| | |
| --- | --- |
| Left: | Right: |
| | |

OL: 2.3%, OR: 1.1%
5.5/8.0
Prisms quality
Good quality BaK-4.
8/8.0
Antireflection coatings
Green-yellow-purple on objectives , yellow-green on prisms and greenish on eyepieces. Low intensity.
5/5.0
Warranty [years]
lifetime
6/6.0
Final result

77.4%

147.1 / 190 pkt
Econo result
0pkt.
Summary
Pros:
solid and stylish casing,
wide field of view,
excellent astigmatism correction,
good correction of chromatic aberration,
slight coma,
image sharpness kept almost across the whole field of view,
very low light fall-off on the edge of the field,
good quality BaK-4 prisms,
proper blackening and cleanliness inside the binoculars,
lifetime warranty.
Cons:
too low transmission at this price point,
slightly truncated exit pupils.
The Vortex company made a move which is rarely followed at this price point – they didn't raise the price of their new product and significantly enlarged the field of view when compared to the predecessor, taking care of its proper correction at the same time. That's why there aren't even slightest problems with astigmatism, coma, chromatic aberration, and light fall-off. The sharpness is on a very high level in almost 90% of the field of view, a result is a bit weaker than in the previous model, and the distortion is corrected not as well too, but they are the price worth paying because you gain a lot when it comes to other aspects of this pair of binoculars.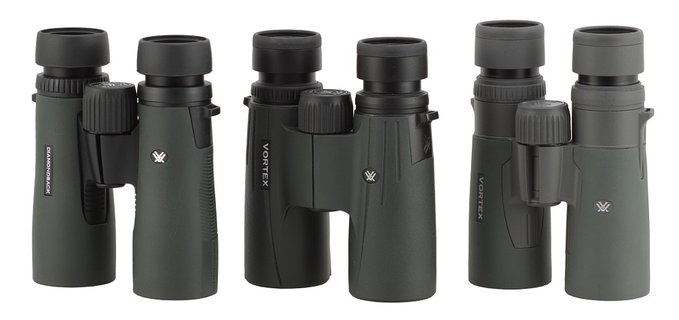 Vortex DIamondback 10×42, Vortex Viper HD 10×42 and Vortex Razor HD 10×42.
There are still three steps backwards to be described. A slight worsening of the minimum focusing distance I am willing to forgive – the current value of about 1.9 meters is still not so bad. An increase of weight and physical dimensions is also nothing I would worry about – the binoculars still perform as your ordinary 10×42 instrument and it can be placed more or less in the middle of the whole group.
It seems the transmission remains its biggest problem and the appropriate graph we present below.
The notable increase of field of view is connected to new eyepieces which optical design is certainly more complex than the design of eyepieces of the predecessor. We don't know how the prism and objective lens construction has changed but, judging by the fact that the length of the binoculars increased from 146 to 168 mm so quite a lot, we can assume that there have been changes and there are more glass elements inside.
More air-to-glass surfaces and more glass in general mean higher standards when it comes to transmission. We didn't expect the new model might exceed significantly the high 89.4% level, reached by its predecessor. On the other hand, we didn't expect such a distinct worsening of performance either. The level we got, 81.4%, is something we could tollerate in a roof prism priced around 100 Euro, not in the segment the Vortex Viper aspires to.
Point loss connected to weak transmission and colour rendering made the final result of the new Vortex a bit lower than the result of its predecessor but still it has to be said such a number of points is better than the performance of such pairs of binoculars as, for example, the Olympus PRO 10×42, the Meopta Meostar B1 10×42 HD, the Kahles Helia 10×42, or the Delta Optical Titanium 10×42 HD. As you see, in that price-quality segment we are really spoiled for choice but I think the new Viper, like its predecessors, will make itself comfortable in there.