Completly new Nikon EDG binoculars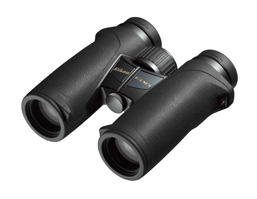 In March 2008 Nikon announced new EDG series of binoculars. They never appeared in shops in Europe. Today Nikon announced the launch of the new and redesigned EDG 8x32, 10x32, 7x42, 8x42 and 10x42 binoculars.
Press release
Nikon Vision Co., Ltd., a subsidiary of Nikon Corporation, is pleased to announce the launch of the new EDG 8x32, 10x32, 7x42, 8x42 and 10x42 Binoculars. The EDG Binoculars will be released shortly.
The EDG brand was born of Nikon's commitment to providing a premium line-up of the finest instruments in the field of sport optics.
Thanks to Nikon's many leading-edge optical technologies—including our ED glass, dielectric high-reflective multilayer prism coating and advanced multilayer coating—these exceptional products are able to deliver a spectacular field of view.
Key Features
Nikon's legendary ED (Extra-low Dispersion) glass lenses
Nikon's legendary ED (Extra-low Dispersion) glass lenses effectively compensate for chromatic aberrations to provide images of superior contrast and outstanding resolution.
Field flattener lens system
Nikon's field flattener lens system technology minimizes curvature of the field—aberrations that occur when focusing on the center of the field of view causing the periphery to go out of focus and vice versa—and delivers sharper, clearer images all the way to the lens periphery.
Dielectric high-reflective multilayer prism coating
Dielectric high-reflective multilayer coating is applied to a roof prism that does not feature total internal reflection. This boosts light reflectivity of more than 99% (designed value) for the full visible range, giving you clearer whites and a sharper, brighter, more natural vision across the entire field of view.
Phase-correction coating
Phase shift of light is caused by phase differences arising from total light reflection on a roof (Dach) surface. Phase-correction coating is applied to the surface to minimize loss of resolution, ensuring high-contrast images.
Brighter images, even at twilight
Advanced multilayer coating is applied to all lenses and prisms to increase light transmission and to reduce flare and ghosting for super-bright, razor-sharp images, even at dawn and dusk.
Eco-glass optics, environmentally safe materials
All lenses and prisms are free of lead and arsenic.
Dual focus knob with diopter adjustment
Larger focus knob for easy operation Pull out to adjust diopter (left), push in to focus (right).
Turn-and-slide rubber eyecups facilitate easy positioning of eyes at the correct eyepoint
For non-eyeglass wearers, use the eyecups in the extended position. For eyeglass wearers, use them fully retracted. Eyecups can be adjusted to any of four click stops, offering fine adjustment that meets your needs.
High-eyepoint design for a clear field of view, even for eyeglass wearers

Horn-shaped detachable eyecups
Ergonomically designed horn-shaped eyecups block peripheral light to give you a clearer field of view.
Comfortable, ergonomically designed strap
Designed for comfort, even during long days of use The strap length is easily adjusted without having to remove it from your neck.
Short bridge style for easy grip
Durable design
Sturdy, lightweight die-cast magnesium alloy body
Waterproof (up to 5 m/16.4 ft. for 10 minutes)
Waterproof/fogproof construction features a nitrogen-filled body with O-ring seals.