Nikon Prostaff 7s 8x30
The Prostaff 7s series, produced by Nikon, was launched in 2014; it consists of four roof prism Schmidt- Pechan models with the following parameters: 8x30, 10x30, 8x42 and 10x42.
According to the producer the binoculars feature multiple coating layers covering all air-to-glass surfaces, a comfortable eye relief and they are fully waterproof (for maximum 10 minutes up to a depth of 1 meter). The buyers get objective caps, a rainguard, a strap and a case in the box. The binoculars also come with a 10-year guarantee period.
Manufacturer data
Magnification
Lens diameter
Angular field of view
Prisms
Eye relief
Weight
Price
8
30
114/1000(6.5o)
BaK-4/roof
15.4 mm
415 g
599 PLN
Results of the review
Real front lens diameter
Left: 30.1+/- 0.05 mm
Right: 30.1+/- 0.05 mm
8 / 8.0 pkt
Real magnification
7.84+/- 0.05x
3/3.0
Transmission
86.3+/- 1.5%
14/25.0
Chromatic aberration
Near medium in the centre and on the edge.
4/10.0
Astigmatism
Slight.
6.5/10.0
Distortion
The distance between the first curved line and the field centre compared to the field of view radius: 47% +/- 3%
5/10.0
Coma
Appears in a distance of 75% of field of view radius and is medium on the very edge.
8/10.0
Blurring at the edge of the FOV
Blur occurs in a distance of 87% ± 3% from the field of view centre.
7/10.0
Darkening at the edge the FOV
Almost imperceptible.
4.5/5.0
Whiteness of the image
Good. A flat graph in a range from 450 to 650 nm. A steep transmission decrease on both ends.
4/5.0
Collimation
Perfect.
5/5.0
Internal reflections

| | |
| --- | --- |
| Left: | Right: |
| | |

Very distinct and visible.
2/5.0
Housing
Small, shapely and physically light even for the 8x30 class. Good quality rubber padding. It sticks out near objectives. No slacks or cracks. Rubberized eyecups with 4 detention stops. Comfortable to hold and to look through. Produced in China.
7.4/8.0
Focusing
A big, very comfortable central wheel equipped with rubber ribs. It moves smoothly and is well damped. Running through the whole scale takes a turn through 400 degrees. A big, ribbed individual focus ring which is very difficult to move is situated on the right eyepiece. It moves the outer element.
4.3/5.0
Tripod
No exit. In our 8x32 devices test all binoculars were granted an average value of 1.5 points because a tripod stand exit is rarely used in this class of equipment.
1.5/3.0
Interpupilary distance
from 54.6 to 72.9mm
3/6.0
Closest focusing distance
1.8 meters.
1.5/2.0
Eyepieces FOV
Apparent field of view of 51.3 deg (according to simple formula) and 48.3 deg (according to tangent formula).
4/20.0
Field of view
Measured by us amounted to 6.54 +/- 0.03 degrees and it was in accordance with specifications. A small field for this class of equipment.
5/8.0
Quality of the interior of the barrels
Quite dark tubes but in some places you can notice scratches. A black bottom but around the prisms there is a slightly shiny ring. Some specks of dust on the prisms.
3.2/5.0
Vignetting

| | |
| --- | --- |
| Left: | Right: |
| | |

OL: 0.0%, OR: 2.5%
6.5/8.0
Prisms quality
Good quality BaK-4.
8/8.0
Antireflection coatings
Green-purple on objectives and eyepieces. Green on prisms. Medium intensity.
4.5/5.0
Warranty [years]
10
4.5/6.0
Final result

65.5%

124.4 / 190 pkt
Econo result
0pkt.
Summary
Pros:
handy, comfortable and physically light casing,
sensible transmission for a cheap roof prism device,
good colour rendition,
moderate astigmatism,
slight coma,
imperceptible brightness loss on the edge of the field,
good sharpness almost across the whole field,
high quality BaK-4 glass prisms.
Cons:
narrow field of view,
a lot of reflections near exit pupils.

One glance at the final result of our test, the dimensions and weight of the tested Prostaff 7s 8x30 and its price and you know that you deal here with one of more interesting options at a price point to 250 Euro. For a quite moderate amount of money you get an optical instrument without any serious flaw. Due to its physical dimensions it might become your loyal and efficient companion on different trips. Still the photo below shows clearly that, despite a tad smaller objectives, the Prostaff remains bigger than the Delta One 8x32.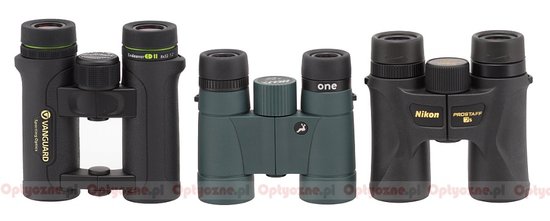 Vanguard Endeavor ED II 8x32, Delta Optical One 8x32 and Nikon Prostaff 7s 8x30.

Of course there is no rose without a thorn. It seems many good results of the tested pair of binoculars are owed to the narrow field of view – after all 6.5 degrees in an instrument with the 8 x magnification is bordering the effect of a 'keyhole'. However it is more than understandable that with such a low price and small dimensions some compromises were simply unavoidable; in this case the producer decided the field of view would be such a compromise.
They didn't stint on coatings, though. A transmission level in a wide range of the spectrum not much worse than 90% is something you don't see often when it comes to roof prism binoculars sold at this price point.

It seems that the Vixen New Foresta HR 8x32 WP might be the most serious rival of the Prostaff as it got a bit better result in our test. Still you should keep in mind the fact that the Vixen is slightly more expensive and far less handy than the Nikon. In the 8x30/8x32 segment physical dimensions and weight are often an important selling point and they can be a strong advantage of the Nikon; supported by its lower price tag, they might persuade many potential buyers. Anyway we are very pleasantly surprised by the performance of the small Nikon – let's hope there are more and more such good instruments available on the market.