Minox HG 10x43 BR MIG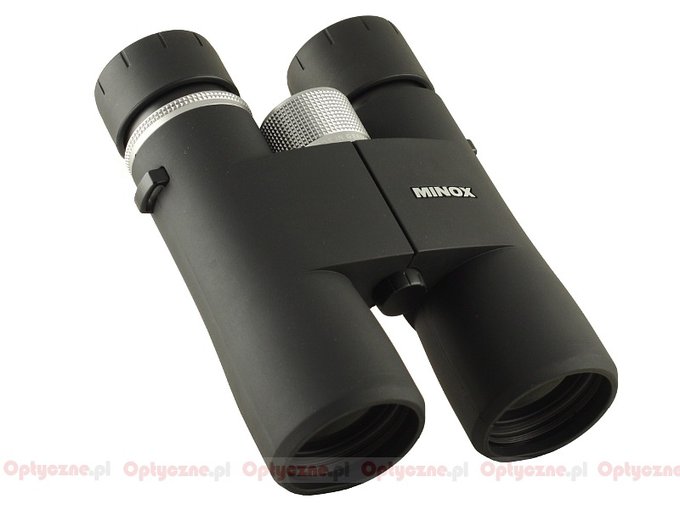 Even several years ago the top-of-the-range Minox series, marked by HG symbol, was produced in Japan. In 2009 Minox decided that the series would be manufactured again in Germany. Currently it consists of binoculars with the following parameters: 8x33, 10x33, 8x43, 10x43, 8.5x52, 10x52 and 8x56.
The tested set of binoculars is a roof prism instrument based on Schmidt-Pechan prisms which are phase correction coated and additionally covered by a special, silver-based Mino-Bright reflection coating. The optics is made of glass produced by the SCHOTT AG company. All air-to-glass surfaces are to be covered by 21-layer antireflection M* coatings. As a result the maximum overall transmission of the instrument is supposed to reach a level of 92%.
The casing of these binoculars is waterproof and nitrogen-filled. The buyer gets caps for objectives and eyepieces a comfortable strap and a case included in box. All sets of binoculars from the HG series come with the guarantee as long as 30 years.
Manufacturer data
Magnification
Lens diameter
Angular field of view
Prisms
Eye relief
Weight
Price
10
43
114/1000(6.5o)
BaK-4/roof
16.5 mm
650 g
3390 PLN
Results of the review
Real front lens diameter
Left: 42.92+/- 0.05 mm
Right: 42.91+/- 0.05 mm
8 / 8.0 pkt
Real magnification
10.04+/- 0.05x
3/3.0
Transmission
86.9+/- 1.5%
11.5/15.0
Chromatic aberration
Medium in the centre, high on the edge.
3/10.0
Astigmatism
Corrected very well.
8.5/10.0
Distortion
The distance of the first curved line from the field centre compared to the field of view radius: 61% ± 4%
7/10.0
Coma
Starts in the distance of about 75% from the field centre and is medium on the edge.
7.5/10.0
Blurring at the edge of the FOV
The blur occurs in the distance of 81% +\- 2% from the field of view centre.
6/10.0
Darkening at the edge the FOV
Slight.
4/5.0
Whiteness of the image
Slight inclination of the transmission curve with the growth tendency toward the red light.
4.1/5.0
Collimation
Perfect.
5/5.0
Internal reflections

| | |
| --- | --- |
| Left: | Right: |
| | |

Very nice. Pupils on quite dark background.
4.1/5.0
Housing
Solid but handy. Comfortable to hold and to look through. Good quality, matt rubber padding sticks to hands very well. Rubberized eyecups with four regulation stops. The rubber sticks out a bit near the objectives.
7.5/8.0
Focusing
Big, comfortable and metallic central wheel with a range of 350 degrees. It features a distance scale and moves very comfortably. Individual focusing performed by a narrow, shiftable ring on the right eyepiece. It moves the outer lens.
4.6/5.0
Tripod
There is a moderately accessible tripod exit.
2.5/3.0
Interpupilary distance
from 58.9 to 74.7mm
5/6.0
Closest focusing distance
2.1 m
2/2.0
Eyepieces FOV
Apparent field of view of 65.1 degrees.
8/10.0
Field of view
Measured by us amounted to 6.48 +\- 0.03 degrees and it was in perfect accordance with the specifications. Wide field for such a class of equipment.
7.5/8.0
Quality of the interior of the barrels
Inner tubes black but slightly shiny. Gray bottom. Isolated specks of dust inside.
3.9/5.0
Vignetting

| | |
| --- | --- |
| Left: | Right: |
| | |

OL: 5.2%, OR: 4.5%
Very truncated pupils.
1.5/8.0
Prisms quality
High quality BaK-4.
8/8.0
Antireflection coatings
Orange-pink on objectives, greenish on prisms and purple-pink-green on eyepieces. Low intensity
5/5.0
Warranty [years]
30
5/6.0
Final result

77.8%

132.2 / 170 pkt
Econo result
0pkt.
Summary
Pros:
solid, compact and, at the same time, relatively light casing,
good transmission level,
slight distortion,
very well-corrected astigmatism,
low coma,
slight brightness loss on the edge of the field of view,
high quality of prisms and coatings,
good whiteness rendition,
exit pupils on a quite dark background,
wide field of view,
long guarantee period.
Cons:
visible chromatic aberration,
noticeably truncated exit pupils.
The comparison between the parameters of the new HG 10x43 model and these of the old one, produced in Japan, shows one very visible and important difference. The field of view increased from 6.1 to 6.5 degrees so the new Minox boasts of one of the biggest fields in the 10x42 class of binoculars. If we add slight but physically light and solid casing and the German workmanship we get an instrument which is certainly worth our interest. Especially that it has good or at least higher than average results in most of our testing categories. Its transmission (see graph presented below), colour rendition or the correction of basic off-axis aberrations are just several examples.
Unfortunately there are also some slip-ups. An average degree of chromatic aberration correction should be counted among them (Minox has the APO HG 10x43 model in its line-up and most probably that aberration is corrected well there). The second problem is saving on prisms. As they wanted to construct a small and physically light set of binoculars, they slimmed the prisms down and because of that the exit pupils are noticeably truncated.
The final result of the binoculars is certainly very good. Anyone who buy this instrument will be undoubtedly satisfied with it. The problem of the Minox is a very fierce competition in the 10x42 class – several other sets of binoculars had similar results in our tests and they cost a bit less. None of them is produced in Germany, though, and this argument, along with 30-year long guarantee period, might prove to be crucial, especially if you plan to use the bought equipment at least several years.