Hands-on review: Vortex Razor HD 27-60x85 spotting scope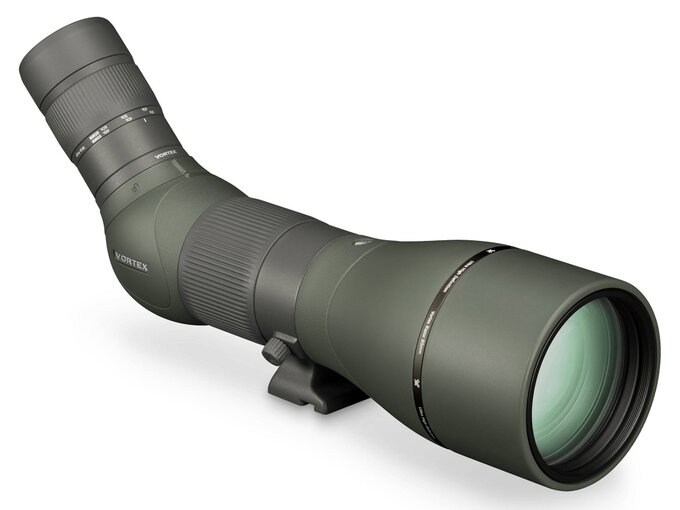 1. A short review of the Vortex Razor HD 27-60x85 spotting scope
Not so long ago we published
our review of the Vortex Viper HD 20-60x85 scope
. We praised that instrument, not liking only the narrow field of view of the zoom-type eyepiece, added in the box.
Still the Viper is not the end of the Vortex line-up and if you are interested in a larger field of view you might get interested in the Vortex Razor HD 27-60x85. Mind you, you will have to enter a higher price-point; whereas the Viper HD costs less than 4000 PLN for the Razor HD you will have to pay over 6000 PLN. Is it worth it? We hope that our short review will allow you to answer this question – enjoy!
Fron lens diameter:
85 mm
Magnification:
27–60×
Field of view:
2.23–1.30 deg
Minimal focusing distance:
5 meters
Eye relief:
16.7–17.0 mm
Length:
394 mm
Weight:
1860 grams
Please Support Us
The coronavirus crisis has been adversely affecting many businesses and, sad but true, ours is not an exception. Despite that difficult situation we would like to preserve continuity and high quality of publications available on all our websites. Still, we are now aware it might be impossible without additional financial help. That's why we would like to ask all those who visit, read, and care about Optyczne.pl, LensTip.com i Allbinos.com for support - it's enough you send us a small sum of money via PayPal. If a lot people decide to support our websites we think we'll stand a chance and survive next months without any lasting harm. We count on your support and understanding, stay safe and be healthy.

- - - - - - - - - - - - - - - - - - R E K L A M A - - - - - - - - - - - - - - - - - -


- - - - - - - - - - - - - - - - - - - - - - - - - - - - - - - - - - - - - - - - - - - - - - - -
The mere comparison of parameters shows that you can gain a lot. The Razor is distinctly smaller and lighter than the Viper and the difference is really noticeable. The Razor simply seems compact, especially if you compare it to the relatively long Pentax 80ED, even though its objective lens is by 5 mm bigger. It does seem an instrument one class smaller.
You also gain when it comes to the minimum focusing distance. In the case of the Viper it amounted to as much as 11 meters whereas in the case of the Razor the distance drops to just 5 meters. The eye relief of the more expensive Razor model is shorter so you lose a bit here.
Still the field of view of the eyepiece is the most important change. The producers knew that it would be difficult to have a big focal range and provide a wide field of view, excellently corrected from edge to edge. They decided to decrease the range of the zoom – as a result the Razor HD offers you magnification ranging from 27 to 60 times so narrower than the range of the Viper, 20-60x. I admit it freely – I missed that 20x magnification a bit. From time to time I use my private Pentax 80D with a 30 mm eyepiece that provides 17x magnification and I really appreciate very bright and properly contrasted images spotting scopes of this class are able to produce with lower magnifications. It has to be said that the Razor's possibilities are a bit limited in this area.
Instead, you get a field of view – and a very fine one, one should add. Calculating it according to the simplified formula at 27x it reaches 60 degrees and at 60x it increases to a very good value of 78 degrees. Such numbers are really impressing.
Now let's pass to main characteristics of optical and mechanical aspects of the Vortex. When it comes to the objective the producers boast of a lens with high-density (HD) extra low-dispersion (ED) glass inside. What's more the APO letters mean that you deal here with a fully apochromatic performance. The number of reflections indicates that you get three elements positoned in two groups but there are more elements from this side of the instrument - near the prisms you see a casing with a focusing element.
When it comes to prisms the producers claim you deal with a traditional Porro prism optical path but, I suppose, in the angled version you get another prism that redirects the beam of light at an angle of 45 degrees toward the main axis.
The producers added XR Plus multi coatings that are supposed to cover all air-to-glass surfaces. The outer elements are also protected by hydrophobic ArmorTek coatings that are scratch-resistant. What's interesting, the producers also mention dielectric coatings that cover most likely the prism positioned behind Porro prisms that redirects light beams towards eyepieces at an angle of 45 degrees.
The spotting scope is fully sealed and waterproof, its interior argon-filled; it allows you to use this piece of equipment in a wide range of temperatures.
The eyepiece is fixed on its mount in a way characteristic just for the Razor HD series. It means you won't be able to use not only eyepieces of other producers or astronomic 1.25 inch eyepieces but also eyepieces from other Vortex spotting scopes. Still Vortex offers you two additional eyepieces that fit Razor devices.
The first one kind of answers my complaints concerning the lack of 20x magnification or something close to it. The Razor HD LER eyepiece joined with the 85 mm spotting scope is able to give you 22x magnification and a field of view of 2.5 degrees. It means its apparent field of view amounts to 55 degrees. A pity it's not 60-65 degrees but you get an impressive eye relief instead, amounting to as much as 31 mm.
The other eyepiece available is the Razor HD Reticle. Although its appearance differs from the previous one it has the same parameters, providing identical magnification, field of view, and eye relief. Additionally it features a grid. Strange but true, it doesn't fit a Vortex spotting scope with an objective lens of 65 mm.
Purchase of one of additional eyepieces means spending of 400-500 USD – quite a lot to be honest.
The helical focusing system is controlled by a large focus collar covered by rubber armour with ribs. It is situated between prisms and the objective. It moves smoothly and is well damped but personally, I think an external screw with two gear ratios is a better solution when it comes to the highest maginification values. You can control it just putting one finger on it and the tube doesn't vibrate so much as it does when you deal with one big collar withn a single gear ratio. The collar's range is set in such a way that it allows you observations in a range from 5 meters to infinity. In order to cover that range you have to turn the collar through an angle of 450 degrees. It is a lower value than in the case of the Viper even though the distance range it covers is noticeably bigger.
Right next to the focusing collar you also find a tripod mounting shoe joined with a tripod collar that rotates and comes with a block. The rotation is very smooth and you get a click stop every 45 degrees.
From the mechanical point of view the spotting scope presents itself very well. Protective rubber armour is of very high quality – its slightly rough surface sticks to your hands as it should but it isn't loose in any place, covering the device properly well. All mechanisms perform as they should. A retractable build-in sunshade can be extended very smoothly, revealing a metal chasis of the spotting scope and protecting the front element which hides inside the optical tube about 6 cm deep. The tripod mounting shoe, mentioned earlier, and the focusing collar perform in an exemplary manner. The mount and its interior, along with area around the prisms, are black and matt, without any slits or gaps. As you see, you deal here with a seamlessly weather-sealed instrument.
A zoom eyepiece which is a part of the box set, also impresses with its build quality. Its main parts are made of metal and the magnification ring is covered by ribbed rubber that sticks to your fingers well. The magnification is done very smoothly, without any sudden jumps, but with proper resistance. The eyepiece ends with a rubberized eyecup with four-point height regulation. It ensures you a great comfort of observations, enhanced by long eye relief distance that, depending on magnification, changes from 17.0 to 16.7 mm. Such values ensure you very enjoyable observations even if you wear eyeglasses. Coatings of the eyepiece shimmer different shades of green but in some places you can also spot purple hues. Reflections aren;'t very instensive, suggesting that all air-to-glass surfaces have been coated.
If you illuminate the interior of the tube with a beam of bright light you can find out two things. Firstly, coatings on all air-to-glass surfaces, prisms included, shimmer light green (and, momentarily, they can turn yellow and purple, especially at a wide angle of view). This remark concerns also the prisms. The reflections seem to be a tad less intensive than in the case of the Viper (and it's a difference between XR and XR Plus coatings I suppose).Secondly, the producers took care to blacken the interior of the scope and they kept it very clean. Inside you can admire smooth, matt, black surfaces divided by several apertures. The area around the prisms on the bottom of the tube is also dark and matt. Still if you want to have some reservations you should mention the fact that the interior of the tube lacks ribbing. Its surface is dark and matt but also very smooth. Additional ribbing would help with damping down unwanted reflections.
When it comes to standard accessories, apart from the zoom eyepiece with caps, described above, you also get a rubberized objective cap, a cap for the eyepiece mount, an objective lens cover, a custom fitted case for the whole instrument, and a cleaning cloth.
As we finished describing basic parameters and mechanical properties of the Razor HD 27- 60×85 let's move to the best part - practical performance of its optics.
The Pentax PF 80ED-A spotting scope was chosen for comparison's sake. It is equipped with three eyepieces: the 30 mm Plossl Vixen NPL with magnification of 17.3 x and an apparent field of view of 50 degrees, the 13 mm Vixen LVW, with magnification of 39.9x and an apparent field of view of 65 degrees, and the 8 mm Baader Hyperion, with magnification of 64.8x and a field of 68 degrees. The Vortex spotting scope was tested at 27, 44 and 60x magnifications.
We should mention at once the fact that we didn't expect here such good results as in the case of the cheaper Viper, where we got images corrected in exemplary manner till the very edge. It was done at the cost of the field of view. The Razor HD features a zoom eyepiece with a field of view reaching 80 degrees and that's why the standards were set noticeably higher.
When it comes to the centre of the field the APO prefix obliges to a perfect correction of chromatic aberration. The situation is indeed better than in the case of the Viper but not perfect. Near 44x magnification you get just slight problems in the field centre as the level of CA is very low. At 27x and 60x it is more or less the same or a tad higher than in the middle of the magnification range. On the very edge of the field the aberration level increases to medium values. Once again the differences between particular magnifications are slight and once again the spotting scope fares the best near 44x. If we wanted to use a point scale similar to that we employ in binoculars' tests the Razor HD at 27x would get 6.5 points, at 44x 7.4 points and at 60x once again 6.3 points.
Distortion in this type of equipment is not easy to correct - you deal here with a zoom eyepiece and a wide field of view and it means the standards are set rather high. The Razor HD fared very well in this category, though. At 27x you see slight barrel deformations which make themselves felt only on the very edge of the field. Near 44x distortion becomes practically zero and at 60x it turns into 'pincushion' of a very low level.
When it comes to sharpness on edges of the field of view the result is quite interesting. The spotting scope performs the weakest where the field of view of the eyepiece is the narrowest so at 27x. In that case the last 10-15% of the field of view radius is slightly blurry. At 44x and 60x the situation improves distinctly and you can notice out-of-focus areas only in the last 5% of the field of view. With such large fields these results are quite respectable.
When compared to the Pentax with fixed-focal eyepieces the Vortex Razor HD 27-60×85 didn't have it easy. Our overall conclusions? We noticed the difference in image colour rendering. In the case of the Vixen the colours were more natural, with less distinct colouring even though a very small addition of yellow influenced images, making them a tad warmer.
The duel at 40-44x with such a high quality eyepiece as the Vixen LVW 13 mm showed that the Razor HD is an excellent piece of equipment. Both the fields of view and quality of images were very similar. We didn't get an impression that we were comparing a zoom to a prime.
An advantage of a fixed-focal eyepiece became visible only at the maximum magnification where the Razor HD was stacked against the Baader Hyperion 8 mm. The prime was a tad sharper but the Vortex provided brighter images (an eyepiece larger by 5 mm made itself felt) and it had a wider apparent field of view. We also took photos of the exit pupil in order to assess its shape and reflections around it – images that we got at 27×, 44×, and 60× you can see below.
The pupil is round, well visible against dark but not perfectly black background. Still it should be stated loud and clear that the performance of the tested device is better than that of the Viper.
Next round of testing we performed at night in order to see how the Razor HD optics deals with astigmatism, coma, and brightness loss on the edge of the field. The standards were raised high by the Viper HD as it corrected its quite narrow field of view in an exemplary manner. We were very curious how the Razor with a distinctly wider field would fare in this category.
The results concerning astigmatism are worth a good quality spotting scope with an apochromatic eyepiece. Images of stars are almost point-like and their sparkling reduced to minimum. Employing the scale from our tests of binoculars the result at 27x would reach a very high level of 8.8 points out of 10; at 44x we would give 8.0 points and at 60x - 7.0 points. These results are a tad higher than the results of the Viper HD.
You also won't get any problems concerning brightness loss. The best result (4.5 points out of 5) we got at 27x so with the narrowest field of view of the eyepiece. At higher magnifications the results decreased to 4.0-4.2 points.
When it comes to coma we didn't think it would be corrected as well as in the case of the Viper HD. Once again the 27x magnification fared the best, with coma appearing only in a distance of 80-85% of the field of view radius and being low on the very edge. At 44x you can notice coma already from 75% of the field of view radius and on the edge it is a tad lower than medium. The performance of the instrument is similar at 60x but the coma appears a bit later, in a distance of 80% of the field of view radius. Such results are good but hardly perfect.
In the test of the Viper HD we wrote that it is an excellent spotting scope of high quality but equipped with an eyepiece with a narrow field of view. In the case of the Razor HD you deal with even better optics and build quality remains on the same, very high level. The eyepiece you get in the set provides a really wide field of view for a change so the main flaw of the Viper HD was eliminated here. What's more, buying the Razor HD you get a smaller instrument, physically lighter, with a superior minimum focusing distance. Of course you should remember that buing the Razor you will have to spend over 2000 PLN more but if you are interested in a spotting scope of a really high quality you might consider it a price worth paying.
Once again let me lament over the Vortex policy concerning eyepieces. You get just these which allow you to employ 22x and 27-60x magnifications and in my opinion, an apochromatic objective lens of such a high quality with a diameter of 85 cm could manage also 80-100x magnifications. Unfortunately we lack the proper equipment. What is even less understandable, the mounts of all Vortex series of spotting scopes are completely different so the eyepieces aren't interchangeable even though they come from the same producer. Pity.
Finally we might add that, even though we tested the angled version of the spotting scope there is also a straight model available in the Vortex line-up.
The Razor HD line-up includes not only 85 mm class objectives but also smaller ones, 65 mm and 50 mm. If the price of 85 mm models seems to bee too steep you can get interested in smaller spotting scopes of that series. Providing that their optics and mechanics matches the quality of the model tested here, they should be completely recommendable.
Previous chapter
Next chapter