Hands-on: Nikon Monarch HG 10x30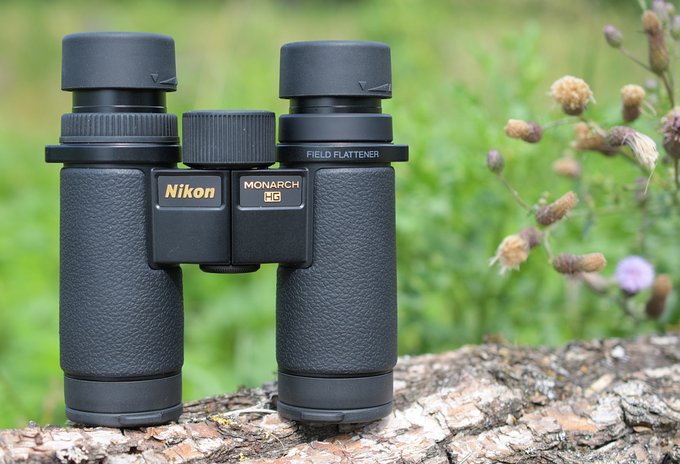 1. First impressions
The 30-32 mm instruments, being aimed mainly at tourists and day nature-watching enthusiasts, are physically small. A small objective lens doesn't gather much light but, as you use it when the weather is fine and lighting conditions - rather favourable, it is not a bothersome flaw. Physical dimensions and weight are a priority in this segment – if you take a pair of binoculars for long trips you want it to be as unobtrusive and lightweight as possible.
Even several years ago roof prism binoculars of that class could weigh over 500 grams anyway. The Leica Ultravid, considered to be very handy, is a good example as it weighs over 560 grams. Still recently we've been shown 8x30 and 10x30 models which are even smaller and their weight doesn't exceed 500 grams. These are really compact and shapely devices which fit a bigger pocket. Even if they hang round your neck the whole day you won't experience any discomfort. These are also much more ergonomic than the 20-25 mm binoculars. Additionally, contrary to the smallest instruments available on the market, their field of view is wide. As I usually recommend to avoid contemporary 20-25 mm binoculars which are, in my opinion, uncomfortable to handle and to look through because their eyepieces are too small and their field of view – too narrow, small 8x30 and 10x30 models I really like and enjoy to use.
In July 2016 Nikon presented new Monarch HG series models; devices with the most popular 8x42 and 10x42 parameters were launched as the first. These binoculars have been received very warmly so it was obvious the series would be enlarged in future. There was just one question – in what direction. Bigger objective lenses? Or maybe, following the lower Monarch 7 series or the higher EDG one, 30-32 mm models? The second scenario proved to be right and near the end of June 2018 the company announced the launch of 8x30 and 10x30 binoculars.
Please Support Us
If you enjoy our reviews and articles, and you want us to continue our work please, support our website by donating through PayPal. The funds are going to be used for paying our editorial team, renting servers, and equipping our testing studio; only that way we will be able to continue providing you interesting content for free.

- - - - - - - - - - - - - - - - - - R E K L A M A - - - - - - - - - - - - - - - - - -


- - - - - - - - - - - - - - - - - - - - - - - - - - - - - - - - - - - - - - - - - - - - - - - -
Like in the case of 8x42 and 10x42 models, you deal here with objective lenses featuring low dispersion ED glass. Dielectric high-reflective multilayer prism coating and phase correction coating are applied to the Schmidt-Pechan prisms; the construction of the eyepiece is such that it is able to flatten the field of view (Field Flattener Lens System) and removes all optical aberrations. All air-to-glass surfaces feature multilayer antireflection coatings so the maximum transmission is supposed to reach 92%.
The body of this pair of binoculars is made of magnesium alloy. It is nitrogen purged and offers waterproof/fog-proof performance (up to 5 m for 10 min.) Outer elements are covered by special hydrophobic coatings. Despite small dimensions the producer also added a tripod adapter which is pretty comfortable to reach.
When comparing the new binoculars to the bigger 42 mm models we noticed several cosmetic changes. The central focus wheel is different – with embossed inscriptions but without the Nikon logo. That logo was also removed from the tripod exit stopper.
Buyers get a rainguard, rubber rings, objective caps integrated with these rings, a wide neoprene strap and a hard case in the box. The product comes with 10-year warranty period and is produced in Japan.
What about the parameters of new Monarchs, especially when compared to those of their direct rivals? Let's glance at 
the following chart
. A wide field of view sticks out at once – in this area the Nikon prevails decisively. What's more, that field is really huge even if compared to 10x32 models weighing more than 500 grams. The eye relief distance still reaches a sensible value of 15.2 mm but the Optictron was in that category better. The new Nikon binoculars weigh 450 grams, being really lightweight, heavier only than the Monarch 7 but its body was made of plastics. The minimum focusing distance amounts to 2 meters and it is an ordinary value in that group. Still you should add that our independent measurements indicated rather a level of about 1.7-1.8 meters.
For its small physical dimensions the binoculars are very stylish, comfortable to hold and to look through. The eyepiece is huge, with turn-and-slide rubber eyecups so even if you want to take a quick glance you don't have any problems with seeing the wide field of view at once.
Inside the tubes are dark, matted and distinctively ribbed. In fact everything looks fine until you reach a bottom next the prisms. The bottom is not darkened at all; what's more, you see some scratches which reveal shiny metal. In this class of equipment such flaws shouldn't happen at all. Still the interior of the binoculars remains very clean.
The producers boast high quality antireflection coatings and indeed we noticed multicoloured reflections of low intensity on all air-to-glass surfaces. They are green-purple on the objective lenses and green-purple-pink on eyepieces.
The central focusing wheel is very large and comfortable. It moves evenly and is properly damped. Running through the whole distance range needs a turn through an angle of 400-410 degrees. On the right eyepiece you see a movable dioptre adjustment ring. Unfortunately it also moves the outer element so we thing the producers could have done better in this area.
Let's progress to optical properties. We set the standards pretty high because we compared the Nikon Monarch HG 10x30 with the Swarovski EL Swarovison 10x32, borrowed from Adam Kowol (thank you very much!). That top-of-the range device was a really demanding rival, especially as it costs twice as much as the Nikon. It is also distinctly heavier and bigger although it comes with a tad narrower apparent field of view. Of course we are aware of the fact that the Swarovski CL 10x30 Companion should be considered a direct rival of the Monarch HG but, unfortunately, that model wasn't available for our test.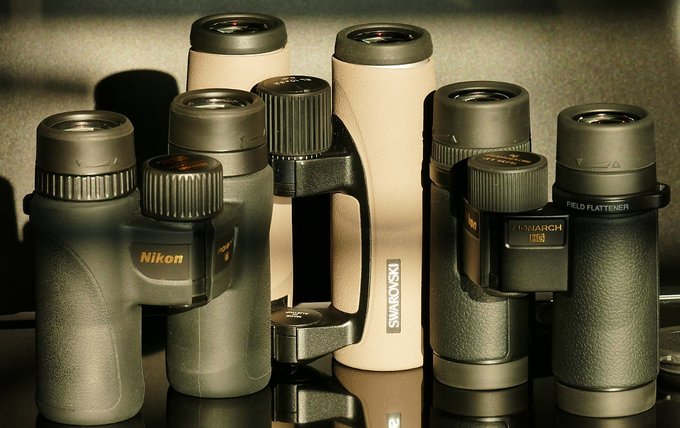 Nikon Monarch 7 8x30, Swarovski EL 10x32 Swarovision and Nikon Monarch HG 10x30. Phot. A. Kowol.
Although the Nikon boasts a field flattener lens system it loses the duel with the Swarovski on the edge in a quite decisive manner. The Swarovski EL is sharp practically up to the very diaphragm. The Nikon's sharpness starts to decrease near 85% of the distance from the centre. Of course that decrease is not very big and the image on the very edge doesn't look so bad. Both models' chromatic aberration correction is very similar and it should be said none of them does it in an exemplary way. We should add the Opticron SR.GA 8x32, which production has been ceased, could outclass these two definitely more expensive rivals.
The Nikon and the Swarovski have a distinctly different colouring. Images provided by the Nikon are warmer, with a slight yellow hue. Images from the Swarovski are much more neutral although I had an impression they were a bit blueish. Still I am not sure whether or not it was a result of comparing them to much warmer Nikon images. A transmission graph made with the help of a spectrophotometer will reveal the truth – you can't cheat a measuring device.
The Nikon showed its mettle at night. In the centre of the field of view the images of stars were really point-like, without any sparking. It proves the astigmatism is corrected perfectly well. There was no trace of any significant brightness loss despite the huge field of view and also coma was corrected very well, appearing only in a distance of about 80% of the field of vision radius and being low on the very edge. The new Monarch HG should be praised in these categories.
To sum up we are very pleased seeing the further development of the Monarch HG series. The only thing that worries us are the prices, set at such a level that currently they are higher than the prices of bigger 42 mm instruments. I admit we expected that they would start with a 2 number (in Polish zloty) – if it was the case they would reflect the quality of the offered product far better.
We hope it is not the last word of Nikon when it comes to the Monarch HG series. So far they have been crazy about 40-43 and 30-32 mm models, classic to the core, and other parameters have been neglected. You need the proof? It's enough to count all 10x42 binoculars in the Nikon line-up (there are as many as eight of them: the Aculon A211, the Prostaff 3s, the Prostaff 5, the Prostaff 7s, the Monarch 5, the Monarch 7, the Monarch HG and EDG). More universal 10x50 class instruments are half as numerous (counting among them also the very specific WX 10s50). Night parameters, e.g. 8x56, so popular among hunters and astronomy fans, are simply brushed off - there is just one such a model in the Monarch 5 series. Who knows, perhaps the next move of Nikon will involve something with objective lenses bigger than 42 mm… Anyway we keep our fingers crossed! Our last wish: let the accountants calculate less outlandish prices…
Previous chapter
Next chapter