Kowa BDII-XD binoculars hands-on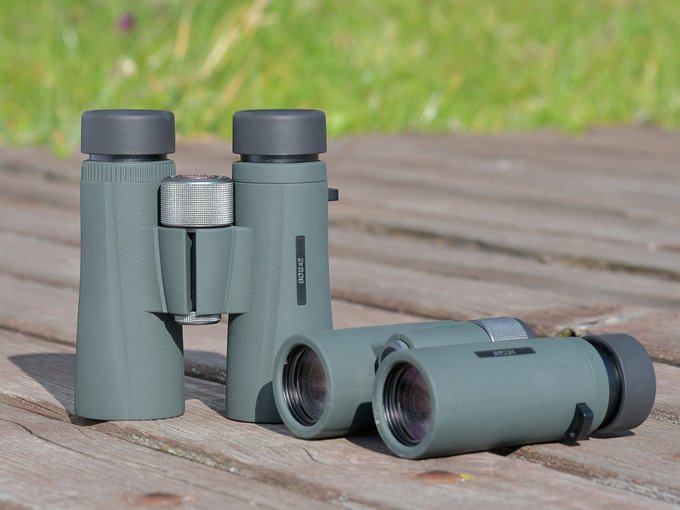 1. First impressions
In 2015 a new series of binoculars from the Japanese Kowa company was launched under a name of BD XD Prominar. It consisted of seven roof-prisms models with the following parameters: 8x32, 10x32, 8x42, 10x42, 8x56, 10x56 and 12x56. We've managed to test one model of each objective diameter and, after these tests,
the Kowa BD 8x32 XD Prominar
became our favourite. It is a small, shapely pair of binoculars with a great price/performance ratio.
In the middle of 2019 Kowa announced that in the fall a new BDII-XD series would hit the shelves, this time without the 'Prominar' word in the name. They also decided to change the number of models and some parameters – this time the new series would consist of: 6.5x32, 8x32, 10x32, 8x42, and 10x42 devices.
The following chart
presents their basic parameters.
Two things stick out at once. First, it's the 6.5x32 model, something which wasn't present in the previous series and is a real rarity on the market. What's more, if a pair of binoculars of that type is offered at all, more often than not its field of view remains very similar to that of the 8x32 model, making us question its usefulness. To be honest, more often than not it seems pointless.
Please Support Us
If you enjoy our reviews and articles, and you want us to continue our work please, support our website by donating through PayPal. The funds are going to be used for paying our editorial team, renting servers, and equipping our testing studio; only that way we will be able to continue providing you interesting content for free.

- - - - - - - - - - - - - - - - - - R E K L A M A - - - - - - - - - - - - - - - - - -


- - - - - - - - - - - - - - - - - - - - - - - - - - - - - - - - - - - - - - - - - - - - - - - -
Meanwhile a small 6-7x pair of binoculars with a wide field of view is an instrument which our market really lacks. Such models used to be very common, from small 6x24 devices with a huge field, amounting to 12 degrees, produced by Leitz and KOMZ, to a whole game of wide angle 7x35 models with fields ranging from 10 to 12 degrees, to classic 7x42 binoculars which, even not so long ago, were offered along with 8x42 and 10x42 devices.
Lately we've seen a retreat from lower magnifications. Companies are rather inclined to cut corners. Instead of raising the awareness of potential customers, teaching them that a pair of binoculars is not just magnification but also clarity of image, comfort of observation, field of view, firm grip and so on, they simply provide what ignorant customers are asking for. A whole crop of weak quality 625x magnification telescopes is an extreme example of such a trend. It doesn't matter that you can't see any object with such magnification – the numbers look great in ads and that's all what counts.
Meanwhile handy sets of 6-7x binoculars with a wide field of view are an ideal option for young kids and senior watchers. If somebody asks me about a good pair of binoculars for a child I am really hard-pressed to answer. When my children were small even an 8x32 class binocular with a field of view of 7-8 degrees was an instrument too difficult for them. Something lightweight with 6-7x magnification and a field of at least 10 degrees would be perfect. The Kowa BDII-XD 6.5x32, weighing just 500 grams, seems to fit that market gap perfectly well.
Similar things can be said about senior watchers. Ageing is a fact and for many older people 8-10x magnifications don't provide sufficient comfort as they experience problems with a firm, stable grip of a heavier instrument. Previously, many experienced, senior watchers switched to classic 7x42 models. Unfortunately nowadays such instruments disappear from line-ups of different producers; if any of them show any 42 mm class novelties, they usually come with 8x and 10x magnification. Once again the Kowa BDII-XD 6.5x32, with a field of view reaching 10 degrees and a very versatile exit pupil, amounting to 4.92 mm, seems to be a perfect solution.
Then you get the 8x32 and the 10x42 models and both of them are worth your attention as well. Why? Because of their fields of view. In the first instrument it amounts to 8.8 degrees, an excellent result, practically unparalleled by any contemporary device. If you want to find something with an equally wide field you have to return to a well-ageing dinosaur, still produced but coming from a bygone era, the Nikon EII 8x30. I have to say at once that the direct comparison between the Kowa BDII-XD 8x32 and the Nikon EII showed that the former's field of view is actually a tad narrower. Perhaps it doesn't feature these declared 8.8 degrees but still, its parameters remain one of the best in that class.
Similar things you can say about the 10x42 model. In that class fields of view amounting to less than 6 degrees are not a rarity and if a pair of binoculars has a field ranging from 6.0-6.5 degrees we consider it a quite good result. Only recently some producers decided to exceed the 6.5-degree barrier and it was clear they were shy about it. At first we were shown some models from well-renowned producers with fields of 6.6-6.8 degrees (we mean here the Zeiss Conquest HD, the Zeiss Victory SF, the Nikon Monarch HG or the Vortex Razor HD). After a while binoculars such as the Delta Optical Titanium HD featured a field of 7.0 degrees and it was already the level presented of the cult Nikon 10x35 EII and a tad less than 7.3 degrees offered by 10x50 Jenoptems or Dekarems.
If you compare to that 7.2 degrees, offered by the Kowa 10x42, you have to admit it looks great. We only regret that the 10x32 and the 8x42 models don't feature equally record-breaking parameters. Their fields, amounting to, respectively, 6.7 and 8.2 degrees, are very good but they don't stand out as much when compared to the fields of their direct rivals.
Still remaining in the area of basic parameters, it's worth turning your attention to the physical weight and dimensions of the BDII-XD series. You deal here with really lightweight, handy instruments. During our tests we handled the Nikon EDG 8x32 which, when it comes to dimensions, was very similar to the 42 mm Kowa binoculars; 32 mm Kowa products looked like something one class smaller. In order not to ring hollow we can quote some numbers here: the weight of smaller models ranges from 528 to 535 grams and when it comes to the bigger ones it's 619-628 grams; these values are even a tad lower than stated in official specifications. The length of the smaller models, with folded eyecups, amounts to 115 mm and when it comes to the longer ones it is 139 mm.
During our Optics Festival that took place in the Pałac Łochów, Poland and several days afterwards we had an opportunity to take a closer look at pre-production Kowa BDII models with the following parameters: 6.5x32, 8x32, 8x42 and 10x42. They were not quite ready for full tests but the Polish distributor for Kowa products, the
Focus Nordic
company, borrowed them willingly just to allow us to get ample hands-on experience.
The BDII-XD series is far more consistent when it comes to its design than the predecessors, in which case you could notice distinct differences in construction of some parts between binoculars with different objective diameters. Here you deal with the same design across the series, the same greenish, slightly rough rubber armour, sticking to your hands very well. The focusing wheels are, basically, the same, and also the dioptre correction system, placed on the right eyepiece and moving the outer element, remains the same. Each pair of binoculars from this series features comfortable, rubberized eyecups with four detention stops. Barrels of all binoculars are made of magnesium composites and padded with high quality rubber armour. All instruments from this series are nitrogen-purged and waterproof.
In the case of all models the focusing wheels work properly well, moving smoothly and being well damped. Their surface is covered by fine ribbing, very comfortable under your finger. Their full working range amounts to 470-480 degrees so is just right, not too wide not too narrow. All pairs of binoculars have an easy to access tripod socket.
The producers boast of multi layer coatings covering all elements and C3 and phase-correction coatings on Schmidt-Pechan prisms. The outer elements also feature KR hydrophobic layers. One look at elements of the objectives and eyepieces reveals greenish coatings and you can't notice any air-to-glass surfaces left uncovered. Also reflections from the prisms are slightly greenish so it seems indeed all air-to-glass surfaces are covered, as the producers claim. Of course you have to remember we handled the pre-productiom models; in final versions the coatings can be even of better quality.
If we could suggest an improvement, we would point at internal blackening of the tubes. The situation is good in the case of front elements,where you get a lot of ribbing and a black material (but not matted enough in my very humble opinion), but when you look deeper, areas near the prisms and a case that surrounds them are not covered by any paint, they look scratched and patchy. These flaws are easy to improve and I hope it will be done. One big advantage – the tubes are clean inside. We didn't notice any stains, specks of dust or dirt anywhere, a round of applause!
If the darkening inside the tubes is better, it will influence in a positive way the appearance of areas around exit pupils. It has to be said that even now the situation looks sensibly well. Despite small physical dimensions of binoculars the exit pupils are round, not egg-shaped, without any truncations, and the area close to them is relatively dark.
Now let's progress to optical properties. The producers claim every pair of BDII-XD binoculars feature low dispersion XD glass. With such small physical dimensions, with a short focal length of the system, it is very difficult to take proper care of chromatic aberration correction, even with ED glass elements inside. Kowa was moderately successful here. In the centre, chromatic aberration is not perhaps high but visible, no matter what model we examined. On the edge of the field the aberration increases to high levels but you have to remember you deal here with a really huge field of view. The 8x32 model experienced the least problems and the 6.5x32 and the 8x42 fared the weakest.
Wide fields of view often entail large out-of-focus areas on edges. Fortunately the BDII-XD series manages to avoid that. The 6.5x32 model experiences most of the problems as blurry areas include 25-30% of edges; in the 8x42 that value decreases to about 20% and in the 8x32 and the 10x42 models it is just 10-15%. What's interesting, in the case of the last model that area means just a slight worsening of quality of images so, overall, the experience is very positive.
Distortion in all models is corrected well, with just slightly bent lines. If you add to that wide fields of view, you have to take into account a rolling ball effect. Personally I don't mind it and it doesn't disturb me but other users might not be completely satisfied.
All binoculars provide very natural colour rendering with a slight yellowish hue so images are a bit warmer and pleasing to the eyes. When it comes to the performance against bright light the image contrast is high in each model, with few ghost images. Perhaps the 8x32 model is an exception here, as its light artifacts could be really intensive. At night, when watching a bright lamppost, you can notice distinct spikes coming radially from the source of light. In the final models the producers might try to ellimnate that problem or at least reduce it to some extent.
Night-time tests showed that astigmatism is corrected the worst by the 6.5x32 model, with both 8x instruments faring notably better. The most point-like images of stars provided the 10x42 device. Also the 6.5x32 model featured the most pronounced coma as it appeared already in a distance of 65% of the field of view radius. The 8x32 and the 8x42 models performed better, and the 10x42 binoculars were the best, with the coma appearing in 75% of the radius and being on the borderline between low and medium levels on the very edge of the field.
In our summary we should emphasize the fact that all pairs of binoculars made a very positive impression on us. They are hardly perfect, that's true, but it would be foolish to expect perfection in models which cost less than 500 Euro. It is not a premium class after all. Still the Kowa instruments are small, handy, lightweight, with really wide fields of view. The 6.5x32 device might be a real hit of this series – a perfect instrument for casual observers and tourists, ideal for the youngest and the oldest watchers. It provides a great observation comfort, is a joy to use, and its relatively low magnification should be considered an asset, not a flaw. Personally I enjoyed playing with the 8x42 model the most – its parameters and image quality really appealed to me.
It's obvious the BDII-XD series has been well thought out as it features the very models the optical market lacks the most. Instead of offering another standard 8x42 and 10x42 instruments with a typical field of view, clones of hundreds of devices that already occupy shelves in many shops, Kowa presented a series which combination of small dimensions and wide fields of view is unique; additionally it also features the original 6.5x32 model, which doesn't have any direct rivals on the market. I hope Kowa won't rest on their laurels and stop at that. I think an enlargement of the series by 50-56 mm models will be a very good addition. After all, such potential customers as hunters, foresters, or astronomy fans, which use binoculars at night or/and in poor lighting conditions, also deserve good pairs of binoculars with wide fields of view.
Anyway, new Kowa instruments are going to hit the shelves in November this year and their suggested detail prices start from 400 Euro for 32 mm models and 480 Euro for 42 mm binoculars.
Previous chapter
Next chapter