Changes in our tests of binoculars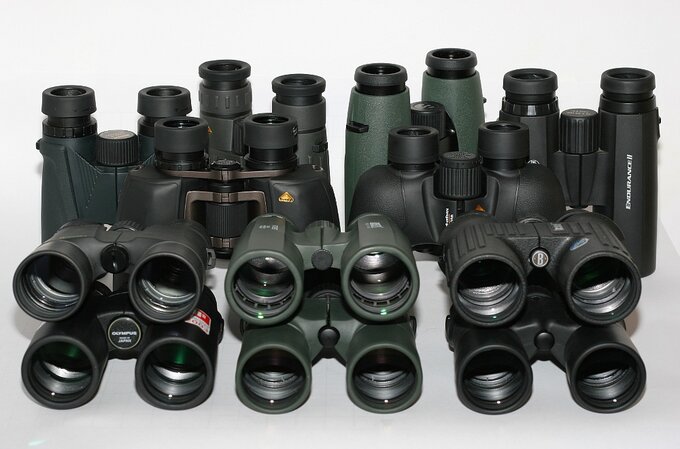 1. Changes in our testing procedure of binoculars
Our idea of testing binoculars was conceived almost 20 year ago. The first full test was performed in November 2002 and its results were published in "Wiedza i Życie", a Polish magazine which title in English means 'knowledge and life'. The test was met with a great response and was disputed on many astronomic, hunting and ornithological forums. These discussions featured many constructive tips and we used some of them to fine-tune our current testing procedure, implemented for the first time in July 2003 during our big test of 26 binoculars of 56-63 mm class.
As you see our procedures and criteria are almost of age. Meanwhile we've gained more experience and got an access to professional measurement equipment. Also the market of binoculars has undergone many important changes. Nowadays we see a wider choice of different kinds of glass and better anti-reflection coatings. Also the usage of aspherical elements has become more common because the technology of their production has been improved and their costs decreased. Small wonder current optical instruments are better than the old ones; more and more unique constructions appear on the market, like the Nikon WX or the Swarovski NL Pure series.
In order to follow these trends and move with the times we decided to introduce small changes in our testing criteria. They concern three categories and, in our humble opinion, will allow to reflect current market situation better. In order to preserve a possibility of comparisons and create different rankings we want the new criteria to come in effect to all tests, published on our sites so far.

Please Support Us
If you enjoy our reviews and articles, and you want us to continue our work please, support our website by donating through PayPal. The funds are going to be used for paying our editorial team, renting servers, and equipping our testing studio; only that way we will be able to continue providing you interesting content for free.

- - - - - - - - - - - - - - - - - - R E K L A M A - - - - - - - - - - - - - - - - - -


- - - - - - - - - - - - - - - - - - - - - - - - - - - - - - - - - - - - - - - - - - - - - - - -
Let's get down to the facts.
Transmission
It's the first criterion that we are going to change and we are going to do so in two areas. Firstly, this category is going to be even more important because optical instruments will be able to get 25 points, not 15. Transmission influences brightness of images, their contrast, colouring and also, indirectly, the performance of a pair of binoculars against bright light. It is one of the most unbiased parameters in our tests, involving precise measurements with usage of a spectrophotometer and the measurement of zero point done with the help of four lasers with four different wavelengths. It answers the question how advanced the technology of a given producer really is and does it in a very objective manner.
The second change concerns the connection between number of points and transmission expressed in percents. During last dozen years or so there have been big changes when it comes to multi-layer coatings, applied in optics. Nowadays they can be found even in basic, cheap instruments, such that used to feature only single layer MgF2 antireflection coatings. Previously a result of 80% reached in a wide range of the visible spectrum was a huge achievement for budget equipment; nowadays it has become by and large standard.
Field of view of eyepieces
In this category there have been many waves of changes. Several dozen years ago wide angle pairs of binoculars became fashionable and nobody was surprised by 60-70 degrees eyepieces. Still that kind of equipment had a problem with image quality on edges of such wide fields of view. Technology, available at that period, simply didn't allow to correct the field in a proper way.
In the 70s and 80s of the 20th century optics producers changed their approach and reduced fields of view. At the same time their edges also become better corrected and our procedures fitted that situation well.
Now the approach of the producers is changing again as they return to wide angle models. Even not so long ago a field of view of 6.0-6.5 degrees in a pair of 10x42 or 10x50 binoculars was considered to be wide. Lately, though, we've seen models which moved that borderline further, to 6.5-7.0 degrees (we think here of such instruments as the Nikon Monarch HG or the Delta Optical Titanium HD ED) and not so long ago such exceptionary pairs of binoculars as the Nikon WX, the Zeiss Victory SF and the Swarovski NL Pure managed to break the borderline of 7.0 degrees and we speak here of 10x binoculars. What's more, they also preserved an excellent image quality on the edge of such a wide field of view.
Following these trends we are going to introduce as many as three changes. Firstly we are going to increase the significance of that category as well – instead of 10 points an instrument will be able to gain 20. Secondly, we used to calculate the field of view of eyepieces with a simplified formula that involved magnification, measured by us, and the field of view of the binoculars - we just multiplied these two values. From now on we are going to employ a more precise tangent formula:

where 2ω' means an apparent field of eyepieces, 2ω is the field of view of a given pair of binoculars and Γ stands for magnification.
Thirdly, the shape of a curve showing corelation between the number of all possible points and a field of view is going to change – the new curve we present below.
Central vignetting and brightness loss
Here the change is merely cosmetic. So far only a pair of binoculars with really zero vignetting level could get maximum score in this category. The problem was that such a strict criterion didn't consider measuring error which, in that case, can amount to more or less 0.1-0.2%. As a result it could happen that a pair of binoculars didn't have any vignetting problems, showed perfectly round exit pupils, and our measurements still showed a result of 0.1-0.2%. In other words sometimes we docked points unfairly.
In order to avoid such situations we decided that vignetting results lower than 0.3% (the 2-sigma level of error) will be awarded the maximum score.

Finally we want to show how our rankings are going to change after employing the new criteria, described above. Below you can find charts with Top 10 rankings of six most popular classes of binoculars (8x32, 8x42, 10x42, 7x50, 10x50 and 8x56). The left part of the chart shows the old scoring and the right part the new scoring, after employing the new testing criteria.
As you see, in some classes the reshuffles are more distinct and in some very slight but we think that, overall, the new ranking reflects real performance of binoculars, tested by us better.

Ranking of 8x32 binoculars
| | Binoculars | Result | | Binoculars | Result |
| --- | --- | --- | --- | --- | --- |
| 1 | Nikon 8x32 EDG | 148.1 | 1 | Carl Zeiss-Victory 8x32 T* FL | 157.6 |
| 2 | Carl Zeiss Victory 8x32 T* FL | 143.1 | 2 | Nikon 8x32 EDG | 156.6 |
| 3 | Leupold Golden Ring 8x32 HD | 141.9 | 3 | Leupold Golden Ring 8x32 HD | 155.9 |
| 4 | Swarovski CL Companion 8x30 B | 141.7 | 4 | Nikon HG L 8x32 DCF | 152.6 |
| 5 | Nikon SE 8x32 CF | 140.7 | 5 | Swarovski CL Companion 8x30 B | 151.2 |
| 6 | Nikon HG L 8x32 DCF | 140.1 | 6 | Leica Ultravid 8x32 HD | 149.5 |
| 7 | Leica Ultravid 8x32 HD | 138 | 7 | Nikon SE 8x32 CF | 149.2 |
| 8 | Alpen Optics Rainier 8x32 | 137.4 | 8 | Alpen Optics Rainier 8x32 | 148.9 |
| 9 | Carl Zeiss Conquest HD 8x32 | 135.4 | 9 | Nikon 8x30E II | 147.2 |
| 10 | Nikon 8x30E II | 135.2 | 10 | Swarovski EL 8x32 WB | 146.8 |
Ranking of 8x42 binoculars
| | Binoculars | Result | | Binoculars | Result |
| --- | --- | --- | --- | --- | --- |
| 1 | Swarovski EL 8.5x42 Swarovision | 151.1 | 1 | Swarovski EL 8.5x42 Swarovision | 159.6 |
| 2 | Nikon-8x42 EDG | 147.3 | 2 | Nikon 8x42 EDG | 156.3 |
| 3 | Carl Zeiss Victory 8x42 T* FL | 140.9 | 3 | Carl Zeiss Victory 8x42 T* FL | 152.4 |
| 4 | Alpen Optics Rainier HD ED 8x42 | 140.6 | 4 | Alpen Optics Rainier HD ED 8x42 | 148.1 |
| 5 | Nikon HG 8x42 L DCF | 137.9 | 5 | Leica Ultravid 8x42 HD | 145.4 |
| 6 | Olympus 8x42 PRO | 137.1 | 6 | Nikon HG 8x42 L DCF | 144.4 |
| 7 | Leica Ultravid 8x42 HD | 136.4 | 7 | Olympus 8x42 PRO | 143.6 |
| 8 | Pentax ZD 8x43 ED | 136.3 | 8 | Bushnell Forge 8x42 | 142.7 |
| 9 | Bushnell Forge 8x42 | 134.2 | 9 | Pentax ZD 8x43 ED | 139.3 |
| 10 | Vanguard Endeavor ED II 8x42 | 133.1 | 10 | Nikon Monarch 7 8x42 | 137.5 |
Ranking of 10x42 binoculars
| | Binoculars | Result | | Binoculars | Result |
| --- | --- | --- | --- | --- | --- |
| 1 | Nikon 10x42 EDG | 153.8 | 1 | Carl Zeiss Victory SF 10x42 | 166.2 |
| 2 | Swarovski EL 10x42 Swarovision | 153.6 | 2 | Swarovski EL 10x42 Swarovision | 165.6 |
| 3 | Carl Zeiss Victory SF 10x42 | 151.2 | 3 | Nikon 10x42 EDG | 163.8 |
| 4 | Carl Zeiss Victory 10x42 T* FL | 146.1 | 4 | Carl Zeiss Victory 10x42 T* FL | 157.6 |
| 5 | Vortex Razor UHD 10x42 | 145.8 | 5 | Carl Zeiss Victory HT 10x42 | 156.8 |
| 6 | Swarovski SLC New 10x42 WB | 145.6 | 6 | Nikon Monarch HG 10x42 | 156.7 |
| 7 | Nikon HG 10x42 L DCF | 144.9 | 7 | Carl Zeiss Conquest HD 10x42 | 156.3 |
| 8 | Vanguard Endeavor ED II 10x42 | 144.8 | 8 | Nikon SE 10x42 CF | 155.9 |
| 9 | Nikon Monarch HG 10x42 | 144.7 | 9 | Vortex Razor UHD 10x42 | 155.8 |
| 10 | Nikon SE 10x42 CF | 144.4 | 10 | Swarovski SLC New 10x42 WB | 155.0 |
Ranking of 7x50 binoculars
| | Binoculars | Result | | Binoculars | Result |
| --- | --- | --- | --- | --- | --- |
| 1 | Fujinon FMT-SX 7x50 | 146.2 | 1 | Fujinon FMT-SX 7x50 | 156.2 |
| 2 | Nikon 7x50IF SP WP | 141.1 | 2 | Nikon 7x50IF SP WP | 147.6 |
| 3 | Docter Nobilem 7x50 B/GA | 138.5 | 3 | Docter Nobilem 7x50 B/GA | 144.0 |
| 4 | Steiner Commander XP 7x50 | 134.9 | 4 | Steiner Commander 7x50 | 143.5 |
| 5 | William Optics 7x50 ED | 133.7 | 5 | Steiner Commander XP 7x50 | 142.9 |
| 6 | Steiner Commander 7x50 | 132.0 | 6 | William Optics 7x50 ED | 139.7 |
| 7 | Delta Optical Extreme 7x50 ED | 131.3 | 7 | Delta Optical Extreme 7x50 ED | 132.8 |
| 8 | Nikon 7x50IF HP WP Tropical | 129.0 | 8 | Nikon 7x50IF HP WP Tropical | 131.0 |
| 9 | Steiner Navigator Pro 7x50 | 122.2 | 9 | Steiner Navigator Pro 7x50 | 125.2 |
| 10 | Steiner Navigator 7x50 | 118.9 | 10 | Steiner Navigator 7x50 | 121.4 |
Ranking of 10x50 binoculars
| | Binoculars | Result | | Binoculars | Result |
| --- | --- | --- | --- | --- | --- |
| 1 | Nikon WX 10x50 IF | 148.3 | 1 | Nikon WX 10x50 IF | 160.8 |
| 2 | Swarovski EL 10x50 Swarovision | 148.1 | 2 | Fujinon FMTR-SX 10x50 | 157.0 |
| 3 | Leica Ultravid 10x50 HD | 143.9 | 3 | Swarovski EL 10x50 Swarovision | 156.6 |
| 4 | Swarovski SLC New 10x50 WB | 143.5 | 4 | Swarovski SLC New 10x50 WB | 156.5 |
| 4 | Fujinon FMTR-SX 10x50 | 143.5 | 5 | Leica Ultravid 10x50 HD | 155.9 |
| 6 | Leica-Trinovid 10x50 BN | 141.2 | 6 | Leica Trinovid 10x50 BN | 153.2 |
| 7 | Docter Nobilem 10x50 B/GA | 136.3 | 7 | Docter Nobilem 10x50 B/GA | 152.8 |
| 8 | Alpen Optics Teton 10x50 | 135.5 | 8 | William Optics 10x50 ED | 142.9 |
| 9 | Alpen Optics Teton 10x50 ED HD | 134.4 | 9 | Alpen Optics Teton 10x50 | 141.0 |
| 10 | William Optics 10x50 ED | 128.9 | 10 | Meopta Meostar B1 10x50 | 137.8 |
Ranking of 8x56 binoculars
| | Binoculars | Result | | Binoculars | Result |
| --- | --- | --- | --- | --- | --- |
| 1 | Docter Nobilem 8x56 B/GA | 145.5 | 1 | Steiner Nighthunter 8x56 (2016) | 157.1 |
| 2 | Swarovski SLC New 8x56 B | 144.7 | 2 | Docter Nobilem 8x56 B/GA | 154.5 |
| 3 | Steiner Nighthunter 8x56 (2016) | 142.6 | 3 | Swarovski SLC New 8x56 B | 153.2 |
| 4 | Swarovski SLC 8x56 B | 141.0 | 4 | Carl Zeiss Victory 8x56 T* FL | 150.8 |
| 5 | Docter Nobilem 8x56 B/GA | 140.4 | 5 | Docter Nobilem 8x56 B/GA | 150.4 |
| 6 | Carl Zeiss Victory 8x56 T* FL | 140.3 | 6 | Swarovski SLC 8x56 B | 147.5 |
| 7 | Minox HG 8x56 BR MIG | 138.4 | 7 | Carl Zeiss Conquest HD 8x56 | 145.8 |
| 8 | Carl Zeiss Conquest HD 8x56 | 137.3 | 8 | Docter 8x58 B/CF | 143.9 |
| 9 | Docter 8x58 B/CF | 136.4 | 9 | Delta Optical Titanium 8x56 ED | 143.7 |
| 10 | Blaser Primus 8x56 | 133.5 | 10 | Blaser Primus 8x56 | 143.5 |
Previous chapter
Next chapter