Delta Optical Titanium 10x56 ROH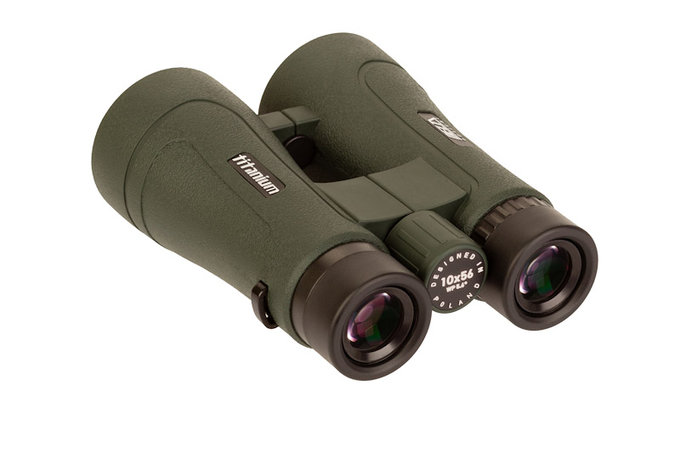 After the successful launch of Delta Optical Titanium 8x56 ROH binoculars, Polish company Delta Optical shows another binoculars from this serie having magnification of 10x and objective lenses of 56 mm.
Press release
Delta Optical Titanium 10Ś56 ROH
Delta Optical Titanium ROH series of binoculars which launched almost a year ago with 8x56 model has been extended. In September the company introduced the brand new ROH 10x56 model.
Titanium 10x56 ROH model thanks to the so-called roof structure is slightly lighter and much more handy than the classic porro prism Titanium 10x56 binoculars. Moreover, its small dimensions (160x140x70 mm), place it among compact 56 mm binoculars. That is why these binoculars are dedicated to those who appreciate the equipment as light and as small as possible.

10x56 binoculars are particularly popular among hunters and the nature watchers and afficionados of the night sky. They are particularly recommended to elder people who do not use the full power of 8x56 binoculars at night because in their case the pupil of the eye no longer expands to 7 millimeters. 10x56 model is the best solution for them. They still will have a relatively large field of view, and also the image will be more contrast than in the model with lower magnification.

ROH 10x56 model has also high optical properties. Mechanically it is the equivalent of porro prism Titanium series. BaK4 glass prisms and excellent anti-reflection coatings all guarantee crisp and clear images with true colours. Delta Optical Titanium 10x56 ROH has been designed to correct the optical aberrations such as chromatic aberration, astigmatism or coma, while offering a large field of view that is sharp on the edges. The quality of ROH 8x56 binoculars has been tested by the German Institute of Research and Control - DEVA. Measurements have shown that effective transmission of these binoculars during the day is 90%, 89% at night, and the maximum transmission reaches the level of 94.1%.

Titanium ROH binoculars, which have now been joined by ROH 10x56 new model are robust binoculars in an aluminum housing. The bodies are covered with a veneer of rough plastic to guarantee a convenient grip. Also user-comfort is increased by eyecups twist-up and smoothly-operating focus, made with due care. All models of Titanium series, including the new 10x56 ROH, are waterproof and filled with nitrogen, and thus you can easily use them even in the rain, without fear of wetting or fog lenses from the inside.

Titanium series currently consists of the roof models (ROH): 8x56 and 10x56 and porro models: 8x42, 10x42, 7x50, 8x56, 8x56ED, 10x56 and 9x63. Among these models you can easily find the typical tourist binoculars for observing nature, night-sky or hunting area. At the same time it will be extremely competitive with many well-established and more expensive models of binoculars on the market.
Delta Optical Titanium 10x56 ROH binoculars are covered by a 5-year warranty. They are available at the price of 1090 PLZ at www.deltaoptical.eu.
Parameters of the binoculars are available in our database.