Extreme ED - new binoculars from Delta Optical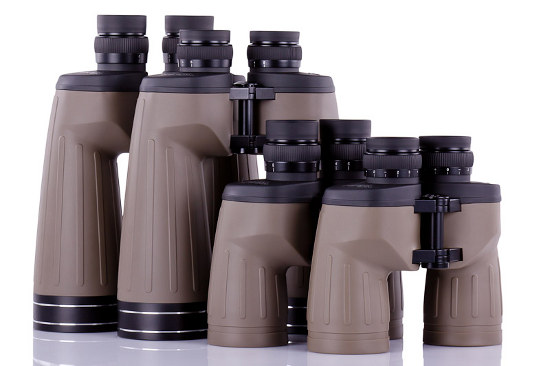 Polish company Delta Optical presents four new pairs of binoculars in the Extreme ED series. These are powerful porroprismatic optical instruments with low dispersion ED glass. You can choose between these four models: 7 × 50, 10 × 50, 10.5 × 70 and 15 × 70.

Extreme ED series' appearance, characteristics and properties are very similar to those of well-known and respected Fujinon FMTR-SX series. These instruments are fully waterproof and filled with nitrogen and are recommended for use on boats. They are also useful as astronomical binoculars. Large lenses gather plenty of light, powerful prisms do not cause vignetting, and efficient Porro design ensures high transmission.
The basic parameters of the new binoculars can be found in our database:
Press release
Delta Optical Extreme 7×50ED, 10×50ED, 10.5×70ED and 15×70ED
Delta Optical Company - the manufacturer and distributor of optical equipment, is proud to present a new series of binoculars called Extreme ED. The series consists of models 7x50 ED, 10 × 50ED, 10.5 × 70ED and 15 × 70ED. The lenses of all models of the series contain low-dispersion glass elements responsible for the proper correction of chromatic aberration.
All the binoculars of the Extreme series are massive instruments with uncompromising optical solutions used. The best optical properties supported by solid mechanics were the priority for their design. Hence the porro prism construction and the presence of the low-dispersion optical elements and solid prisms made of high quality BaK-4 glass. ED lenses reduce significantly the chromatic aberration of the image. Thanks to powerful prisms you do not have to worry about vignetting and darkening of the image at the edge of the field of view. In addition, Extreme binoculars use anti-reflection coatings (FMC), which cover all the optical elements. They provide more than 90 percent light transmission throughout the system, and thus, light and extremely realistic images with natural colors reach our eyes. Images are also free from defects such as astigmatism and coma, and thanks to the correction of lens distortion the images are also perfectly geometrically flat. All these features add up to the most important thing - Delta Optical Extreme binoculars offer extremely bright, sharp, high-contrast images throughout the entire field of view!

Bodies of all the Extreme binoculars models are made of durable metal and coated with a special rubber veneer, which in addition to a good grip, provides effective cushioning in case of a fall or impact. Mechanics in these binoculars can operate in a wide temperature range - from -40 to 70 Celsius degrees. Most importantly the Extreme binoculars are water-proof and nitrogen-filled.
Delta Optical Extreme binoculars have individual focusing system and comfortable eye-cups that firmly adjacent to the eyes, cutting off the light from the outside. In conjunction with a large exit pupil distance we can enjoy comfortable observations.
All Extreme binoculars models, with no exception, are ideal for observing the night sky. It is great astronomical equipment, with such features as large and perfectly flat field of view. Anyone who directs Extreme binoculars at the sky, will be delighted to see a very clear picture of the stars, free from astigmatism, coma and dimming edges. Models 7 × 50 and 10.5 × 70 will be great for those whoo seek binoculars with a wide field of view. The 10 × 50 and 15 × 70 models will be just perfect for those who want to use their binouclars for observing astronomical objects.
Extreme series of binoculars is also a real treat for nature watchers who appreciate a perfect image in the binoculars and their durability. The invaluable advantage of Extreme models will definitely be contrast images with natural color, free from chromatic aberration. Mechanical resistance of binoculars, even at 40 degrees below zero, its large size and unique focus system will show its benefits during winter observations - even with thick gloves you can easily carry efficient observations.

Excellent optical and mechanical features of the new Delta Optical binoculars will also appeal to the hunters. When tracking in twilight, the 50-millimeter Extreme ED model will surely give clearer pictures than its cheap 56-millimeter counterpart.
Extreme series binoculars are fully waterproof and shock-proof that is why they will be suitable for fans of sailing and kayaking. Model 7 × 50ED also have an individual focusing system and a large exit pupil diameter providing comfortable observation on unstable ground.

Delta Optical Extreme binoculars offer extremely broad usage. This series was created for conscious observers, putting the image quality and durability of binoculars in the first place. These models will meet the toughest tasks and prove themselves in the most difficult situations.
All Extreme models: 7 × 50ED, 10 × 50ED, 10.5 × 15 × 70ED and 70ED are available at www.deltaoptical.eu for 1090, 1149, 1399 and 1499 PLZ. Each is covered by a five year warranty.