Steiner Night Hunter 8x44 XP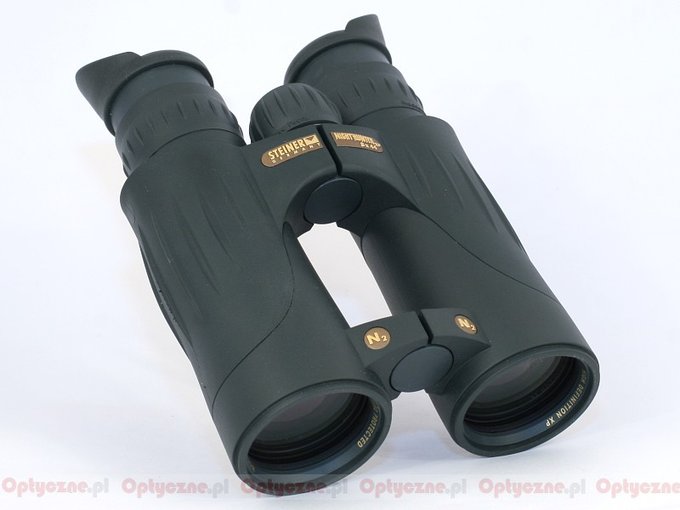 Heralded in February and available from September 2007 in shops, the Steiner Night Hunter XP 8x44 is a set of binoculars with rare parameters. Eight times multiplication and the objective lens' diameter amounting to 44 mm make the exit pupil as large as 5.5 mm. It's also the first Steiner device with the Comfort Balance System so offering a better-shaped, firm grip. In other XP binoculars we deal with an individual focusing system; in the case of the 8x44 device a central focusing wheel was used.
The 44 mm series consists of first Night Hunter binoculars in the roof prism system.
Manufacturer data
Magnification
Lens diameter
Angular field of view
Prisms
Eye relief
Weight
Price
8
44
130/1000(7.4o)
BaK-4/roof
? mm
834 g
4590 PLN
Results of the review
Real front lens diameter
Left: 43.7+/- 0.05 mm
Right: 43.7+/- 0.05 mm
7 / 8.0 pkt
Real magnification
8+/- 0.15x
3/3.0
Transmission
91+/- 3%
18.5/25.0
Chromatic aberration
Low in the middle, between low and medium at the edge.
7.8/10.0
Astigmatism
A bit lower than average.
6.3/10.0
Distortion
The distance of the first curved line from the filed centre compared to the field of view radius: 31% +\- 4%
3/10.0
Coma
Very low.
8.6/10.0
Blurring at the edge of the FOV
The blur occurs in the distance of 93% +\- 3% from the field of view centre.
9/10.0
Darkening at the edge the FOV
Record-breaking low.
5/5.0
Whiteness of the image
Almost imperceptible cream.
4.1/5.0
Collimation
Perfect.
5/5.0
Internal reflections

| | |
| --- | --- |
| Left: | Right: |
| | |

Too big for this equipment class.
2.5/5.0
Housing
Very solid and massive. Twist up rubber eyecups with shields which position can be easily regulated. Ergonomic.
7.8/8.0
Focusing
Central wheel is big and comfortable, moves smoothly (630 degrees). Individual focusing on the left eyepiece is convenient, moves with stepped adjustment and is well-damped. Nothing moves outside.
5/5.0
Tripod
No.
0/3.0
Interpupilary distance
from 55.5 to 74.5mm
5/6.0
Closest focusing distance
1.7 m.
2/2.0
Eyepieces FOV
Apparent field of view of 58.9 deg (according to simple formula) and 54.5 deg (according to tangent formula).
10/20.0
Field of view
Measured by us amounted to 7.36 +\- 0.03 degrees and it was in accordance with specifications. A very wide field for this equipment class.
7/8.0
Quality of the interior of the barrels
Tubes black and matt. Bottom black but slightly shiny. No glue. Minimal specks of dust.
4.3/5.0
Vignetting

| | |
| --- | --- |
| Left: | Right: |
| | |

OL: 1.8%, OR: 0.0%
7/8.0
Prisms quality
High quality BaK-4.
8/8.0
Antireflection coatings
Yellow-green-purple on the objective lenses. Orange on the prisms. Yellow-orange on the eyepieces. Low intensity.
4.5/5.0
Warranty [years]
30
5/6.0
Final result

76.5%

145.4 / 190 pkt
Econo result
0pkt.
Summary
Pros:
solid and very ergonomic housing,
high transmission,
wide field of view, sharp practically to the very edge,
low chromatic aberration,
negligible light fall-of at the edge of the field,
low coma,
very good whiteness rendition,
high quality of prisms and coatings.
Cons:
too high distortion,
noticeable flares,
no tripod exit.

When you buy the tested Steiner 8x44 you get a solid instrument with excellent optics. The producer decided to equip it with a wide field of view for this class and it is sharp to the very end, which is really praiseworthy, with low coma, negligible light fall-off and slight chromatic aberration. One thing that got out of control was the distortion, which level could have been lower.
The pupils' background should be much darker in such an equipment class and they shouldn't be truncated. It's also a pity the binoculars don't feature any tripod exit.
High build quality, very good optics and great observation comfort recompense these flaws, though. Eyecups with shaped shields perform very well, especially that Steiner finally decided to use a mechanism, allowing to change their position easily and fit them to the user's eyes.
To sum up a piece of equipment certainly worth recommending.