Leupold Mesa 10x50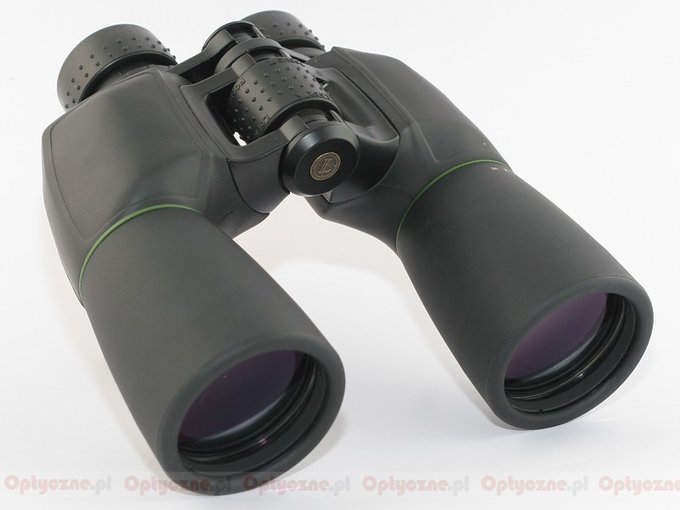 The American Leupold company is known in Poland mainly among hunters who value highly its riflescopes. If you want to purchase a Leupold set of binoculars, though, you will have a much bigger problem because they are not widely available in our country, despite the fact this producer's line-up features a really wide range of binoculars.
The Mesa series consists of two porro-prismatic pairs of binoculars with the parameters: 8x42 and 10x50, available in two colour versions (normal and camouflage).
The binoculars are waterproof, nitrogen-filled and all of their air-to-glass surfaces are covered by antireflection multilayer coatings.
Manufacturer data
Magnification
Lens diameter
Angular field of view
Prisms
Eye relief
Weight
Price
10
50
96/1000(5.5o)
BaK-4/Porro
18 mm
917 g
1127 PLN
Results of the review
Real front lens diameter
Left: 50+/- 0.05 mm
Right: 50+/- 0.05 mm
8 / 8.0 pkt
Real magnification
9.8+/- 0.2x
3/3.0
Transmission
90+/- 3%
17.5/25.0
Chromatic aberration
Low in the centre, medium on the edge.
6.8/10.0
Astigmatism
Corrected in the right way.
7.7/10.0
Distortion
The distance between the first curved line and the field centre compared to the field of view radius: 38% +\- 4%
4/10.0
Coma
Very low.
8.1/10.0
Blurring at the edge of the FOV
Blur occurs in the distance of 80% +\- 3% from the field of view centre.
5.5/10.0
Darkening at the edge the FOV
Slight.
4.2/5.0
Whiteness of the image
Light purple.
4/5.0
Collimation
Perfect.
5/5.0
Internal reflections

| | |
| --- | --- |
| Left: | Right: |
| | |

Average.
3/5.0
Housing
Comfortable against the face and quite comfortable to hold. Slippery rubber on the casing which sticks out a bit near objectives. Twist-up eyecups moderately stable.
6.6/8.0
Focusing
Quite comfortable central wheel (360 degrees) but it doesn't move smoothly and squelches. The eyepiece bridge can be defocused under pressure. The ring on the right eyepiece with sharp edges; it is hard to turn and it moves the outer lens.
2.7/5.0
Tripod
There is a comfortable exit.
3/3.0
Interpupilary distance
from 57.5 to 73mm
4/6.0
Closest focusing distance
4.2 m
2/2.0
Eyepieces FOV
Apparent field of view of 51.7 deg (according to simple formula) and 48.6 deg (according to tangent formula).
4/20.0
Field of view
Measured by us amounted to 5.28 +\- 0.03 degrees and it was by 0.22 of a degree narrower than stated in the specifications.
4/8.0
Quality of the interior of the barrels
Black and matt inner tubes. Grey and small bottom. Black glue and black screws. Diminutive specks of dust.
4.3/5.0
Vignetting

| | |
| --- | --- |
| Left: | Right: |
| | |

OL: 1.7%, OR: 3.5%.
Slightly truncated pupils.
5/8.0
Prisms quality
Good BaK-4.
8/8.0
Antireflection coatings
Blue-green on the objectives. Green on the prisms. Green-purple on the eyepieces. Low intensity.
5/5.0
Warranty [years]
2
2/6.0
Final result

67.1%

127.4 / 190 pkt
Econo result
0pkt.
Summary
Pros:
good transmission,
quite solid casing,
very low coma,
slight astigmatism,
negligible brightness loss on the edge of the field,
good correction of chromatic aberration,
good whiteness rendition,
high quality of prisms and coatings,
right blackening inside the binoculars.
Cons:
truncated exit pupils,
too narrow field of view,
not stable ocular bridge,
a bit too high distortion.

The Leupold Mesa 10x50 is a solid position on the 10x50 class binoculars' market. The level of its build quality and optics is more or less the same as in the case of very well-known Konica-Minolta Activia and Nikon Action EX. There's just one Leupold's problem - the field of view. It is narrower by about one degree than that of its competitors and it's hard not to have an impression that the binoculars performed well at least in some categories, such as coma, chromatic aberration or brightness loss on the edge, just because its field is limited. Taking into account the presence of the Activa and the Nikon EX on the market with their better than Leupold's results and significantly wider field of view, and keeping in mind that they can be bought for a price similar to that of the Leupold, it would be difficult to find reasonable arguments for choosing Leupold instead …