Bynolyt Albatross SHR 10x42 DCF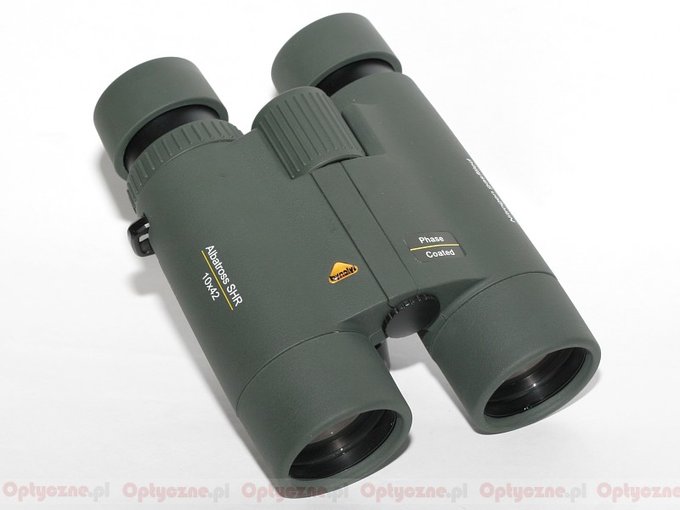 The Albatross SHR series consists of two solid roof prism binoculars with the parameters of 8x42 and 10x42. Both instruments' construction is based on the BaK-4 prisms covered by phase correction coatings. The producer assures us that, in order to get the best transmission possible and to damp down unwanted flares, all air-to-glass surfaces were covered by antireflection multilayer coatings. Additionally, the prisms put in the Schmidt-Pechan system, which demand the usage of just one reflective surface, are coated but not by ordinary aluminum, which reflects just less than 92% of light, but by special 60-layer SHR dielectric coatings which are supposed to eliminate the light losses on prisms to about 1%. According to the producer, the overall binoculars' transmission level reaches over 90%.
When it comes to the barrel it is made of light but solid aluminum with a high quality rubber armour which acts as a shock absorber. The binoculars are waterproof and nitrogen-filled.
The SHR Albatross series devices come with a 25-year-long guarantee.
Manufacturer data
Magnification
Lens diameter
Angular field of view
Prisms
Eye relief
Weight
Price
10
42
114/1000(6.5o)
BaK-4/roof
16 mm
830 g
2859 PLN
Results of the review
Real front lens diameter
Left: 42.01+/- 0.05 mm
Right: 41.97+/- 0.05 mm
8 / 8.0 pkt
Real magnification
9.75+/- 0.15x
3/3.0
Transmission
90+/- 3%
17.5/25.0
Chromatic aberration
Medium in the centre, high at the edge.
4.1/10.0
Astigmatism
Very low.
7.9/10.0
Distortion
The distance of the first curved line from the field centre compared to the field of view radius : 58% +\- 9%
6.5/10.0
Coma
Slight.
6.8/10.0
Blurring at the edge of the FOV
The blur occurs in the distance of 88% +\- 3% from the field of view centre.
7.5/10.0
Darkening at the edge the FOV
Slight.
3.9/5.0
Whiteness of the image
Almost perfect.
4.5/5.0
Collimation
Exemplary
5/5.0
Internal reflections

| | |
| --- | --- |
| Left: | Right: |
| | |

Low.
4/5.0
Housing
Big and solid. Regulated eyecups. Comfortable. Some grease on the bridge. The rubber armour's quality has some room for improvement.
7/8.0
Focusing
Comfortable central screw (450 degrees). Convenient ring on the left eyepiece moves the outer lens.
4.5/5.0
Tripod
A comfortable exit.
3/3.0
Interpupilary distance
from 55.7 to 74.5mm
5/6.0
Closest focusing distance
1.45 m
2/2.0
Eyepieces FOV
Apparent field of view of 64.1 deg (according to simple formula) and 58.2 deg (according to tangent formula).
13/20.0
Field of view
Measured by us amounted to 6.54 +\- 0.03 degrees and it was a bit wider than stated in specifications. A wide field for this equipment class.
7/8.0
Quality of the interior of the barrels
Gray and matt. A bit of glue on the left prism.
4.4/5.0
Vignetting

| | |
| --- | --- |
| Left: | Right: |
| | |

The right pupil is slightly egg-shaped
OL: 0.0%, OR: 1.6%.
7/8.0
Prisms quality
High class BaK-4.
8/8.0
Antireflection coatings
Purple on objectives, yellow on prisms, yellow-orange-purple on eyepieces. Low intensity.
5/5.0
Warranty [years]
25
5/6.0
Final result

78.7%


8th place in the overall ranking of the 10x42 binoculars test.
149.6 / 190 pkt
Econo result
15th place in the econo ranking of the 10x42 binoculars test.
6.1pkt.
Summary
Pros:
solid housing,
wide and sharp field of view,
very good transmission,
low astigmatism,
slight coma,
distortion quite well-controlled,
excellent whiteness reproduction,
high class of coatings and prisms,
low flares,
good blackening inside,
minimal focus already from 1.45 meters,
good guarantee conditions.
Cons:
the right pupil is slightly egg-shaped,
distinct chromatic aberration at the edge of the field of view.
The Albatross managed to accomplish a very difficult feat – that of manufacturing a set of binoculars with a wide field of view which is sharp and corrects basic off-axis aberrations well at the same time. The device is not cheap because the price of almost 1000 USD cannot be considered as low. Its score in our test speaks for itself, though. The binoculars attack the positions of the biggest market players with the field of view wider by 0.2 degree and being about 800 USD cheaper. It commands respect!
The Albatross, next to the Docter, is the most expensive pair of binoculars in the 6.5 degrees field of view class. Its score in the test is significantly better than that of its rivals and it might defend such a steep price in a way.