Canon 12x36 IS III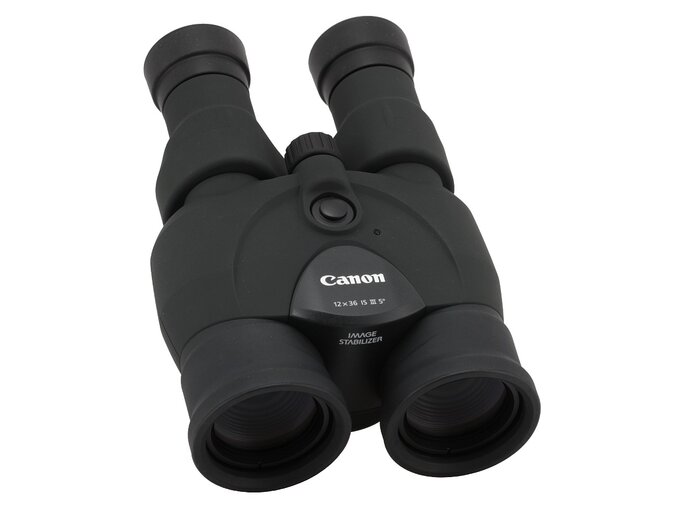 The Canon 12x36 IS III binoculars, is, as its name indicates, a third generation of this stabilized construction produced by this very well-known optics manufacturer. The stabilization unit is based on two gyroscope sensors which cooperate with the compact Porro Type II prism system; they enable you to correct for up to +\-0.8 degrees. Image stabilization is powered by two AA batteries with a specified life of 9 hours at 25 deg C and one hour at -10 deg C.
The optical system of these binoculars, apart from Porro II prisms mentioned above, consists of a two-element objective lens (2 elements in one group) and a 5-element eyepiece (4 groups). All the elements are covered by Super Spectra antireflection coatings. Sharpness is set by the movement of objectives and its range starts at 6 meters.
The chassis of the binoculars is covered by rubber armour and the instrument can be used in temperatures ranging from -10 to +45 C and humidity reaching 90%.
Because of electronics parts the warranty period of this instrument amounts to just 24 months.
Manufacturer data
Magnification
Lens diameter
Angular field of view
Prisms
Eye relief
Weight
Price
12
36
87.5/1000(5o)
Porro II
14.5 mm
660 g
3199 PLN
Results of the review
Real front lens diameter
Left: 36.2+/- 0.05 mm
Right: 36.2+/- 0.05 mm
8 / 8.0 pkt
Real magnification
12.19+/- 0.05x
3/3.0
Transmission
88+/- 1%
15.5/25.0
Chromatic aberration
Low in the centre, a bit higher than medium on the edge.
7/10.0
Astigmatism
Very low.
8/10.0
Distortion
Distance of the first curved line from the field of view centre compared to the field of view radius: 52% ± 4%
6/10.0
Coma
Starts in a distance of 80-85% of field of view and is between low and medium on the very edge.
9/10.0
Blurring at the edge of the FOV
Blur occurs in a distance of 96.5 ± 3% from the field of view centre.
9.5/10.0
Darkening at the edge the FOV
Slight.
4/5.0
Whiteness of the image
Flat transmission graph. Colouring of images is very slightly yellow-green.
4.4/5.0
Collimation
Perfect.
5/5.0
Internal reflections

| | |
| --- | --- |
| Left: | Right: |
| | |

A few lighter areas near exit pupils that aren't very intensive.
4.2/5.0
Housing
For a stabilized instrument this pair of binoculars in not big at all – it can be compared to any 40-42 mm class instrument. The smooth rubber armour is made of good quality rubber and it sticks to the body everywhere, even near objectives. Eyepieces are relatively small but they are very comfortable to use. Soft, perhaps even a tad too soft eyecups aren't adjustable but you can fold them without any problems. Produced in Taiwan.
7.5/8.0
Focusing
Small, ribbed central wheel with a range of 440 deg. It moves with very slight resistance – definitelly too loose. The movement of the wheel moves objective lenses. Dioptre correction on the right eyepiece, it moves the outer lens and performs as it should.
3/5.0
Tripod
Lack. Image stabilization.
3/3.0
Interpupilary distance
from 54.2 to 75.2mm
5/6.0
Closest focusing distance
6.25 meters.
1.5/2.0
Eyepieces FOV
Apparent field of view of 59.3 deg (simplified formula) and 54.7 deg (tangent formula).
10/20.0
Field of view
Measured by us amounted to 4.86 +\- 0.04 deg and was a bit narrower than stated in official specifications.
5/8.0
Quality of the interior of the barrels
Inner tubes are dark gray and most of their surface is densely ribbed. Deeper you can notice some brighter parts. Grey bottom. Clean.
4/5.0
Vignetting

| | |
| --- | --- |
| Left: | Right: |
| | |

OL: 1.57% OR: 1.61%
6/8.0
Prisms quality
High quality BaK-4.
8/8.0
Antireflection coatings
Green-yellow-pink on objective lenses, pink-purple on the prisms, green-yellow-pink on the eyepieces. Low intensity.
5/5.0
Warranty [years]
2
2/6.0
Final result

75.6%

143.6 / 190 pkt
Econo result
0pkt.
Summary
Pros:
solid casing,
sensible correction of chromatic aberration,
very low astigmatism,
excellent coma correction,
sharp images almost to the very edge of the field of view,
slight brightness loss on edges of the field,
very good white balance,
dark areas around exit pupils,
good blackening and cleanliness inside the tubes,
efficient Porro II prisms made of BaK-4 glass,
efficient and effective image stabilization.
Cons:
such an optical system should have provided a trasmission that exceeds 90%,
short warranty period,
not especially circular exit pupils.
Let's start with a pleasant surprise. I've always considered stabilized binoculars to be rather stationary instruments, designed to be kept and used on a terrace or a balcony so you can admire the nature arround you or areoplanes.
The physical dimensions of the Canon 12x36 IS III and its weight, amounting to just 660 grams, make it similar to any 40-42 mm class pair of binoculars and they are often companions of our trips. I don't see any reason why the stabilized Canon couldn't be taken along as well.
It can offer you a high, efficiently stabilized magnification, and very good optical properties. We were especially impressed by its resolution, stretching practically across the whole field of view which is rather wide anyway.
As we've already mentioned stabilization, it's worth saying something more about it. First of all, unlike the Fujinon 14x40, there are no bothersome noises when you switch it on. The mechanism is smooth and efficient. We managed to assess its efficiency up to a point because the 12x magnification is for me so undemanding that I can observe things holding the binoculars in my hand without any problems. Still stabilization evidently helps a lot and if you don't have a firm grip you'll certainly appreciate it.
There's a small fly in this excellent ointment, though – it's enough you glance at the transmission graph.
You can praise quite flat shape that guarantees you very good colour rendering but it is slightly worrying that at no point the binoculars reach 90% or higher. Why are we so demanding in this area? Firstly, you deal here with the Porro II system in which the prisms operate on the principle of total internal reflection. To put it simply, there are no losses here. What's more, such a system is not divided with air, unlike some Porro I systems, so the losses can really be minimized. Add to that a 1-element objective lens and a 4-element eyepiece. Overall in the whole binoculars you deal with just 6 optical elements, so 12 air-to-glass surfaces.
The most efficient contemporary multilayer antireflection coatings lose about 0.3% on one air-to-glass surface. With 12 such surfaces the overall loss should amount to about 3.5%. Add to that light absorption factor in glass that, with such a number of elements, shouldn't exceed 2%. As you can see, the overall losses of light should have been about 5.5%; it means that in some parts of the visible spectrum the transmission of this instrument should be able to exceed 94%. The problem is it never exceeds 90% and it's a slip-up that shouldn't have happened to a pair of binoculars manufactured by such a renowned producer and sold at this price point.
As we've already mentioned the price, it's worth adding that currently the Canon binoculars can be bought for about 700-800 Euro at the cheapest. You have to admit the price is rather affordable, especially for a piece of equipment with such good optics and image stabilization. It compensates a bit for too low transmission and it makes this purchase completely recommendable.