Vortex Razor UHD 10x42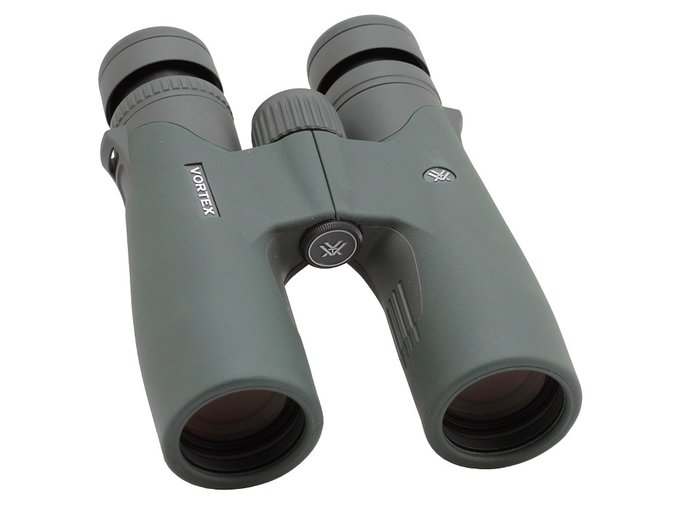 It's been several years since Vortex put in order all lines of its binoculars – from the cheapest Crossfire HD through Diamondback HD and Viper HD, to the most expensive, flagship Razor HD. The last one was priced about 1000 USD, approaching the premium level. I think in Poland so far the Diamondback and Viper series have been the most popular and most appreciated ones, mainly because of their favourable price/performance ratio.
In 2019 Vortex took a very brave step and decided to attack the position of the biggest market players by launching the Razor UHD line which models are at a price point of 2000 USD.
The UHD abreviation means Ultra High Density – according to the producer they contain glass of exceptionally low dispersion that is supposed to correct chromatic aberration in an outstanding way.
Of course you also get XR Plus Fully Multi-Coated layers on all air-to-glass surfaces. Additionally, you can find dielectric and phase-correction coatings on Abbe-Koenig prisms. It's not all. The outer elements feature ArmorTek hydrophobic coatings which task is to make them scratch-free and also dirt and oil resistant.
The chasis is made of durable magnesium composites and padded with good quality rubber armour which is supposed to stick to your hands well.
The binoculars are argon-purged and waterproof. Buyers get a stylish, premium case and a harness in the box along with the standard accessory set (front and back caps, a strap, a cleaning cloth). The binoculars come with lifetime warranty of the producer.
Manufacturer data
Magnification
Lens diameter
Angular field of view
Prisms
Eye relief
Weight
Price
10
42
116/1000(6.6o)
BaK-4/roof
16.7 mm
913 g
5879 PLN
Results of the review
Real front lens diameter
Left: 41.96+/- 0.05 mm
Right: 41.98+/- 0.05 mm
8 / 8.0 pkt
Real magnification
10.02+/- 0.05x
3/3.0
Transmission
86.5+/- 1%
14/25.0
Chromatic aberration
Practically imperceptible in the centre, a tad higher than average on the edge
7.2/10.0
Astigmatism
Low.
8.1/10.0
Distortion
Distance of the first curved line from the field of view centre compared to the field of view radius: 59% ± 5%
7/10.0
Coma
Appears in a distance of 75-80% from the field centre and is medium on the edge.
8.4/10.0
Blurring at the edge of the FOV
Blur occurs in a distance of 89.5% ± 4% from the field of view centre.
8/10.0
Darkening at the edge the FOV
Slight.
4.1/5.0
Whiteness of the image
Very good. Quite flat transmission curve with a slight dip for blue light but also a slight surplus of purple light.
4.2/5.0
Collimation
Very good.
5/5.0
Internal reflections

| | |
| --- | --- |
| Left: | Right: |
| | |

Excellent. Additionally, very good performance against bright light at night. Practically lack of spikes from lampposts and well-contrasted images.
5/5.0
Housing
Quite big and long for the 42 mm class but looks quite well, is stylish, sleek and solid. Excellent rubber armour sticks to your hands as it should. Very high observation comfort. The armour doesn't come loose even near objectives. Rubberized eyecups with three detention levels. Produced in Japan.
8/8.0
Focusing
Big and comfortable central wheel with rubber ribs. Moves smoothly with acceptable resistance. Running through the whole range takes a turn through an angle of a whooping 1000 degrees. A shifting, ribbed dioptre correction ring on the right eyepiece. It moves the outer element.
4.5/5.0
Tripod
A comfortable access.
3/3.0
Interpupilary distance
from 55.8 to 77mm
5/6.0
Closest focusing distance
1.45 meter.
2/2.0
Eyepieces FOV
Apparent field of view of 66.3 deg (according to simple formula) anf 60.2 deg (according to tangent formula).
14.5/20.0
Field of view
Measured by us amounted to 6.62 +/- 0.04 degrees and it was in perfect accordance with official specifications. A quite large field for this class of equipment.
7.5/8.0
Quality of the interior of the barrels
Inner tubes strongly ribbed, dark and well-matted. Areas around prisms and the bottom are dark-gray and matted. Very clean.
4.8/5.0
Vignetting

| | |
| --- | --- |
| Left: | Right: |
| | |

OL: 1.22%, OR: 1.40%
6/8.0
Prisms quality
Good quality BaK-4 Abbe-Koenig prisms.
8/8.0
Antireflection coatings
Green-yellow-purple on eyepieces and objectives, purple-pink on prisms. Medium intensity.
4.5/5.0
Warranty [years]
lifetime
6/6.0
Final result

82%

155.8 / 190 pkt
Econo result
0pkt.
Summary
Pros:
shapely, solid, and stylish chasis made of magnesium composites,
significant field of view,
excellent correction of astigmatism,
very low chromatic aberration in the centre of field of view,
very good coma correction,
low brightness loss on the edge of the field,
sharp image up to almost 90% of the field,
very good colour rendering,
high quality coatings,
good quality prisms made of BaK-4 glass,
minimum focusing distance from already 1.45 metres,
lifetime warranty,
very dark areas next to exit pupils,
proper performance against bright light,
excellent darkening and cleanliness inside the tubes.
Wady:
big physical dimensions and significant weight for the 42 mm class.
The situation on the market of premium binoculars is quite clear. When it comes to the best and the most expensive models (mind you, these two features not always come hand-in-hand) you are spoilt for choice among all these Leica, Nikon, Swarovski, and Zeiss devices. However, you have to spend as much as about 2000 USD at least for pairs of binoculars from such series as the Leica Noctivid, the Leica Ultravid HD+, the Nikon EDG, the Swarovski EL Swarovision, the Zeiss Victory HT or the Zeiss Victory SF. Not everyone can afford them, that's certain.
Still the best market producers also offer something for less affluent customers – practically all of them have in their line-up models which are optically excellent but priced aroud 1000-1500 USD. In the case of Leica you get the Trinovid HD series, Nikon offers you the Monarch HG, Swarovski – Porro prism Habichts and the SLC W B, and Zeiss – the Conquest HD series.
That last group of binoculars has been the target of the Vortex company for some time now, as they were offering the Razor HD series. So far, we have tested the 10x42 model and we said a lot of positive things about it. When Vortex announced an even more expensive Razor UHD series I was intrigued and I wanted to check any of these binoculars in practice in order to find out whether they stand a chance to compete with of any the biggest market leaders.
Still it must be mentioned that, at least in Poland, there is a healthy gap in prices between the newest Vortex flagship models and those produced by the market leaders. In case of the Vortex binoculars you don't have to spend 8000-11000 PLN, it's enough you pay a bit less than 6000 PLN. When you compare that to prices in the Western Europe or in the USA it might seem a kind of a bargain – in these countries the Razor UHD 10x42 costs you about 2000 USD (equivalent of about 8000-9000 PLN).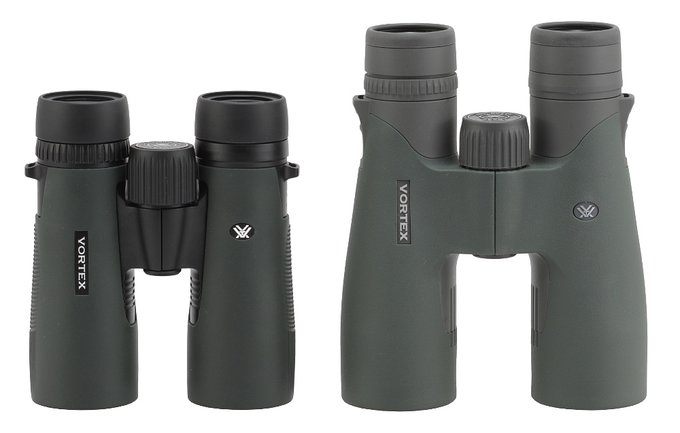 Vortex Diamondback HD 10x42 and Vortex Razor UHD 10x42.
You also should mention that Vortex faced a real challenge. It's old news that the relation between optics and mechanics quality and the price of the final product is not linear but logarithmic. In the high-end market segment an improvement of performance by mere several percent often entails considerable financial outlays and the more complex the optics is the more increases the weight and physical dimensions of a given product.
I think Vortex learned that lesson with the Viper HD and Razor HD. We tested their respective 10x42 models and the second one was just slightly better than the first one; still the price difference between them is significant. Will it be also true in the case of the Razor HD and UHD? Let's check it up!
Without beating about the bush we might say that the premium segment attack, performed by Vortex, proved to be quite efficient. Of course the very top of the range, so the Swarovision EL, the Victory SF and the Nikon EDG, still remains out of its reach but the Razor UHD is as good as, or sometimes even better than, the Ultravid HD+, the Monarch HG, the SLC W B, the Conquest HD, or the Victory HT. It's still no mean feat.
Apart from that even a casual handling of the Razor UHD reveals what type of equipment you're dealing with. The binoculars look really great – personally I think the designers really did a great job because, in my opinion, all Vortex models are the prettiest pairs of binoculars, available on the market. I don't mean here just the most expensive flagship devices because even these Diamondbacks HD look really great.
Anyway, when you handle the Razor UHD the first thing that sticks out is the excellent build quality. The binoculars are a joy to use, very comfortable to look through and to carry around. Even a detailed inspeciton doesn't reveal any slip-ups. Everything fits perfectly well, without any glitches, the interior of the tubes is clean and perfectly blackened. What's more, the binoculars' parameters are exactly as stated by the producers in official specifications.
Is there any fly in that ointment? We still noticed some problems. Firstly, the complexity of the optics which adversely affects transmission.
I don't doubt that in the case of their flagship series Vortex employed the best coatings available, perhaps even better than those from the Razor HD series, but still it was not enough to get a better level of overall transmission. The differences in results, reached by these two models, fit the margin of measurement error. Of course it was influenced by the complexity and size of optics. The number of air-to-glass surfaces and a longer path of light in glass had to influence the final result. Sad but true – exchanging the Razor HD for the UHD you won't get a better transmission in the bundle. You won't get a wider field of view either as the apparent fields of both these intstruments are very similar to each other.
Weight and physical dimensions are the second important factor. Indeed, it's also my most serious reservation concerning the tested binoculars. I think there are many 10x50 models on the market with physical dimensions and weight similar to those of the Razor UHD – in order not to sound groundless let's have a look at the following chart. All premium class binoculars in this group are smaller and lighter than the Vortex product. What's more, they also come with a better eye relief distance. The assets of the Vortex are a good field of view (only narrower than that of the Victory SF), and a minimum focusing distance, along, of course, with a noticeably lower price.
Still physical dimensions and weight cannot be hidden and, I suppose, it's an advantage – you get them stated clearly in official specifications and it's up to you to decide whether you can accept them or not. If you want to have a premium pair of binoculars for a price significantly lower than the prices of the Leica, the Nikons, the Swarovskis and the Zeiss you might find the Viper UHD a good compromise
Still, another important question remains: is the price difference between the Razor HD and the Razor UHD justifiable? The results of our test might suggest that it is not but the test doesn't reflect build quality and how the binoculars will perform after several years of wear and tear. I think it's sensible to assume that the more expensive Razor UHD, produced in Japan, will be able to withstand more than China-produced Viper HD and Razor HD models. Such things are always worth consideration.
In my view Vortex complemented their line-up in a great way and now their series of binoculars include all price-points so the customers have a wide selection of devices no matter how much they are able to or want to spend. What's more, at each price point Vortex offers you really good, solid instruments which compare very favourably with their direct rivals, produced by other manufacturers.