Vortex Diamondback 10x42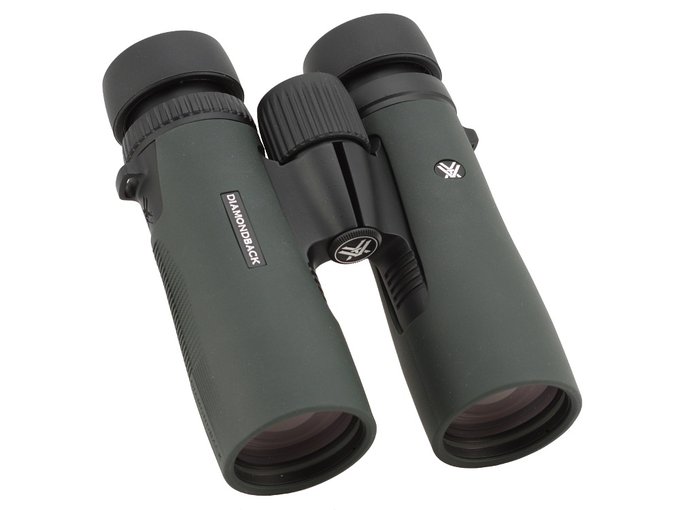 The Vortex Diamondback series in current shape was launched in 2016. It consists of as many as eight models with the following parameters: 8x28, 10x28, 8x32, 10x32, 8x42, 10x42, 10x50 and 12x50. All of them are roof prism Schmidt-Pechan devices with dielectric coatings. The producers also declare that all air-to-glass surfaces in the optical system are covered by anti-reflection multi coatings.
The body of the binoculars is protected by rubber armour and the device is agron purged inside. The Vortex comes with lifetime warranty of the producer.
Manufacturer data
Magnification
Lens diameter
Angular field of view
Prisms
Eye relief
Weight
Price
10
42
110/1000(6.3o)
BaK-4/roof
15 mm
607 g
1049 PLN
Results of the review
Real front lens diameter
Left: 42.02+/- 0.05 mm
Right: 42.04+/- 0.05 mm
8 / 8.0 pkt
Real magnification
9.96+/- 0.05x
3/3.0
Transmission
81.8+/- 1%
10/25.0
Chromatic aberration
Moderate in the centre but very distinct on the edge.
4.3/10.0
Astigmatism
Very good correction of astigmatism – images of stars sparkle just slightly.
8.5/10.0
Distortion
Distance of the first curved line from the field of view centre compared to the field of view radius: 36% ± 5%
3/10.0
Coma
Appears in a distance of 87% from the field centre and is between moderate and high values on the edge.
6.2/10.0
Blurring at the edge of the FOV
Blur occurs in a distance of 77% ± 4% from the field of view centre.
5/10.0
Darkening at the edge the FOV
Moderate.
3.7/5.0
Whiteness of the image
Very flat transmission curve with a very slight dip in the centre of the visible spectrum. Excellent!
4.7/5.0
Collimation
Perfect.
5/5.0
Internal reflections

| | |
| --- | --- |
| Left: | Right: |
| | |

Sensibly dark around exit pupils. A situation is noticeably better than in the case of the Diamondback 10x50, tested by us earlier.
3.8/5.0
Housing
Very nice and sylish, with sensible dimensions; quite lightweight for the 10x42 class of equipment. Good quality rubber armour which sticks to your hands well. The rubber covering the body fits tight but you can pull it away on objective lenses. Confortable to handle with thumb indents and to look through. No shoddy workmanship. Rubberized eyecups with three regulation positions. Manufactured in China.
7.5/8.0
Focusing
A big, ribbed central wheel which moves smoothly but is well damped. The full range needs a turn through an angle of 560 degrees. Dioptre correction done by a ribbed ring on the right eyepiece which is comfortable and works properly well. It moves the outer element.
4.5/5.0
Tripod
There is an exit with a quite sensible access.
3/3.0
Interpupilary distance
from 55 to 73.7mm
4/6.0
Closest focusing distance
1.95 meters.
2/2.0
Eyepieces FOV
Apparent field of view of 62.1 degrees.
11.5/20.0
Field of view
Measured by us amounted to 6.23 ± 0.04 degrees and was just slightly narrower than stated in specifications. A sensible field for this class of equipment.
6.5/8.0
Quality of the interior of the barrels
Inner tubes near objectives are weakly blackened and matted, without any ribbing. Similar things can be said about areas near prisms. Very clean – practically without any specks of dust.
2.6/5.0
Vignetting

| | |
| --- | --- |
| Left: | Right: |
| | |

OL: 2.78%, OR: 2.19%.
5/8.0
Prisms quality
Good quality BaK-4.
8/8.0
Antireflection coatings
Greenish everywhere, medium intensity. One air-to-glass surface in the eyepiece shines too brightly and doesn't show any colouring so perhaps is not covered.
4/5.0
Warranty [years]
lifetime
6/6.0
Final result

68.3%

129.8 / 190 pkt
Econo result
0pkt.
Summary
Pros:
solid, very nice, and ergonomic casing,
negligible astigmatism,
excellent colour reindition,
moderate brightiness loss on the edge of the field,
very clean optics inside the tubes,
good quality prisms made of BaK-4 glass,
lifetime warranty.
Cons:
high chromatic aberration on the edge of the field of view,
significant distortion,
blackening inside the tubes could have been better.
In the middle of last year we ordered a series of 10x42 Vortex binoculars for our tests and, apart from more expensive Viper HD and Razor HD models, we decided to check also the Diamondback 10x42. Our tests had already been pretty advanced when in July 2019 Vortex announced that they were going to launch new Diamondback HD models. We thought that it was a pity to waste so much raw testing material and decided to carry on with our procedure anyway. After all the Diamondback series binoculars are still available in many shops and they can be bought second hand – perhaps there will be readers still interested how they performed in our test and whether or not they are worth buying.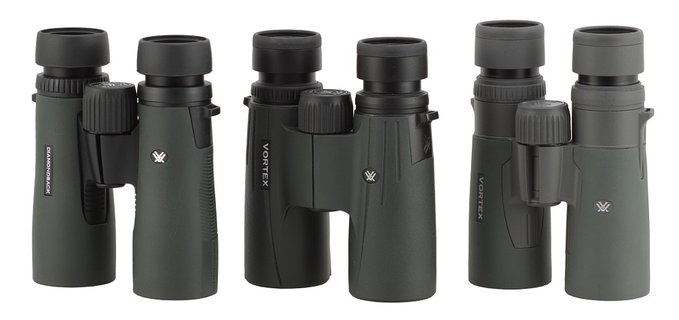 Vortex DIamondback 10×42, Vortex Viper HD 10×42 i Vortex Razor HD 10×42.
First we can basically repeat what we already wrote in our Diamondback 10x50 test - the appearance and build quality of this series are its huge advantages. The tested instrument catches your attention instantly and is quite pleasing to the eye – a serious selling point in times when the market is simply inundated with different pairs of binoculars. Additionally, Vortex seem to control the quality of their products well even though they come from China. We have practically no objections concerning quality of the casing. Tubes are very clean inside, cleaner than in case of many more expensive models. The only flaw we found concerns internal blackening of tubes - it should have been better and the situation leaves a lot of room for improvement.
The Vortex Diamondback 10x42 also features several other significant advantages. Its transmission is perhaps not exactly impressive, remaining on a level typical for other roof prism devices at a similar price point, but you should emphasize the fact that its graph is very flat. It means the binoculars render colours perfectly well.
Good astigmatism correction was also a very pleasant surprise.The Diamondback 10x42 performs in this category better than many more expensive models so the image quality in the centre is really good. Apart from that, the binoculars have a sensible field of view, without any distinct brightness loss on the edge.
It would be foolish to expect miracles for 250 USD so, accordingly, the tested pair of binoculars didn't avoid several flaws. When in the field centre chromatic aberration is not especially bothersome (as it remains visible), on the edge of the field its level is already significant. Additionally, you can carp about weak distortion correction and it seems exit pupils could have been less truncated.
Still the list of cons is not that long and in many categories the results are medium or better so the final result and overall assessment of the Diamondback 10x42 remain good. For a sensible amount of money you get a shapely, lightweight pair of binoculars (according to official specifications it weighs 607 grams and we found that value to be correct) with basic parameters in perfect accordance with official claims of the producers. We feel such an instrument will be a huge joy to use.