Blaser Primus 8x56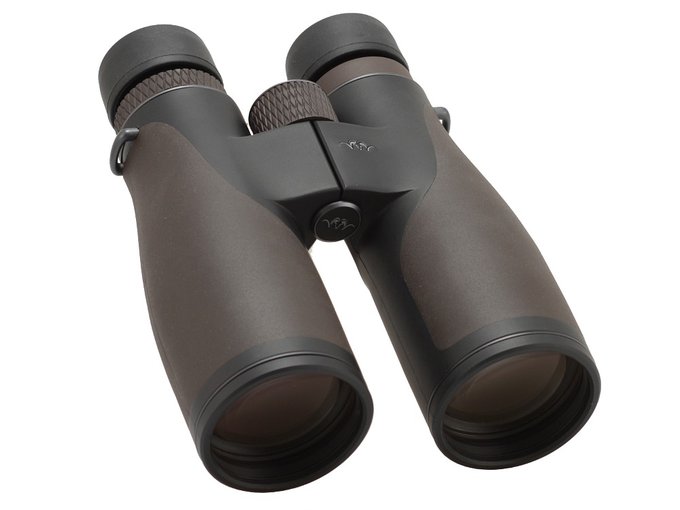 In 2017 the German Blaser company, so far known for production of hunting firearms, decided to enter the optics market. They presented four new roof prism binoculars with the following parameters: 8x30, 8x42, 10x42 and 8x56. Their prices and very solid, stylish looks suggested they might belong to the premium segment of the market.
A diagram, presented in the catalogue of te company, indicates that, at least when it comes to the bigger models, they employed Abbe-Koenig prisms. Additionally the producers boast of using very efficient CCC (Contrast and Color Corrective Coatings) antireflection coatings. The outer elements are supposed to be covered by exterior protecting layers (called Smart Lens Protection) and the chassis of the binoculars is made of magnesium composites.

The night 8x56 model weighs 1150 grams and offers one of the widest fields of view in their class (7.6 degrees) with long eye relief, amounting to as much as 21 mm. The objective of the binoculars consists of three optical elements plus a focusing lens. The eyepiece is a wide angle system with six lenses.
Buyers get a one-piece cover for eyepieces (rainguard), separate cups for objectives with holders, a comfortable, padded strap with a special fixing system, an optics cleaning cloth, and a very solid, stylish hard case in the box.
Manufacturer data
Magnification
Lens diameter
Angular field of view
Prisms
Eye relief
Weight
Price
8
56
133/1000(7.6o)
BaK-4/roof
21 mm
1150 g
9100 PLN
Results of the review
Real front lens diameter
Left: 55.95+/- 0.05 mm
Right: 55.97+/- 0.05 mm
8 / 8.0 pkt
Real magnification
7.98+/- 0.05x
3/3.0
Transmission
90.1+/- 1%
18/25.0
Chromatic aberration
Very low in the centre, but very high on the edge for a change.
5.5/10.0
Astigmatism
Slight but noticeable.
6.3/10.0
Distortion
Distance of the first curved line from the field centre compared to the field of view radius: 55% ± 3%
6/10.0
Coma
Starts near 70% of the field of view radius and is high on the very edge.
6/10.0
Blurring at the edge of the FOV
Blurr occurs in a distance of 81% ±3% from the field of view centre.
6/10.0
Darkening at the edge the FOV
Moderate.
3.7/5.0
Whiteness of the image
Quite flat transmission graph with slight loss of blue and purple light. Very delicategreen-yellow hue.
4/5.0
Collimation
Ideal.
5/5.0
Internal reflections

| | |
| --- | --- |
| Left: | Right: |
| | |

Distinct false pupils.
3/5.0
Housing
It is obvious the designers have done a great job – the binoculars are nice to look at and stylish. A big casing, but typical for this class of equipment (56 mm). Very comfortable to hold (thumb indents) and to look through. Most of its surface covered by brown rubber with fine texture which sticks to your hands well. Nothing sticks out. Rubberized eyecups with 4 detention stops. Allegedly made in Germany...
8/8.0
Focusing
Sensible size of central wheel with noticeable ribbing. It moves smoothly and is properly damped. The full turning range amounts to 590 degrees. Dioptre correction done by a comfortable ring on the right eyepiece. It moves the outer element – in this class you would expect a completely internal focusing.
4.5/5.0
Tripod
There is an tripod exit.
3/3.0
Interpupilary distance
from 55 to 76.7mm
5/6.0
Closest focusing distance
1.85 meters.
2/2.0
Eyepieces FOV
Apparent field of view of 60.0 deg (according to simple formula) and 55.3 deg (according to tangent formula).
11/20.0
Field of view
Measured by us amounted to 7.52 +/- 0.04 degrees and was by 0.08 of a degree narrower than stated in specifications. A huge field for this class of equipment.
7/8.0
Quality of the interior of the barrels
Interior of the tubes dark, very nicely matted and baffled. The bottom and an area close to prisms are dark as well. The edge of the case holding the prism cell is a bit shiny. Some small specks of dust on the focusing lens.
4/5.0
Vignetting

| | |
| --- | --- |
| Left: | Right: |
| | |

OL: 0.46%, OR: 0.49%.
7/8.0
Prisms quality
Good quality BaK-4.
8/8.0
Antireflection coatings
Greenish-red on the objectives. Green-yellow-pink on the eyepieces. Greenish on the prisms. Low intensity.
5/5.0
Warranty [years]
10
4.5/6.0
Final result

75.5%

143.5 / 190 pkt
Econo result
0pkt.
Summary
Pros:
very solid, and stylish housing of excellent built quality,
good transmission,
proper colour rendering,
significant field of view for the 8x56 class,
moderate brightness loss on the edge of the field of view,
high quality antireflection coatings,
good quality BaK-4 glass prisms,
good blackening inside the tubes,
sharp images already from 1.85 metres.
Cons:
unreasonably high price,
high chromatic aberration on the edge of the field of view,
distinct false exit pupils.
The Blaser Primus 8x56 is a very good pair of binoculars; it is also completely overvalued. Even taking into account different bargains, available nowadays, you have to pay for it about 2000 Euro - in my opinion, it is definitely not worth such an amount of money. For smaller sums you can buy better products of more renowned manufacturers.
If you want to be called a premium class producer you have to work long and hard. There are no shortcuts. Such well-known companies as Zeiss, Leica, Swarovski, Docter, Nikon, Fujinon, Minox, or Steiner have been working for decades, developing and improving on their products so, in their case, a price of around 2000 Euro for best, high-end binoculars is not surprising at all.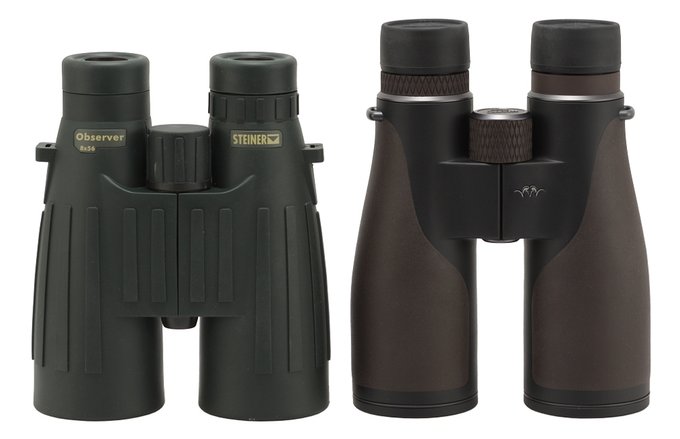 Steiner Observer 8x56 and Blaser Primus 8x56
It seems Blaser wanted to take a shortcut very badly. They thought that, being a well-known producer of hunting rifles, it's enough they commissioned the optics somewhere in Japan, put some screws and eyecups on it in Germany (so they can proudly label their products 'Made in Germany') and people would be banging doors and windows of the shops without even noticing the absurdly high price tag.
While the managers of Blaser were counting on gullibility of customers, they really blew it themselves. The situation is such that, for a noticeably smaller amount of money you can buy proven, reliable, and optically better pairs of binoculas, such as the Swarovski SLC 8x56 W B, the Zeiss Conquest HD 8x56, the Steiner Nighthunter 8x56 or the Minox HG 8x56 BR MIG. Nobody in their right mind would spend more on products of a new player on the optical market without the necessary experience, a company that haven't manufactured any binoculars on their own, just imports ready-made models from Asia.
To bosses of Blaser, I would recommend a bit more humbleness. It's always better to start with a series of products ordinarily priced, not super expensive. The Blaser Primus 8x56, tested here, is certainly a well-done pair of binoculars but I have a feeling it should be sold at about 1000 Euro price-point, not more. As it is, I fear its market share will be just homeopathic.