Focus Nordic Extreme 10x50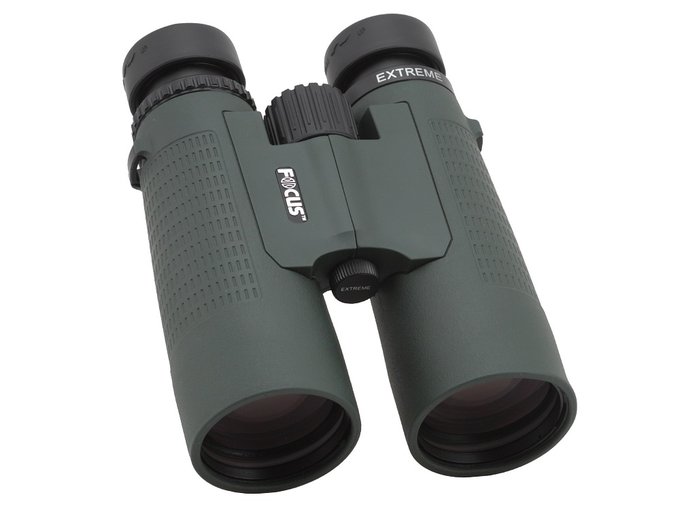 The Focus Nordic company is perhaps not especially well-known on the Polish market but their traditions are long - they've been selling their products in Scandinavia for several dozen years. Some time ago they started to advertise more intensively in Baltic countries and now they are trying to conquer other markets, Poland included.
The Focus Nordic Extreme series consists of binoculars with following parameters: 8x32, 10x32, 8x42, 10x42, 10x50 and 12x50. They are all Schmidt- Pechan roof instruments with phase-correction coating on prisms. Also all elements are supposed to be covered by FMC coating.
The casing of the lens is waterproof and nitrogen-purged. Buyers get caps for objective lenses and eyepieces, a strap and a case in the box. The binoculars come with a 5-year warranty period.
Manufacturer data
Magnification
Lens diameter
Angular field of view
Prisms
Eye relief
Weight
Price
10
50
100/1000(5.7o)
BaK-4/roof
13 mm
750 g
1099 PLN
Results of the review
Real front lens diameter
Left: 49.16+/- 0.05 mm
Right: 49.11+/- 0.05 mm
4 / 8.0 pkt
Real magnification
9.91+/- 0.1x
3/3.0
Transmission
78.6+/- 1%
9/25.0
Chromatic aberration
Average in the centre, high on the edge.
3.2/10.0
Astigmatism
Average. Stars are sparking.
5.5/10.0
Distortion
Distance between the first curved line and the field centre compared to the field of view radius: 62% +\- 3%
7/10.0
Coma
Appears in a distance of 70% of the field of view radius and is a bit higher than medium on the edge.
7/10.0
Blurring at the edge of the FOV
Blur occurs in a distance of 80.5% ± 3% from the field of view center.
5.5/10.0
Darkening at the edge the FOV
Distinct.
2.6/5.0
Whiteness of the image
Good. Still images are with slight red colouring because of low transmission.
3.9/5.0
Collimation
Perfect.
5/5.0
Internal reflections

| | |
| --- | --- |
| Left: | Right: |
| | |

Visible "drop" next to the proper pupil.
3/5.0
Housing
Quite sensible dimensions for 10x50 class. Casing covered by green, matt rubber armour, slightly rough, which sticks to your hands well and ensure firm grip. Despite lack of thumb indents the binoculars are comfortable to use. The armour sticks to the body of the binoculars properly well but next to objective lenses you can pull it away quite easily and almost put your finger into the created slit. Rubberized eyecups with 3 detention stops. Made in China.
7/8.0
Focusing
Huge, comfortable and ribbed central wheel moves unevenly with a slight squelching sound. Running through the whole distance scale takes a turn through an angle of as much as 750 degrees. Dioptre adjustment done through a ring on the right eyepiece. It moves the outer lens and offers significant resistance when turned; the ribs are a tad too sharp to a point of making your fingertips hurt.
3/5.0
Tripod
Difficult access but there is a tripod exit.
2/3.0
Interpupilary distance
from 57 to 73.6mm
4/6.0
Closest focusing distance
2.35 metres.
2/2.0
Eyepieces FOV
Apparent field of view of 55.9 deg (according to simple formula) and 52.0 deg (according to tangent formula).
8/20.0
Field of view
Measured by us amounted to 5.64 ± 0.04 degrees and it was slightly narrower than stated in the specifications. A field a tad smaller than typical in this class of equipment.
5/8.0
Quality of the interior of the barrels
Very nicely blackened, matted and ribbed tubes. The bottom dark near the prisms but a small fragment of the tubes a bit further away is not so dark anymore. Very clean. Some splinters on mechanical parts which are used to move the focal element.
4.1/5.0
Vignetting

| | |
| --- | --- |
| Left: | Right: |
| | |

OL: 5.26%, OR: 5.42%
2/8.0
Prisms quality
Good quality BaK-4.
8/8.0
Antireflection coatings
Greenish on objectives. Very distinct reflection from the prisms, without any colouring. Greenish-blue on eyepieces.
3.5/5.0
Warranty [years]
5
3.5/6.0
Final result

58.3%

110.8 / 190 pkt
Econo result
0pkt.
Summary
Pros:
sensible coma correction,
slight distortion,
good whiteness rendering,
proper blackening inside the binoculars,
good quality BaK-4 prisms.
Cons:
average transmission,
truncated exit pupils,
noticeable brightness loss on the edge of the field,
too high chromatic aberration on the edge of the field,
very bright reflections from the prisms which might suggest lack of any coatings,
objectives smaller than stated in the specifications.
Not so long ago we tested the Focus Nordic Handy-roof 8x42 and its result was a big disappointment. The Extreme series is a tad pricier but, unfortunately, you cannot say its quality is better as well. The 10x50 model gathered in our test practically the same amount of points as the cheaper product.
We complained about transmission previously; now the result is a bit better and the graph below shows it well.
Still the values can hardly be called good; anyway we've seen a better performance while testing other roof instruments similarly priced. The lack of coatings on prisms is most likely responsible for that – they shine so brightly that we think they aren't covered by any antireflection coatings. For contemporary standards it is a huge slip-up at this price-point.
The binoculars didn't bowl us over in any category; what's more, they also had several other slip-ups. The exit pupils were truncated, and, although chromatic aberration on the edge of the field wasn't corrected badly, the field itself could hardly be called wide.
Overall, if I wanted to spend about 250 Euro for a roof prism 10x50 instrument I think I would be able to find several models which would be far more satisfactory than the Focus Nordic Extreme 10x50.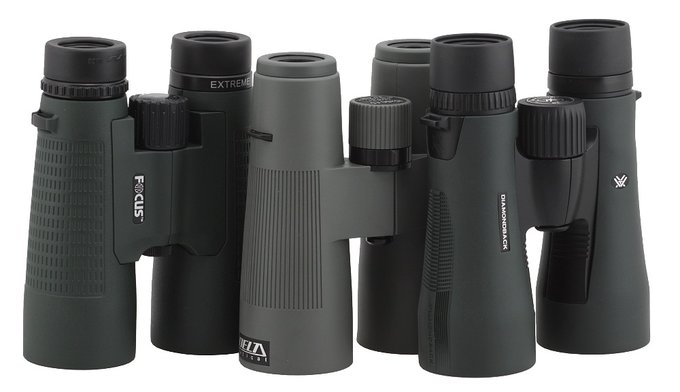 Focus Nordic Extreme 10x50, Delta Optical Chase 10x50 ED and Vortex Diamondback 10x50.
In order to end this test on a positive note, we have to say it is our second Focus Nordic pair of binoculars tested by us and both of them were very nicely blackened inside the tubes and very clean too. Perhaps statistically it is not a meaningful sample but it might mean that the quality control in that Scandinavian company is really tight. When it comes to other producers, at this price point faulty devices are rather norm than an exception.