Vixen Atrek HR 8x56 DCF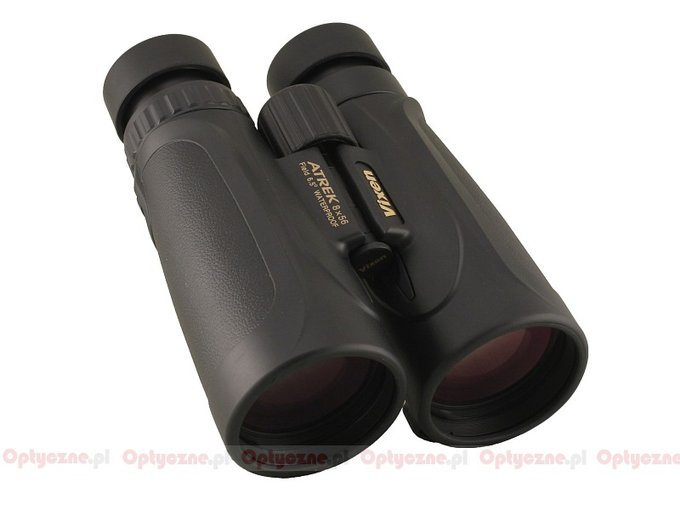 Vixen is a well-known optics manufacturer from Japan. Its offer is wide – it consists of astronomy telescopes, spotting scopes, binoculars and also eyepieces. For many years the products of this company have been deemed very good on the Polish market and they are still hugely popular in some circles, offering high quality at reasonable prices.
Afterwards, strange things started to happen. The company moved one part of its production unit to China in order to cut costs. The information flow has been failing ever since. It often happened that other products were available on the market, others were shown on the Japanese manufacturer's site, others on a European site, and even different products were in printed catalogues. It was really difficult to make head or tail of all that mess - you never knew what was on the market, what was a new product, just launched, and what had already been withdrawn.
In fact, such a situation has been prolonged up to now. When I wanted to write something about the Atrek series I visited the original site of the Japanese producer; I clicked on the Binoculars/Fieldscopes section and all I got was an error message. The European page apparently assumes that everybody speaks German fluently because it is available only in that language. Fortunately there is full info about the Atrek series accessible there and, what's more, the data provided agree with those from a printed catalogue which I have in front of me writing these words. Let's get down to the facts, then.
The HR Atrek DCF series consists of as many as nine models with the following parameters: 8x25, 10x25, 8x32, 10x32, 8x42, 10x42, 8x50, 10x50 and 8x56. All binoculars are equipped with roof prisms made of BaK-4 glass in the Schmidt- Pechan system. All of them are waterproof and nitrogen-filled; they also sport a tripod exit. Their characteristic trait is a short minimum focus distance, which for most models amounts to only 1.0 meter and 1.5 meters for the biggest devices. The company assures that all air-to-glass surfaces are covered by high-class FMC layers. Contrary to some opinions, the Atrek series is manufactured in China, not in Japan.
The buyer gets a five-year-long guarantee as well as a case, a strap and caps for objectives and eyepieces included in box.
Manufacturer data
Magnification
Lens diameter
Angular field of view
Prisms
Eye relief
Weight
Price
8
56
114/1000(6.5o)
BaK-4/roof
22 mm
995 g
1299 PLN
Results of the review
Real front lens diameter
Left: 55.3+/- 0.05 mm
Right: 55.37+/- 0.05 mm
5 / 8.0 pkt
Real magnification
8.03+/- 0.15x
3/3.0
Transmission
88.7+/- 1%
16/25.0
Chromatic aberration
In the frame centre between medium and high, at the edge – high.
4.5/10.0
Astigmatism
Low. Images of stars are presented as spots without clear sideways flashes.
8/10.0
Distortion
The distance of the first curved line from the field centre compared to the field of vision radius: 56% +\- 3%
6/10.0
Coma
It appears already in the middle of the field of view but it is very low at first. Then, it increases to reach the border between medium and high level at the edge.
5.5/10.0
Blurring at the edge of the FOV
The blur appears in the distance of 78% +\- 3% from the field of view centre.
5/10.0
Darkening at the edge the FOV
On the border between medium and low level.
3.7/5.0
Whiteness of the image
The picture with slight cream-pink tinge which is probably the effect of higher red colour transmission than the transmission of yellow and blue.
4/5.0
Collimation
Exemplary.
5/5.0
Internal reflections

| | |
| --- | --- |
| Left: | Right: |
| | |

Medium.
3/5.0
Housing
Small and handy for the 8x56 class. Regulated eyecups. A bit of grease on the screw and some squelches audible during work
6.7/8.0
Focusing
Smooth and comfortable but there's a lot of central screw turning as the full turn of the whole scale available takes as many as 1300 degrees. Right ocular's individual click-stop focusing moves the whole lens.
4.5/5.0
Tripod
There is an adapter but with a very uncomfortable access.
1.5/3.0
Interpupilary distance
from 58.4 to 75.6mm
5/6.0
Closest focusing distance
1.4 m.
2/2.0
Eyepieces FOV
Apparent field of view of 50.7 deg (according to simple formula) and 47.8 deg (according to tangent formula).
4/20.0
Field of view
Measured by us amounted to 6.32 +\- 0.03 degrees and was a bit smaller than in technical specifications. The field typical for this class of equipment.
4/8.0
Quality of the interior of the barrels
Inner tubes black but a bit shiny. Some specks of dust visible on prisms. The bottom is gray. White glue used for prisms.
3.5/5.0
Vignetting

| | |
| --- | --- |
| Left: | Right: |
| | |

OL: 0.0%, OR: 0.7%
7.5/8.0
Prisms quality
Good quality BaK-4
8/8.0
Antireflection coatings
Green-red on objective lenses. Geen on prisms. Greenish-blue on eyepieces. In oculars one surface shines brightly and seems not to be covered by anything.
4/5.0
Warranty [years]
5
3.5/6.0
Final result

64.7%

122.9 / 190 pkt
Econo result
0pkt.
Summary
Pros:
good transmission,
high class prisms made of BaK-4 glass,
small dimensions for such parameters,
pupils only slightly truncated,
sharp image already from the distance of 1.4 metres,
low astigmatism,
correct white reproduction,
relatively good workmanship quality.
Cons:
lens a bit smaller that promised 56 mm,
high chromatic aberration at the edge of the field of view.
The Vixen HR Artrek 8x56 DCF binoculars didn't make any serious slip-up in our test. Quite the opposite in fact – you can write more good than bad things about this instrument. We get here a 8x56 device and rather compact at the same time, equipped with prisms that don't cause any significant vignetting. It is a great achievement because usually the weight and the dimensions of binoculars are reduced at the expense of prisms, which cause in turn a significant truncation of exit pupils. A relatively high transmission level also deserves some praise here, because almost 89% of light passing through in the visible spectrum centre is a very good result for a pair of roof-prism binoculars. To be even nearer perfection the device must have had a more flat transmission curve – now the binoculars distorts the colours a bit, letting pass 93% of red light but only 83% of blue light, which can be clearly seen on the transmission graph below.
As we mentioned before there are almost no slip-ups. In most test categories the binoculars' results are average or a bit higher than average. All in all, the Vixen collected as many as almost 120 points – exactly the borderline between good and very good level. Taking into account the binoculars' price, which amounts to about 300 USD, we can confidently say that buying it you won't waste your money.
A high level of competition in this price-quality market segment might cause a problem for the Vixen . Almost identical result was achieved by a roof-prism Eschenbach-sektor D compact 8x56 B which costs also about 300 USD. A bit better than the Atrek fared cheaper porro prism binoculars such as a Vixen Ultima 8x56 or a Delta Optical Titanium 8x56. If you are willing to spend about one hundred USD more you can try to find a renown Steiner Ranger 8x56 (Porro version) on special offer, which also performs better than the Atrek. The Vixen has some strong points though, so this device will be able to win a part of customers over for sure.