Nikon Action EX 8x40 CF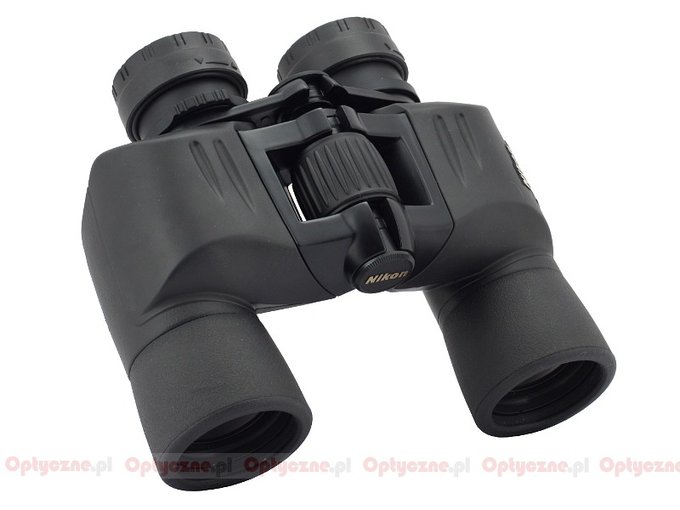 The EX Action series produced by the reputable Nikon company consists of mid-range pairs of binoculars with the following parameters: 7x35, 8x40, 7x50, 10x50, 12x50, 16x50 , 7-15x35 and 10-22x50.
All Action EX binoculars come with BaK-4 glass Porro prisms. Their objectives are usually two-piece achromatic ones and the eyepieces consists most often of four elements with aspherical lenses.
All air-to-glass surfaces are supposed to be covered by antireflection multi-coatings. A lightweight body, made of aluminum, is padded with high quality rubber and the binoculars are nitrogen-filled inside. The device is also waterproof.
Manufacturer data
Magnification
Lens diameter
Angular field of view
Prisms
Eye relief
Weight
Price
8
40
143/1000(8.2o)
BaK-4/porro
17.2 mm
855 g
430 PLN
Results of the review
Real front lens diameter
Left: 40.05+/- 0.05 mm
Right: 40.05+/- 0.05 mm
8 / 8.0 pkt
Real magnification
8.56+/- 0.05x
2.5/3.0
Transmission
80.1+/- 1.5%
10/25.0
Chromatic aberration
Moderate in the centre, near medium on the edge.
5.9/10.0
Astigmatism
Slight.
7.5/10.0
Distortion
The distance of the first curved line from the field centre compared to the field of vision radius: 71% ± 3%
8/10.0
Coma
Appears already near 45% from the field of vision and is high on the very edge.
1.6/10.0
Blurring at the edge of the FOV
The blur occurs in a distance of 65% +\- 5% from the field of vision's centre.
2/10.0
Darkening at the edge the FOV
Slight.
4.1/5.0
Whiteness of the image
Noticeable yellow hue of the image because of the loss of blue and purple light.
3.3/5.0
Collimation
Perfect.
5/5.0
Internal reflections

| | |
| --- | --- |
| Left: | Right: |
| | |

A lot of glare near the exit pupils.
2.8/5.0
Housing
Solid, compact device with a high quality rubber padding. Very comfortable to hold. The rubber near the objectives sticks out a bit. Eyecups are large and quite hard (moderately comfortable near your eye) but regulated (4 stops). Produced in China.
7/8.0
Focusing
Classic bridge connected with the central wheel which is covered by ribs and rubber padding. The wheel's performance is not even: near infinity it is hard to turn, working much looser near the minimum focus. Full scale takes a turn through an angle of about 460 degrees. The bridge moves quite evenly though, with very small side play and you can't defocus the binoculars by pressing it. Individual focusing is done by turning a ring with significant insets, situated on the right eyepiece; it works well but moves the rear element.
4/5.0
Tripod
Comfortable to use, easily accessible tripod exit.
3/3.0
Interpupilary distance
from 55.2 to 72.7mm
3/6.0
Closest focusing distance
2.85 m
1.5/2.0
Eyepieces FOV
Apparent field of view of 67.9 deg (according to simple formula) and 61.4 deg (according to tangent formula).
15/20.0
Field of view
Measured by us amounted to 7.93 +\- 0.04 degrees and it was by 0.27 of a degree narrower than in the specifications. A large field for this class of equipment.
6/8.0
Quality of the interior of the barrels
Black, nicely matted inner tubes. Gray bottom, not darkened. White glue near the prisms. Almost perfectly clean!
3.9/5.0
Vignetting

| | |
| --- | --- |
| Left: | Right: |
| | |

OL: 0.5% OR: 0.0%.
7.5/8.0
Prisms quality
Good quality BaK-4.
8/8.0
Antireflection coatings
Greenish-blue on objectives, blue-purple on prisms and eyepieces. Medium intensity. It seems that one inner surface of the achromatic objective is not coated at all.
4/5.0
Warranty [years]
10
4.5/6.0
Final result

67.4%

128.1 / 190 pkt
Econo result
0pkt.
Summary
Pros:
compact and solid body,
sensibly corrected chromatic aberration,
slight astigmatism,
low distortion,
small light fall-off on the edge of the field,
wide field of view,
good quality glass BaK-4 prisms,
circular exit pupils,
dark and clean inside the tubes.
Cons:
average transmission,
huge coma,
noticeable resolution decrease on the edge of the field of view,
no coatings on one air-to-glass surface of the objective,
field of view a bit narrower than that declared in the specifications.

The Action EX series binoculars are models which you can recommend on spec for beginners. If anybody is looking for a pair of binoculars which don't cost more than 100 USD and asks my opinion I don't put forward any Action VII device or one of the Aculons but I suggest that you should increase the budget by couple of USD and get interested in one of the Action EX instruments. If you are used to cheap optics which can be bought at any market place the Action EX class binoculars most of the time will be advanced enough to make a very good impression and it's hardly surprising – these are classic Porro devices with achromatic objectives, designed by a company which is a binoculars specialist few manufacturers could rival. Their products have been present on the market for a long time and their sales volume has been significantly high; that's why the price is sensible and the price/quality ratio – very good.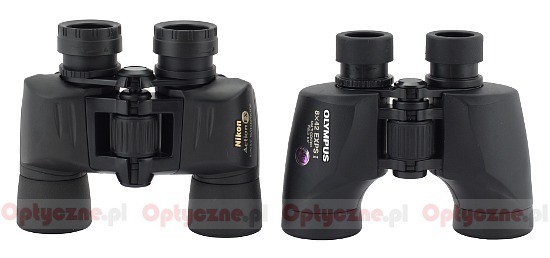 Nikon Action EX 8x40 CF and Olympus EXPS I 8x42
Additionally, because of the roof prism binoculars trending, the competition in this segment is becoming scarcer and scarcer. By and large any sensible options are offered only by such companies as Bresser, Bushnell, Delta Optical, Fomei, Olympus, Opticron, Pentax or Praktica. Still none of these producers can offer such a rich choice of parameters as the Action EX series; mind you their products are often worse when it comes to some features (e.g. compare the fields of view of both pairs of binoculars which are presented in the photo above).
If you focus solely on 8x40 (8x42) Porro devices which cost about 500 PLN (about 150 USD) the choice is even narrower. The following chart shows models which you can buy without any problems in Poland.
Small wonder the Nikon Action EX 8x40 CF is a pair of binoculars which are mentioned very often in discussions on our website. To tell you the truth I am ashamed it took me so long to test it.
Let's progress to the results of the test. I can say the resolution graph surprised me the most – it is presented below.
For a Porro device those results are weak, especially if you compare them to the performance of the Action EX 10x50 CF, tested several years ago. You would expect that the binoculars should exceed the 90% levels, not just sneak near 80%. If you look closely at the coatings you'll discover the reason behind low resolution values. It seems that one air-to-glass surface in the objective is not covered at all and the prisms and one part of surfaces in the eyepiece are covered by just cheap one-layer coatings. Such an economy is hardly understandable, especially when your rivals, like the Olympus EXPS I, can perform much better. It is also strange because of the results of the Nikon Action EX 10x50 CF, tested several years ago, which had multi-coatings on all air-to-glass surfaces and the transmission on a level of 90%.
As we are mentioned the slip-ups we must also say something about that field of view, a tad narrower than declared (the same flaw we found in the 10x50 model), high coma and the distinct resolution decrease on the edges.
However, in order to keep our review nicely balanced, you should also mention many strong points of the Nikon Action EX 8x40 CF. You can praise its wide field of view, well-corrected when it comes to the distortion, chromatic aberration and astigmatism; its workmanship is also of high quality, with a solid casing, good darkening and cleanliness inside the tubes. Nice, circular exit pupils and good quality prisms should be mentioned as well.
The parameters of the tested binoculars and its final score in our test confirm the high opinion the Action EX series enjoys and the feature it is famous for, namely its good price quality ratio. The immediate rivals such as the Delta Optical Titanium 8x42, the Olympus EXPS I 8x42 or the Pentax PCF II 8x40 WP might have better testing results but their fields of view are narrower so easier to correct. If the size of the field of view is important feature you are looking for the Nikon Action EX 8x40 CF will live up to your expectations.