Vortex Razor 10x42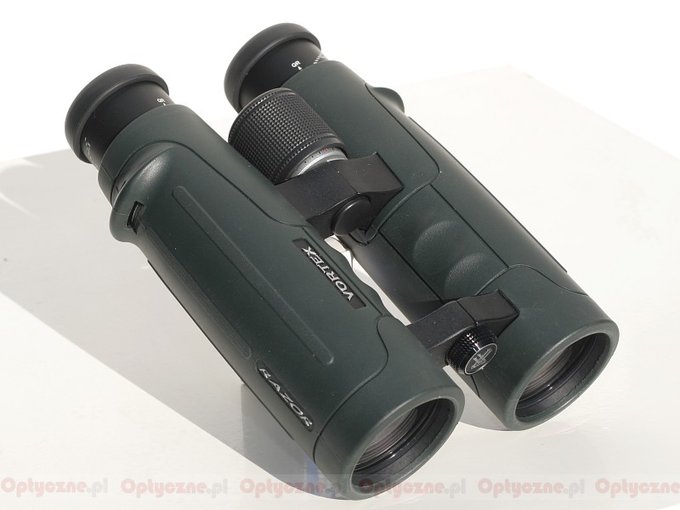 The Razor series consists of roof prism binoculars with the following parameters: 8x42, 10x42, 8.5x50, 10x50 and 12x50. In all models low-dispersion XD glass was used and special XR antireflection coatings which together are supposed to ensure a bright, contrasting and natural image. Additionally, in order to obtain the highest transmission and contrast levels, the Razors' roof prism were phase correction coated and some silver was applied on the reflective layer.
The binoculars are put into a solid housing with a high quality rubber armour which makes them dustproof and shockproof. The instruments are argon-filled and waterproof.
Manufacturer data
Magnification
Lens diameter
Angular field of view
Prisms
Eye relief
Weight
Price
10
42
109/1000(6.2o)
BaK-4/roof
16 mm
845 g
2419 PLN
Results of the review
Real front lens diameter
Left: 41.95+/- 0.05 mm
Right: 41.91+/- 0.05 mm
8 / 8.0 pkt
Real magnification
9.99+/- 0.15x
3/3.0
Transmission
89+/- 3%
16.5/25.0
Chromatic aberration
Slight in the centre, significant at the edge.
5.7/10.0
Astigmatism
Very low.
8.7/10.0
Distortion
The distance of the first curved line from the field centre compared to the field of view radius : 31% +\- 5%
3/10.0
Coma
Very low.
8.1/10.0
Blurring at the edge of the FOV
The blur occurs in the distance of 88% +\- 3% from the field of view centre.
7.5/10.0
Darkening at the edge the FOV
Slight.
4.1/5.0
Whiteness of the image
Minimally yellow.
4.2/5.0
Collimation
Exemplary.
5/5.0
Internal reflections

| | |
| --- | --- |
| Left: | Right: |
| | |

Slight.
3.9/5.0
Housing
Very solid and stylish. Significant dimensions. Comfortable to hold and to look through. Eyecups with stops.
7.8/8.0
Focusing
Comfortable central screw with click stop (400 degrees) Nothing moves outside - internal focusing.
4.7/5.0
Tripod
Yes but too far from the gravity centre.
2/3.0
Interpupilary distance
from 54.6 to 75.3mm
5/6.0
Closest focusing distance
2.25 m
1.5/2.0
Eyepieces FOV
Apparent field of view of 59.7 deg (according to simple formula) and 55.1 deg (accrding to tangent formula).
11/20.0
Field of view
Measured by us amounted to 5.98 +\- 0.03 degrees and it was by 0.22 degree narrower than stated in the specifications.
4/8.0
Quality of the interior of the barrels
Beautiful black and matt inner tubes. Slightly gray bottom. Clean.
4.7/5.0
Vignetting

| | |
| --- | --- |
| Left: | Right: |
| | |

OL: 2.6%, OR: 1.5%.
Pupils slightly egg-shaped.
5.5/8.0
Prisms quality
High class BaK-4.
8/8.0
Antireflection coatings
Green on objectives and prisms. Green-yellow on eyepieces. Low intensity.
5/5.0
Warranty [years]
lifetime
6/6.0
Final result

75.2%


14th place in the overall ranking of the 10x42 binoculars test.
142.9 / 190 pkt
Econo result
21st place in the overall ranking of the 10x42 binoculars test.
4.1pkt.
Summary
Pros:
very solid and stylish casing,
good transmission,
negligible astigmatism,
low coma,
slight light fall-off at the edge,
good whiteness rendition,
excellent inner tubes blackening,
high quality of coatings and prisms,
lifetime warranty.
Cons:
field of view narrower than in the specifications,
slightly truncated pupils,
high distortion,
distinct chromatic aberration at the edge of the field,
bad place for a tripod exit.

The product is undoubtedly well-made but there's still room for improvement – the binoculars could have fared better. Instead, they lost some points due to slip-ups which are not fully understood by us. Their weight is significant so it would be possible to put inside prisms sufficiently big not to truncate the pupils. The Busnhell Elite 10x43, although almost 200 grams lighter, managed to do it correctly so there is no reason why the Razor cannot. It is also strange why the company risks the criticism of customers and testers by overstating the field of view in the specifications. Say what you like, the producer should know the parameters of their products very precisely. What's more, when you boast of using low-dispersion glass you shouldn't have such a significant chromatic aberration in your device…
These slight faults shouldn't cloud the overall assessment of this instrument which has to be good. If a set of binoculars gets a score of over 130 points in our test, you can't be unhappy. You can consider another option, though, because if a slightly cheaper Vortex Viper has the result of several small points higher is there really any sense in paying more?