Leupold BX-1 McKenzie HD 12x50
The BX-1 McKenzie HD series, offered by the American Leupold company, consists of four models with the following parameters: 8x42, 10x42, 10x50, and 12x50.
All models are Schmidt-Pechan roof prism devices but the producer does not inform what coatings cover their reflexing surfaces, and whether or not they are also phase-correction coated.
When it comes to coatings of the lenses, Leupold claim they are protected by scratch-proof and dirt-proof layers along with the Advanced Optical System which is supposed to ensure high transmission by covering all air-to-glass surfaces by antireflection coatings.
The information that HD letters in the name come from expensive high-definition CaFl (calcium fluoride) lenses is quite surprising. To be honest I personally doubt such a material can be used in a pair of binoculars at such a price-point.
All binoculars from this series come with a full lifetime warranty. Buyers get them with a rich accessory kit, including caps for objective lenses and eyepieces, a strap, a case, and a cleaning cloth.
Manufacturer data
Magnification
Lens diameter
Angular field of view
Prisms
Eye relief
Weight
Price
12
50
80/1000(4.6o)
BaK-4/roof
17 mm
765 g
1129 PLN
Results of the review
Real front lens diameter
Left: 49.98+/- 0.05 mm
Right: 50.01+/- 0.05 mm
8 / 8.0 pkt
Real magnification
12.55+/- 0.05x
3/3.0
Transmission
76.6+/- 1%
8/25.0
Chromatic aberration
A bit lower than medium in the centre, high on the edge.
4.5/10.0
Astigmatism
Noticeably sparkling stars. A performance a tad below average.
4/10.0
Distortion
The distance of the first curved line from the field centre compared to the field of view radius: 45% ± 4%
5/10.0
Coma
Occurs in a distance of 70% of the field of view radius and is between medium and high on the very edge.
6.1/10.0
Blurring at the edge of the FOV
Blur appears in a distance of 66% ±3% from the field of view centre.
2/10.0
Darkening at the edge the FOV
Distinct.
2/5.0
Whiteness of the image
Noticeable pink-red colouring of images. The highest transmission value for red light and a significant dip for green.
2.7/5.0
Collimation
Almost perfect.
4.5/5.0
Internal reflections

| | |
| --- | --- |
| Left: | Right: |
| | |

Brighter areas and arcs near exit pupils.
2.5/5.0
Housing
Shapely and lightweight for the 12x50 class. Smooth rubber armour that seems sturdy enough – it sticks well to the chasis but sticks out near the objectives. The binoculars are sensibly comfortable to carry, with ergonomic thumb indents. Rubberized eyecups with three detention stops are rather hard. Produced in China.
6.5/8.0
Focusing
A big, ribbed central wheel that moves quite loosely but with still acceptable resistance. Its full focus throw amounts to 560 degrees. Dioptre correction on the right eyepiece – it is controlled by a ribbed ring that is rather difficult to turn. It moves the outer element.
4/5.0
Tripod
There is an exit and with a sensibly comfortable access.
3/3.0
Interpupilary distance
from 59.4 to 74mm
4/6.0
Closest focusing distance
1.9 meters.
2/2.0
Eyepieces FOV
Apparent field of view amounts to 59.7 degrees according to the simplified formula and 55.1 degrees according to the tangent formula.
11/20.0
Field of view
Measured by us amounted to 4.76 ± 0.04 degrees and it was even a tad wider than stated in official specifications. A typical field for this class of equipment.
5.5/8.0
Quality of the interior of the barrels
Smooth, gray inner tubes, quite matt but without any ribbing and with few apertures. Areas around prisms are gray and matt too.Very clean inside.
4/5.0
Vignetting

| | |
| --- | --- |
| Left: | Right: |
| | |

OL: 6.19%, OR: 1.84%
3.5/8.0
Prisms quality
High quality BaK-4.
8/8.0
Antireflection coatings
Green on objective lenses and eyepieces, green-yellow on prisms. High intensity.
4.2/5.0
Warranty [years]
lifetime
6/6.0
Final result

60%

114 / 190 pkt
Econo result
0pkt.
Summary
Pros:
chassis of sensible quality,
sharp images already from 1.9 meters,
very clean and sensibly blackened interiors of the tubes,
good quality prisms made of BaK-4 glass,
antireflection coatings cover all air-to-glass surfaces,
lifetime warranty.
Cons:
weak transmission,
a bit too high chromatic aberration on the edge of the field of view,
fast decrease of sharpness near the edge of the field,
distinct brightness loss on the edge of the field,
truncated exit pupils.
The Leupold BX-1 McKenzie HD 12x50 currently can be bought for 260-280 USD - it's about 20-30% more than the price of the Vortex Crossfire HD 12x50, tested by us not so long ago. As the said Vortex got a noticeably higher score in our test this summary could have ended here as well.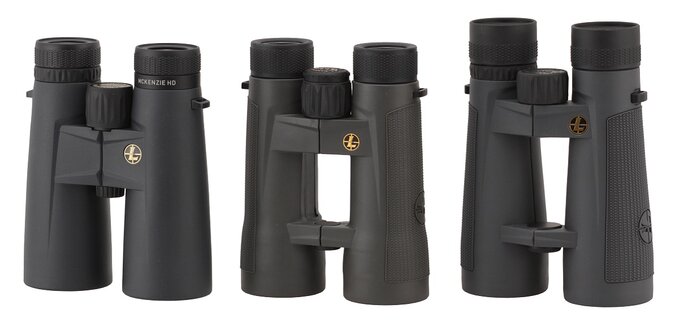 Leupolad BX-1 McKenzie HD 12x50, Leupold BX-4 Pro Guide HD 12x50 and Leupold BX-5 Santiam HD 12x50.
To be honest, it would be very difficut to find any reason to buy the Leupold, taking into account the fact that the cheaper Vortex is also better in practically all categories. I think here of correction of optical aberrations but also of keeping declared parameters and a wider field of view.
Still, if you want to find areas where the Leupold BX-1 McKenzie HD 12x50 might prevail over the Crossfire HD 12x50 you have to focus on details. For example the Leupold can offer you a better eye relief, a shorter minimum focusing distance; it is also physically lighter and slightly shorter than the Vortex. Are these features something that can persuade you to buy the Leupold? Not in my case – especially when you get weaker optical properties for a higher price.
Another argument against the BX-1 McKenzie HD is purely esthetic and rather subjective. I've praised the designers of the Vortex a lot because even their cheapest devices are nice to look at and ergonomic; unfortunately I cannot say the same about Leupold products. In my opinion the BX-1 McKenzie HD looks more clunky and is not as pleasing as the Crossfire HD or the Diamondback HD.
To sum up the Leupold BX-1 McKenzie HD has been the biggest disappointment among all our 12x50 binoculars tests so far and a device with the least favourable price/quality ratio. It would be difficult to recommend such a purchase.