Delta Optical Chase 12x50 ED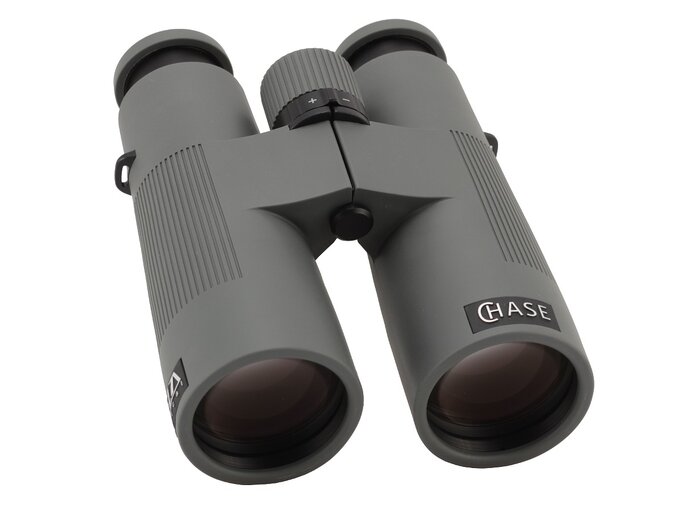 In March 2017 the Polish Delta Optical company announced a launch of a new series of binoculars called Chase ED. It was supposed to consist of four models with the following parameters: 8×42, 10×42, 10×50 and 12×50.
All binoculars are roof prism Schmidt-Pechan constructions with the silver-covered reflection layer. The producers don't mention any phase-correction coatings. All air-to-glass surfaces are coated by antireflection multilayer coatings and you can find ED glass in the objective lenses.
The casings of the binoculars are compact, equipped with the internal focusing and dioptre correction mechanism, and completely waterproof. They are also nitrogen-purged.
Buyers get a case, a cleaning cloth for optics and caps for objectives and eyepieces. The product comes with 10-year guarantee period.
Manufacturer data
Magnification
Lens diameter
Angular field of view
Prisms
Eye relief
Weight
Price
12
50
93/1000(5.3o)
BaK-4/roof
17 mm
890 g
1490 PLN
Results of the review
Real front lens diameter
Left: 49.32+/- 0.05 mm
Right: 49.33+/- 0.05 mm
5 / 8.0 pkt
Real magnification
12.19+/- 0.05x
3/3.0
Transmission
78.3+/- 1%
9/25.0
Chromatic aberration
ED glass effect visible at once – in the field centre chromatic aberration is very low, medium at most on the edge.
7.5/10.0
Astigmatism
Average level. Stars spark a bit.
5.8/10.0
Distortion
Distance between the first curved line from the field centre compared to the field of view radius: 44% ±2%
4.5/10.0
Coma
Appears in a distance of 70% of the field of view radius and is medium on the very edge.
7.3/10.0
Blurring at the edge of the FOV
Blur occurs in a distance of 77% ± 3% from the field of view centre.
5/10.0
Darkening at the edge the FOV
Moderate.
3.2/5.0
Whiteness of the image
Heavily slanted transmission graph with a huge loss when it comes to purple-blue light; the highest results for orange-red part of the spectrum. Respectively, such is also dominating colouring of images.
2.8/5.0
Collimation
Perfect.
5/5.0
Internal reflections

| | |
| --- | --- |
| Left: | Right: |
| | |

A weak arc visible not far away from the exit pupil.
3.9/5.0
Housing
Very shapely and stylish – rather small and lightweight for the 12x50 class. Padded with good quality rubber armour that sticks to the casing of the binoculars quite well, being a bit too loose only near the objective lenses. Slight, rubberized eyecups with four detention stops. Produced in China.
7.5/8.0
Focusing
Huge, ribbed central wheel that works properly well with a full range of as much as 900 degrees – there is sometimes a lot of turning. Joystick next to tthe central wheel for dioptre correction. Nothing moves outside – a rarity at this price point.
5/5.0
Tripod
A comfortable access for a tripod socket.
3/3.0
Interpupilary distance
from 58.3 to 75.1mm
5/6.0
Closest focusing distance
2.45 meters.
2/2.0
Eyepieces FOV
Apparent field of view of 64.9 degrees (simplified formula) and 59.0 degrees (tangent formula).
14/20.0
Field of view
Measured by us amounted to 5.32 +/- 0.04 degrees and was in perfect accordance with specifications. A wide field for this class of equipment.
6.5/8.0
Quality of the interior of the barrels
Nicely blackened, matted, and ribbed tubes. A wide bottom near prisms is black, a smaller bushing is dark, everything as blackened as it should. Very few specks of dust on prisms.
4.8/5.0
Vignetting

| | |
| --- | --- |
| Left: | Right: |
| | |

OL: 0.42%, OR: 0.67%
7/8.0
Prisms quality
High quality BaK-4 glass.
8/8.0
Antireflection coatings
Green-orange on objectives, green-blue on the prisms, green-yellow on eyepieces. Medium intensity.
4.5/5.0
Warranty [years]
10
4.5/6.0
Final result

70.4%

133.8 / 190 pkt
Econo result
0pkt.
Summary
Pros
shapely and very stylish casing,
lack of any serious problems with chromatic aberration,
moderate coma,
nicely blackened area near exit pupils,
proper blackening and cleanliness inside the tubes,
prisms made of BaK-4 glass,
internal focusing and dioptre correction.
Cons:
too weak transmission,
just average colour rendering.
The Delta Optical Chase ED series is very even – all its models managed to exceed a very good level of 130 points in our tests. Taking into account the prices of these binoculars, which amount to just a bit more than 200 Euro, you have to admit the products are really worth your attention.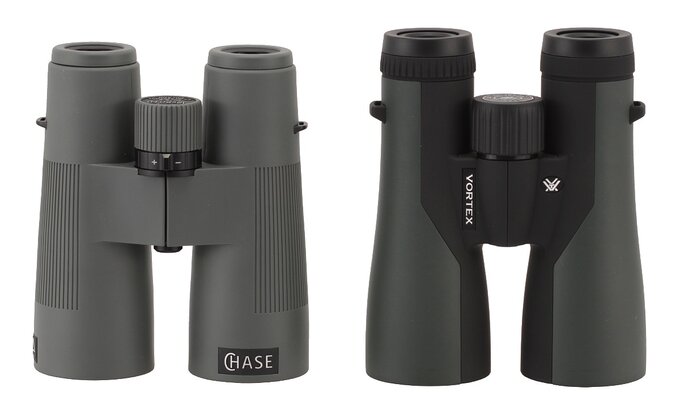 Delta Optical Chase ED 12x50 and Vortex Crossfire HD 12x50.
If you add to that a very stylish, shapely casing of very good quality it would be difficult to find any serious fault with these instruments.
Of course you can always pick holes in the performance and here we have to admit the antireflection coatings are certainly a weak spot. It seems they can differ not only from model to model, but also from one batch to another, from one delivery to the next. Mind you the evolution is not always going in the right direction...
If you compare transmission graphs of particular models you find huge differences even though you deal here with one series of binoculars. As it happens, the 12x50 model has the most of issues in this area. Perhaps it stemms from the fact that its eyepiece is optically the most complex of all, perhaps there are other reasons; still, the result is such that the transmission curve of this model is very slanted, with a huge loss of purple and blue light. The effect? Colour rendering, offered by the 12x50 model, we found rather poor for contemporary standards.
As you see there are no miracles but, with such a low price tag, you would be foolish to expect a perfect pair of binoculars, without any compromises. Of course all these slip-ups aren't able to change our good opinion of the Delta Optical Chase ED series as a whole, and never forget about its great value for money/price-performance ratio.