Delta Optical Titanium 10x56 ROH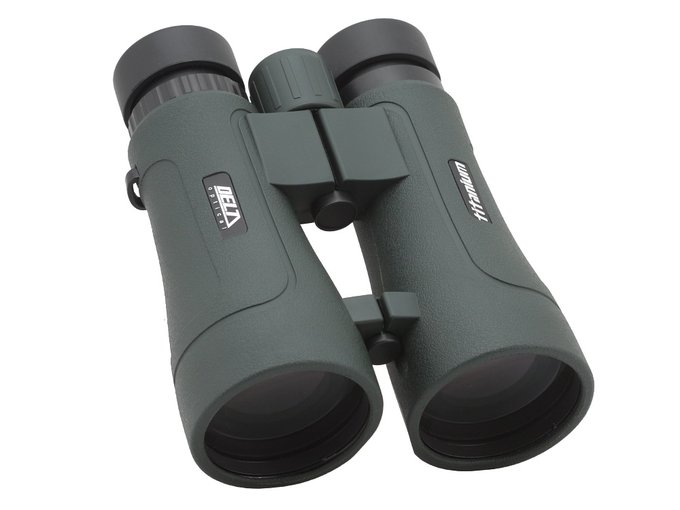 In 2011 Delta Optical offered their customers a handy 8x56 roof model with good optical properties. Mind you they didn't take the line of least resistance by just ordering a pre-produced model from one of Chinese factories. They created a new piece of equipment instead, a far more difficult thing to do, and it arrived without the casing to Poland for initial tests. Those tests revealed some flaws which, hopefully, were removed from the final product, and the outer casing was also designed in Poland. As a result the company got a pair of binoculars which optical construction and physical appearance they could influence. The equipment didn't perhaps earn a 'Made in Poland' label but it was certainly designed in Poland as the producer boast about on the casing.
After a very positive reception of the 8x56 model Delta enlarged their line-up by 10x56 and 12x56 binoculars launched in 2012 and 2014 respectively.
The DO Titanium 10x56 ROH is a small and handy roof instrument with Schmidt-Pechan prisms. Its reflective surface is supposed to be covered by enriched aluminum layers. Apart from that all air-to-glass surfaces feature multilayer antireflection coatings.

Buyers get objective caps, a rainguard, a strap and a hard case in the box. The binoculars come with a 5-year warranty period.
Manufacturer data
Magnification
Lens diameter
Angular field of view
Prisms
Eye relief
Weight
Price
10
56
98/1000(5.6o)
BaK-4/roof
? mm
960 g
1249 PLN
Results of the review
Real front lens diameter
Left: 56.02+/- 0.05 mm
Right: 56.04+/- 0.05 mm
8 / 8.0 pkt
Real magnification
9.9+/- 0.05x
3/3.0
Transmission
83.1+/- 1%
11/25.0
Chromatic aberration
Noticeable in the centre but without any serious problems. Close to medium on the edge.
6/10.0
Astigmatism
Moderate.
6.3/10.0
Distortion
Distance between the first curved line and the field centre compared to the field of view radius: 82% +\- 3%
10/10.0
Coma
Appears in a distance of 60% of the field of view radius and is between medium and high on the very edge.
5.2/10.0
Blurring at the edge of the FOV
Blur occurs in a distance of 94% ± 3% from the field of view centre.
9/10.0
Darkening at the edge the FOV
Moderate.
3.5/5.0
Whiteness of the image
Slight green-yellow hue. A very good result. A relatively flat graph without any losses for blue light.
4.6/5.0
Collimation
Perfect.
5/5.0
Internal reflections

| | |
| --- | --- |
| Left: | Right: |
| | |

A bit too bright area next to the pupils.
3.7/5.0
Housing
Small and very compact, looking more like a 50 mm than a 56 mm instrument. Very comfortable to hold and to look through. Ergonomic. Rubberized eyecups with 4 detention stops. A bit of grease next to the eyecups and tube joint. Rubber next to objective lens sticks out a bit but nothing creaks or bends under pressure. Produced in China but the casing designed in Poland.
6.5/8.0
Focusing
Averagely sized central wheel which moves lightly and evenly. Full turn needs an angle of 480 degrees. Individual focusing done through a comfortable slide ring on the right eyepiece. It moves the outer element. It is quite hard to turn, especially after a longer break.
4/5.0
Tripod
At the front of binoculars, far from the mass centre and very uncomfortable to reach.
1.5/3.0
Interpupilary distance
from 60.2 to 74.9mm
4/6.0
Closest focusing distance
1.55 meters.
2/2.0
Eyepieces FOV
Apparent field of view of 55.9 deg (according to simple formula) and 52.1 deg (according to tangent formula).
8/20.0
Field of view
Measured by us amounted to 5.65 +/- 0.04 degrees and was slightly wider than in specifications. A typical field for this class of equipment.
5/8.0
Quality of the interior of the barrels
Black, matted tubes, partially baffled; their lower part looks better than the upper one which is a bit too smooth and too bright. Dark bottom. Clean.
4.3/5.0
Vignetting

| | |
| --- | --- |
| Left: | Right: |
| | |

OL: 0.7%, OR: 0.63%
7/8.0
Prisms quality
High quality BaK-4.
8/8.0
Antireflection coatings
Greenish on objective lenses, green-purple on eyepieces, greenish-yellow on prisms. Medium intensity.
4.5/5.0
Warranty [years]
5
3.5/6.0
Final result

70.3%

133.6 / 190 pkt
Econo result
0pkt.
Summary
Pros:
very small and handy casing,
very low distortion,
moderate astigmatism,
sharp image for most of field of vision,
excellent colour rendition,
proper blackening inside tubes,
good quality coatings and prisms,
not very bothersome brightness loss on the edge of the field,
sharp image already from less than 1.5 metres.
Cons:

The test result of the Delta Optical Titanium 10x56 ROH, a bit better than that of its 8x56 brother; was able to exceed a very good level of 130 points, mainly due to the fact that the binoculars are practically flawless. Perhaps it sounds strange in a case of a piece of equipment costing just 300 Euro but such is the truth – there are no serious slip-ups here. Of course the device lost some points for coma correction, chromatic aberration correction or loss of brightness on the edge of the field but these weren't serious losses. Even for the weakest categories its performance can be easily called medium or at least acceptable.
The transmission graph, presented below, is an interesting thing.

First of all it is completely different than the graph of the 8x56 model. Perhaps it's due to a different eyepiece construction but I suppose the factory producing the DOT 10x56 ROH has been experimenting with coatings. There might be even changes between particular supplies and batches.
The total transmission level doesn't bowl us over, especially as you deal here with a night instrument, but the graph is quite flat, with a noticeable surplus of blue, so the colour rendering is very good indeed.
To sum up you get a shapely, handy night instrument for a very reasonable price, perfect for the elderly or those who prefer higher magnification than 8x56, usually offered in that segment. Delta once again managed to achieve their specialty – a very good product with a very favourable price/quality ratio. A way to go!