Vanguard Endeavor ED II 8x42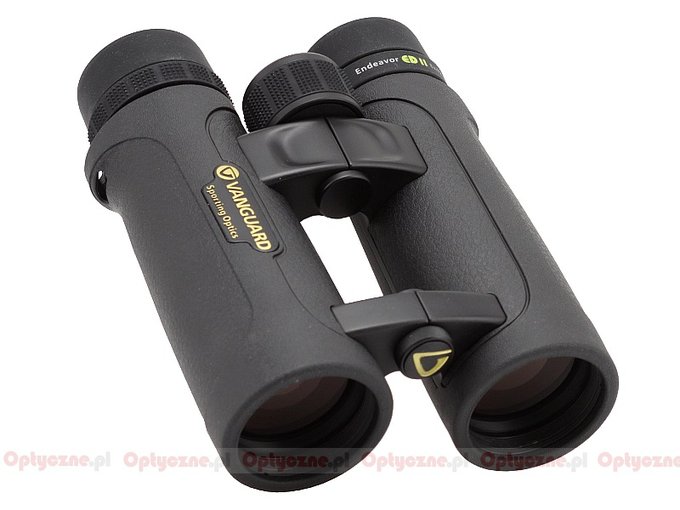 Several years ago the Vanguard company launched a series of binoculars called the Endeavor ED, consisting of five roof prism models with the following parameters: 8x32, 8x42, 10x42, 8.5x44 and 10.5x44. That series hardly managed to impact the market properly and the producer soon decided to launch its successor, the Endeavor ED II models. In 2014 you could observe the presentation of three devices: the 8x32, the 8x42 and the10x42. So far both series, the older and the newer, have been available in shops and the price difference between them amounts to just several hundred PLN.
The binoculars are very similar to each other, differing in merely cosmetic details in casing and coatings – those used in Vanguards ED II seem to be more efficient, with lower intensity, providing more natural colours.
If you buy one of the Vanguard Endeavor ED II pairs of binoculars you get a very rich accessory kit: the caps for objectives and eyepieces, a strap, a very stylish, profiled case with a separate strap and a possibility to attach it to your belt and an optics cleaning cloth. The beautiful case itself is the proof that the Vanguard company have a lot of experience when it comes to producing bags or cases – it can be an example to follow for other optics producers.
It is also worth mentioning that the Endeavors come with lifetime warranty both on Polish and American markets.
Manufacturer data
Magnification
Lens diameter
Angular field of view
Prisms
Eye relief
Weight
Price
8
42
126/1000(7.2o)
BaK-4/roof
19.5 mm
770 g
2399 PLN
Results of the review
Real front lens diameter
Left: 42+/- 0.05 mm
Right: 42+/- 0.05 mm
8 / 8.0 pkt
Real magnification
8.02+/- 0.05x
3/3.0
Transmission
82.1+/- 1.5%
11/25.0
Chromatic aberration
Slight in the centre but huge on the edge.
5.6/10.0
Astigmatism
Not bothersome.
6.9/10.0
Distortion
The distance between the first curved line and the field centre compared to the field of view radius: 95% ± 3%
10/10.0
Coma
Appears only in a distance of 80% of the field of view radius and is slight on the very edge.
8.7/10.0
Blurring at the edge of the FOV
The blur occurs in a distance of 99% ± 2% from the field of view centre.
10/10.0
Darkening at the edge the FOV
Very low.
4.8/5.0
Whiteness of the image
Out of all devices belonging to the ED II series the 8x42 model has the best red and blue light transmission, but still you deal here with over 10% of difference between those colours which makes the image noticeably warmer.
3/5.0
Collimation
Perfect.
5/5.0
Internal reflections

| | |
| --- | --- |
| Left: | Right: |
| | |

Quite dark but a false pupil is very distinct.
3.3/5.0
Housing
Solid, constructed as an "open hinge" type. Very good quality rubber armour. Nothing creaks, nothing sticks out. Rubberized and regulated eyecups (4 stops). Produced in China.
8/8.0
Focusing
A big and comfortable central wheel covered with fine ribbing. Running through the whole range takes a turn through about 280 degrees. The wheel moves smoothly and is well-damped. A sliding ring on the right eyepiece for individual focusing which moves the element. One thing you can carp about here is that ribbing on the wheel which is a bit too fine and the ring, not especially nice under the fingers.
4.3/5.0
Tripod
There is an exit but far from the gravity centre
2/3.0
Interpupilary distance
from 58.3 to 74mm
5/6.0
Closest focusing distance
1.65 meters.
2/2.0
Eyepieces FOV
Apparent field of view of 55.5 deg (according to simple formula) and 51.7 deg (according to tangent formula).
7/20.0
Field of view
Measured by us amounted to 6.92 +/- 0.04 degrees and it was narrower than stated in the specifications.
4/8.0
Quality of the interior of the barrels
Well darkened and well baffled tubes. Black but slightly shiny bottom. Very clean.
4.5/5.0
Vignetting

| | |
| --- | --- |
| Left: | Right: |
| | |

OL: 5.97%, OR: 9.53%
1/8.0
Prisms quality
Good quality BaK-4.
8/8.0
Antireflection coatings
Green-purple on objectives, greenish on eyepieces and prisms. Medium intensity.
4.5/5.0
Warranty [years]
lifetime
6/6.0
Final result

71.4%

135.6 / 190 pkt
Econo result
0pkt.
Summary
Pros:
solid casing,
moderate chromatic aberration
not bothersome astigmatism,
excellent distortion control,
very low coma,
sharp image across the whole field of view,
low brightness loss on the edge of the field of view,
good quality prisms made of BaK-4 glass,
sharp image already from a distance of 1.65 metres,
very good darkening and cleanliness inside the tubes,
lifetime warranty period,
brilliant price/quality and price/possibilities ratios.
Cons:
real field of view narrower than declared,
very significantly truncated exit pupils,
too low transmission level at this price point.

The Vanguard Endeavor ED II 10x42 proved to be an outstanding pair of binoculars. The 8x32 was a tad weaker but still very good. The Endeavor ED II 8x42 got more points than the 8x32 but, at the same time, it had more evident slip-ups in the test. The flaw especially painful in our view are distinctly truncated exit pupils.
I don't understand the fields of vision problem either. The 8x32 and the 8x42 are supposed to have fields of the same size, amounting to 7.2 degrees; still one glance at both instruments and you know the field of the 8x42 is narrower. You don't even need to measure anything to find out that much. Such a cavalier approach toward parameters stated in official specifications doesn't befit a producer which aspires to offer products belonging to such a premium segment.
As we are already talking about the flaws we can't miss the transmission - its graph is shown below.

A very good result, on a level of 90%, is achieved only for red light. In the centre of the visible spectrum that value is already closer to 80% and at least several good percent too low for a top-of-the-range piece of equipment.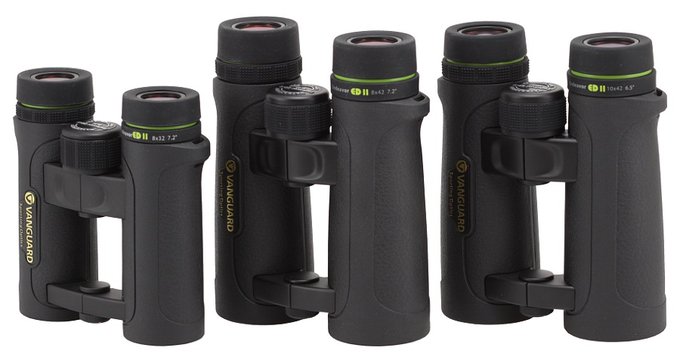 Vanguard Endeavor ED II series binoculars.

Still let's end our carping now; after all a result of over 133 points achieved by a pair of binoculars you can buy for about 2000 PLN is nothing to be ashamed of. If you have a look at our 8x42 binoculars ranking you see that only devices notably more expensive than the Vanguard occupy higher places than the tested instrument. As a result the Endeavor ED II 8x42 undoubtedly remains one of better options available on the market.
Overall I admit the Endeavor ED II series is one of the most positive surprises we've encountered while testing binoculars during the last several years. In fact each of these models belonging to that series is completely recommendable. If the Endeavor ED III series gets better coatings and if its producer stops being so vague when it comes to the fields of view we might get devices as close to perfection as it is actually possible. We wish so the company and we hope our wishes will come true.