Docter 10x42 ED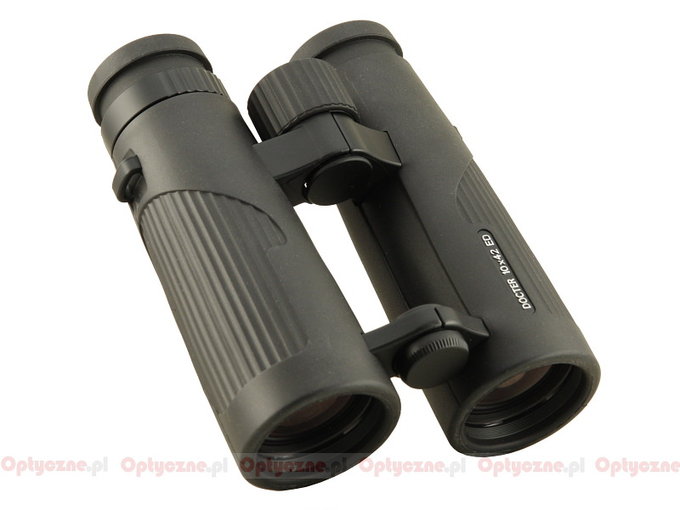 In June 2010 the German Analytik Jena company presented two new roof-prism sets of binoculars with an objective diameter of 42 mm. These are constructions of the more and more fashionable "open hinge" type, additionally equipped with not less fashionable ED low-dispersion glass.
The binoculars have standard parameters for this class of equipment : 8x42 and 10x42. These new roof devices feature Schmidt-Pechan prisms. According to the producer all air-to-glass surfaces are coated by high quality DOCTER®multitop antireflection layers. The binoculars are waterproof and nitrogen-filled.
Manufacturer data
Magnification
Lens diameter
Angular field of view
Prisms
Eye relief
Weight
Price
10
42
105/1000(6o)
BaK-4/roof
15.5 mm
680 g
3900 PLN
Results of the review
Real front lens diameter
Left: 42.1+/- 0.05 mm
Right: 42.08+/- 0.05 mm
8 / 8.0 pkt
Real magnification
10.05+/- 0.05x
3/3.0
Transmission
83.3+/- 1.5%
11/25.0
Chromatic aberration
Noticeable in the centre but not very high. Medium on the edge.
6.9/10.0
Astigmatism
Low.
8.2/10.0
Distortion
The distance of the first curved line from the field centre compared to the field of view radius: 89% ± 2%
10/10.0
Coma
Appears quite far from the centre because in the distance of about 80%. A bit higher than medium on the very edge.
7.7/10.0
Blurring at the edge of the FOV
The blur occurs in the distance of 89% +\- 2% from the field of view centre.
8/10.0
Darkening at the edge the FOV
Very low.
4.5/5.0
Whiteness of the image
A hole in the transmission curve in the centre of the visible spectrum.
3.9/5.0
Collimation
Perfect.
5/5.0
Internal reflections

| | |
| --- | --- |
| Left: | Right: |
| | |

Low.
4.1/5.0
Housing
Very handy, compact and physically light. Padded with black rubber of high quality. Comfortable to hold and to look through. Rubberized eyecups with four different heights. Rubber near objectives sticks out a bit.
7.7/8.0
Focusing
Quite big, comfortable central wheel with the full turn of 540 degrees. It moves smoothly and is well-damped. Individual focusing on the right eyepiece – it moves the outer lens. A comfortable ring.
4.6/5.0
Tripod
The tripod exit is easy to reach but far from the centre of mass of the binoculars.
2.5/3.0
Interpupilary distance
from 55.9 to 74.1mm
5/6.0
Closest focusing distance
1.45 m
2/2.0
Eyepieces FOV
Apparent field of view of 60.7 deg (according to simple formula) and 55.9 deg (according to tangent formula).
11/20.0
Field of view
Measured by us amounted to 6.04 +\- 0.03 degrees and it was a bit wider than stated in specifications. A typical field for this class of equipment.
5.5/8.0
Quality of the interior of the barrels
Inner tubes black but a bit slightly shiny. Grey bottom. Very clean.
4.1/5.0
Vignetting

| | |
| --- | --- |
| Left: | Right: |
| | |

OL: 4.9%, OR: 2.7%
Noticeably truncated exit pupils.
4/8.0
Prisms quality
High quality BaK-4.
8/8.0
Antireflection coatings
Greenish on objectives and prisms. Green-purple on eyepieces. Medium intensity.
4.5/5.0
Warranty [years]
30
5/6.0
Final result

75.9%

144.2 / 190 pkt
Econo result
0pkt.
Summary
Pros:
very shapely, relatively light and at the same time solid casing,
sharp image for most of field of view area,
low astigmatism,
slight coma,
negligible distortion,
low brightness loss on the edge of the field of view,
the right level of blackening and cleanliness inside the binoculars,
good quality of prisms,
exit pupils on a nice, dark background,
long guarantee period.
Cons:
noticeably truncated exit pupils,
deep transmission hole in the centre of the visible spectrum.
Looking at the result of the tested lens, its price and the list of the pros and cons only one word is brought to your mind: pity. It's a pity that the policy of economizing on dimensions and weight prevailed over the common sense – that's why the binoculars feature a bit too small prisms and, as a result of that, truncated exit pupils.
It is also a pity that the transmission graph looks as shown below.
The main problem is a deep hole in the middle of the visible spectrum which perhaps would be understandable in the case of cheap coating on Chinese optics but not in the case of a German Docter which, with its Nobilem series and the 8x58 model, made us accustomed to the transmission on the 95-98% level.
If it wasn't for these two slip-ups the Docter 10x42 would have a score exceeding significantly 140 points so he would be placed in the narrow top group of 10x42 class binoculars, faring as well as more expensive devices produced by Leica, Swarovski or Zeiss.
So far the overtone of our opinion was not positive. It is good to keep the right point of reference, though. Our bitterness stems from the fact that we were so close of getting an undisputed market hit – a German pair of binoculars with a long guarantee period, an excellent test score and a price which can be still called acceptable. To be honest we must stress out, however, that the score of almost 139 points is also an excellent one and everyone who buys this Docter will be satisfied with the purchase for sure.