Eschenbach farlux® selector D 8.5x45 B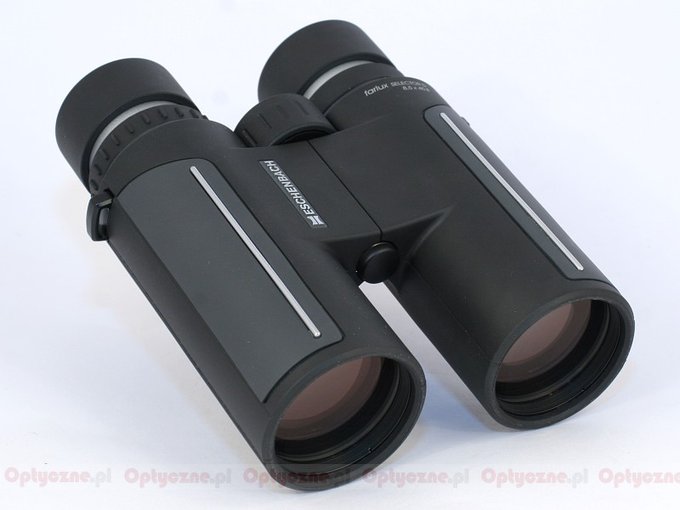 Eschenbach farlux® selector D 8.5x45 B is a relatively new pair of binoculars, launched in 2007. This roof prism instrument is phase correction coated with prisms made of BaK-4 glass. Additionally, a new kind of coatings was used – they are called "naturebright" and are supposed to ensure a splendid transmission and colour rendition level. The barrel was made of magnesium alloys so it is physically light and tough at the same time. It is also waterproof because of the rubber armour.
The buyer gets a good quality case and a solid suitcase included in box.
Manufacturer data
Magnification
Lens diameter
Angular field of view
Prisms
Eye relief
Weight
Price
8.5
45
117/1000(6.7o)
BaK-4/roof
? mm
880 g
2042 PLN
Results of the review
Real front lens diameter
Left: 44.9+/- 0.05 mm
Right: 44.9+/- 0.05 mm
8 / 8.0 pkt
Real magnification
8.55+/- 0.15x
3/3.0
Transmission
91+/- 3%
18.5/25.0
Chromatic aberration
Medium in the middle, a bit above medium at the edge.
4.6/10.0
Astigmatism
Low.
7.5/10.0
Distortion
The distance of the first curved line from the filed centre compared to the field of view radius: 64% +\- 4%
7/10.0
Coma
Very low.
8.8/10.0
Blurring at the edge of the FOV
The blur occurs in the distance of 84% +\- 3% from the field centre.
6.5/10.0
Darkening at the edge the FOV
Slight.
4/5.0
Whiteness of the image
Minimally yellow.
4.1/5.0
Collimation
Perfect.
5/5.0
Internal reflections

| | |
| --- | --- |
| Left: | Right: |
| | |

Average.
3.5/5.0
Housing
Solid and massive. Twist-up plastic eyecups. Near the objective lenses the rubber sticks out. Interesting design.
7.1/8.0
Focusing
Central wheel moves smoothly but is a bit slippery and it doesn't resists fingers well (470 degrees). Individual focusing through a comfortable ring and it moves the outer lens.
4.3/5.0
Tripod
Moderately convenient exit.
2.5/3.0
Interpupilary distance
from 58.5 to 74.5mm
5/6.0
Closest focusing distance
1.85 m.
2/2.0
Eyepieces FOV
Aparent field of view of 57.3 deg (according to simple formula) and 53.2 deg (according to tangent formula).
9/20.0
Field of view
Measured by us amounted to 6.70 +\- 0.03 degrees and it was in perfect accordance with specifications. A wide field for this equipment class.
6/8.0
Quality of the interior of the barrels
Tubes black but shiny. Grey bottom. Some specks of dust.
3.7/5.0
Vignetting

| | |
| --- | --- |
| Left: | Right: |
| | |

OL: 3.6%, OR: 8.6%
2/8.0
Prisms quality
High quality BaK-4.
8/8.0
Antireflection coatings
Orange-pink on the objective lenses. Green on the prisms. Green-pink-orange on the eyepieces. Low intensity.
5/5.0
Warranty [years]
10
4.5/6.0
Final result

73.5%

139.6 / 190 pkt
Econo result
0pkt.
Summary
Pros:
very solid and stylish casing,
good transmission,
low astigmatism,
slight distortion,
very low coma,
slight brightness loss at the edge of the field,
good colours rendition,
small minimal focus distance,
good quality of prisms and coatings,
rich accessory kit.
Wady:

A very well made pair of binoculars - apart from the truncated pupils there's nothing to carp about. For the price of less than 500 Euro we get a stylish, solidly build instrument with excellent properties and good or very good degree of the main optical aberrations' correction. We have no doubts that if you buy it you will be pleased with it.
If only the producer took care of the better shape of the exit pupils and their vicinity, we would have a virtually perfect device in this price segment.