Bushnell Infinity 8.5x45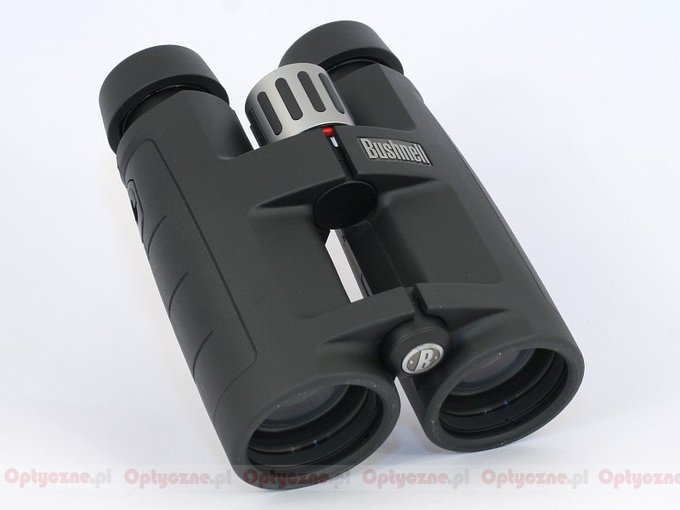 Bushnell Infinity is a new series of binoculars, launched in 2007. These are roof system instruments, with the Schmidt-Pechan prisms, made of BaK-4 glass, phase correction coated with PC-3 and reflection SHR coatings.
The binoculars from this series are waterproof and nitrogen-filled.
Manufacturer data
Magnification
Lens diameter
Angular field of view
Prisms
Eye relief
Weight
Price
8.5
45
105/1000(6o)
BaK-4/roof
19.5 mm
708 g
1859 PLN
Results of the review
Real front lens diameter
Left: 44.9+/- 0.05 mm
Right: 44.95+/- 0.05 mm
8 / 8.0 pkt
Real magnification
8.6+/- 0.15x
3/3.0
Transmission
92+/- 3%
19.5/25.0
Chromatic aberration
Medium in the middle and high at the edge.
4/10.0
Astigmatism
Distinct.
4.3/10.0
Distortion
The distance of the first curved line from the filed centre compared to the field of view radius: 43% +\- 3%
4/10.0
Coma
Between low and medium.
6.5/10.0
Blurring at the edge of the FOV
The blur occurs in the distance of 88% +\- 3% from the field of view centre.
7.5/10.0
Darkening at the edge the FOV
Low.
4.5/5.0
Whiteness of the image
Minimally blue hue.
4.6/5.0
Collimation
Perfect.
5/5.0
Internal reflections

| | |
| --- | --- |
| Left: | Right: |
| | |

Noticeable but not at the highest level.
3.5/5.0
Housing
Solid and massive. Twist-up plastic eyecups. Ergonomic.
7.8/8.0
Focusing
Central screw moves smoothly, comfortably and easily (570 degrees). Individual focusing through a convenient click-stop system. Nothing moves outside.
5/5.0
Tripod
There is an exit but far from the centre of mass.
2/3.0
Interpupilary distance
from 57.4 to 74.7mm
5/6.0
Closest focusing distance
1.55 m
2/2.0
Eyepieces FOV
Apparent field of view of 50.7 deg (according to simple formula) and 47.8 deg (according to tangent formula).
4/20.0
Field of view
Measured by us amounted to 5.90 +\- 0.03 degrees and it was slightly narrower than in specifications. A typical field for this equipment class.
5/8.0
Quality of the interior of the barrels
Tubes black and matt. Bottom is light and shiny. Two scratches on one prism.
3.5/5.0
Vignetting

| | |
| --- | --- |
| Left: | Right: |
| | |

OL: 1.4%, OR: 5.5%
4/8.0
Prisms quality
Good quality BaK-4.
8/8.0
Antireflection coatings
Green on the objective lenses and prisms. Red-green on the eyepieces. Medium intensity.
4.5/5.0
Warranty [years]
5
3.5/6.0
Final result

67.7%

128.7 / 190 pkt
Econo result
0pkt.
Summary
Pros:
solid housing with good solution of the focusing mechanism,
very good transmission,
slight coma,
sharp image almost in the whole field of view,
very low brightness loss at the edge of the field,
very small minimal focus distance,
good quality coatings and prisms.
Cons:
truncated exit pupils,
a bit too narrow field of view for this equipment class,
high chromatic aberration at the edge of the field,
distortion could have been lower.

An interesting and a very solid pair of binoculars which is additionally nice to look at. Good quality optics should be praised here – we get bright and sharp image with natural colours. Unfortunately, there were several slip-ups as well but none of them was serious. In this price segment we would rather not see truncated pupils and a narrow field of view.
The overall assessment, taking into account the test score of 122 points, can be only positive. The binoculars have many advantages and only minor flaws, after all. By and large, the instrument is worth our interest but if the binoculars' price was lower, it would be surely even more attractive device.