Kowa Genesis 8.5x44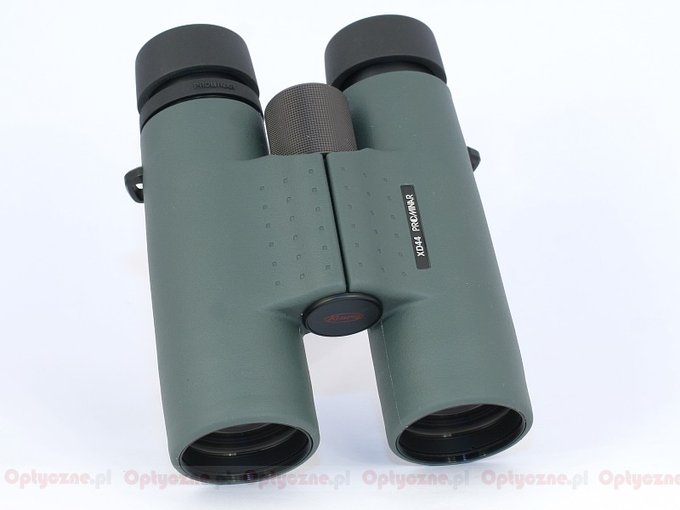 Kowa is a Japanese manufacturer with quite modest but very well-known offer. Its main part consists mainly of instruments for ornithologists. In 2007 its offer was enlarged by binoculars with objective lenses 44 mm in diameter. The company assures that they are designed to be physically the lightest and the most handy still keeping the high quality of optics. Their construction is based on the roof prisms in the Schmidt- Pechan system, made of BaK-4 glass and phase correction coated. One edge of the Pechan prism doesn't assure full reflection and must be covered by an additional reflection coating. Kowa used here a specially designed C3 coating which reduces light losses to only 1%. This result is by several percent better (at the ends of the visible spectrum it's even more than 10% better) than in the case of standard aluminum coatings.
In addition low dispersion XD glass was used in the objective lenses which task is to eliminate chromatic and spherical aberration. The set of binoculars, tested here, was waterproof and nitrogen-filled and its barrel was made of magnesium alloys padded with high quality rubber.
Manufacturer data
Magnification
Lens diameter
Angular field of view
Prisms
Eye relief
Weight
Price
8.5
44
123/1000(7o)
BaK-4/roof
18.3 mm
950 g
3717 PLN
Results of the review
Real front lens diameter
Left: 44+/- 0.05 mm
Right: 44.1+/- 0.05 mm
8 / 8.0 pkt
Real magnification
8.36+/- 0.15x
3/3.0
Transmission
94+/- 3%
21.5/25.0
Chromatic aberration
Very low in the middle and at the edge.
9/10.0
Astigmatism
A bit better than average. In this equipment class could have been lower.
6/10.0
Distortion
The distance of the first curved line from the filed centre compared to the field of view radius: 57% +\- 5%
6/10.0
Coma
Negligible and slight even at the very edge.
9/10.0
Blurring at the edge of the FOV
The blur occurs in the distance of 85% +\- 3% from the field of view centre.
7/10.0
Darkening at the edge the FOV
Visible but average.
3.3/5.0
Whiteness of the image
Minimal cream.
4.1/5.0
Collimation
Perfect.
5/5.0
Internal reflections

| | |
| --- | --- |
| Left: | Right: |
| | |

Noticeable but at a sensible level.
3.3/5.0
Housing
Solid and massive. Plastic twist up eyecups. No reservations. Comfortable to hold and to look through. Padded with good quality rubber.
8/8.0
Focusing
Very convenient central screw, moves smoothly and precisely (530 degrees). Individual focusing on the right eyepiece is comfortable and stopped, it moves the inner lens.
4.8/5.0
Tripod
No.
0/3.0
Interpupilary distance
from 51.4 to 75.2mm
5/6.0
Closest focusing distance
1.60-m
2/2.0
Eyepieces FOV
Apparent field of view of 58.8 deg (according to simple formula) and 54.4 deg (according to tangent formula).
10/20.0
Field of view
Measured by us amounted to 7.03 +\- 0.03 degrees and it was in perfect accordance with specifications. A quite wide field of view for this equipment class.
6/8.0
Quality of the interior of the barrels
Tubes are dark and matt, the bottom too. No glue. Minimal specks of dust on the prisms.
4.5/5.0
Vignetting

| | |
| --- | --- |
| Left: | Right: |
| | |

OL: 0.3%, OR: 0.0%.
8/8.0
Prisms quality
High quality BaK-4.
8/8.0
Antireflection coatings
Pink-orange on the objective lenses. Yellow-pink on the prisms. Yellow-pink-green-orange on the eyepieces. Low intensity.
5/5.0
Warranty [years]
2
2/6.0
Final result

78.2%

148.5 / 190 pkt
Econo result
0pkt.
Summary
Pros:
solid housing made of high quality materials,
high transmission,
quite wide field of view,
high class prisms and coatings,
relatively low distortion,
excellent coma correction,
perfect correction of chromatic aberration,
sharp image already from 1.7 meters,
good whiteness rendition,
good blackening inside.
Cons:
lack of a tripod exit,
short guarantee period for this price segment.
The binoculars virtually without flaws. It didn't have a weak or below-the-average result in any category. If only Kowa improved a bit the astigmatism correction, the light fall-off at the edge, and added a tripod exit, we would have a market hit which would be able to compete with the most cult brands' products. Even now we deal with an exceptionally well made set of binoculars – it would be difficult not to recommend it. A standing ovation!