Leica Trinovid 10x42 BN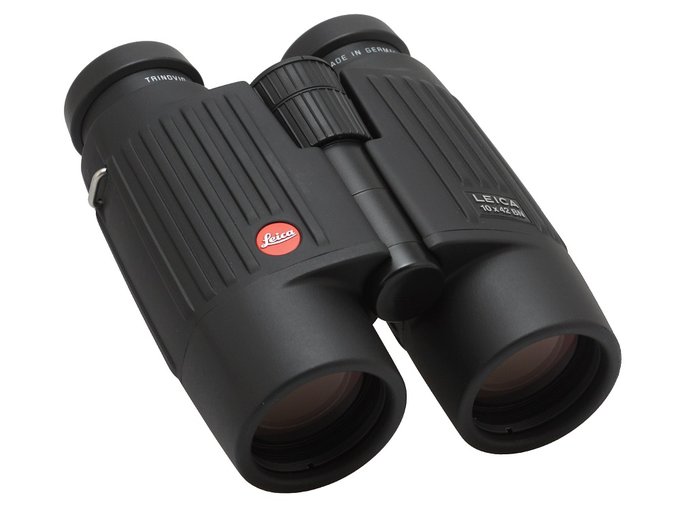 The Trinovid binoculars series consists of roof prisms models with the following parameters: 8x20, 10x25, 8x32, 10x32, 7x42, 8x42, 10x42, 8x50, 10x50 and 12x50.
The Trinovid binoculars' objective lenses consist of four lenses made of the highest quality optical glass, which have undergone an exceptionally precise and long-lasting grinding process. The lenses are coated with modern HDC antireflection multilayer coatings which are harder than glass, enhancing contrast and damping down flares. The BN series models are nitrogen-filled so fogproof in changeable humidity and temperatures conditions.
The binoculars' barrel is made of die-cast aluminum exceptionally resistant to temperature changes. An anti-skidding, elastic armour protects the barrel against mechanical damages and ensures comfortable usage in all climatic conditions, The housing is completely sealed so the device is submersible down to a depth of five meters. The Trinovid series binoculars are equipped with a central multi-function focusing mechanism with the integrated dioptre correction (doesn't apply to the smallest models).
Manufacturer data
Magnification
Lens diameter
Angular field of view
Prisms
Eye relief
Weight
Price
10
42
110/1000(6.3o)
BaK-4/roof
13.9 mm
890 g
5299 PLN
Results of the review
Real front lens diameter
Left: 41.98+/- 0.05 mm
Right: 42+/- 0.05 mm
8 / 8.0 pkt
Real magnification
9.85+/- 0.2x
3/3.0
Transmission
87+/- 3%
14.5/25.0
Chromatic aberration
Slight in the centre and at the edge.
7/10.0
Astigmatism
Very low.
8.2/10.0
Distortion
The distance of the first curved line from the field centre compared to the field of view radius : 51% +\- 3%
5.5/10.0
Coma
Slight.
7.3/10.0
Blurring at the edge of the FOV
The blur occurs in the distance of 82% +\- 4% from the field of view centre.
6/10.0
Darkening at the edge the FOV
Negligible.
4.6/5.0
Whiteness of the image
Noticeable cream-yellow.
3.6/5.0
Collimation
Exemplary.
5/5.0
Internal reflections

| | |
| --- | --- |
| Left: | Right: |
| | |

Negligible.
4.8/5.0
Housing
Very compact and solid, with significant weight. Comfortable to hold and to look through. The eyecups have no in-between position – they can only be either extended or collapsed.
7.3/8.0
Focusing
Comfortable central screw with a pull-out click stop. By pulling out and pressing you can sometimes change the sharpness. Nothing moves outside.
4.2/5.0
Tripod
You can buy an additional tripod mount.
2/3.0
Interpupilary distance
from 55.3 to 74.8mm
5/6.0
Closest focusing distance
2.4 m.
1.5/2.0
Eyepieces FOV
Apparent field of view of 61.3 deg (according to simple formula) and 56.3 deg (according to tangent formula).
11.5/20.0
Field of view
Measured by us amounted to 6.22 +\- 0.04 degrees and was minimally lower than that in the specifications.
6.5/8.0
Quality of the interior of the barrels
Black and matt. Several small specks of dust and one quite large on the prisms. A hair glued to an inner tube!!!
3.5/5.0
Vignetting

| | |
| --- | --- |
| Left: | Right: |
| | |

Perfect and round exit pupils.
OL: 0.0%, OR: 0.0%.
8/8.0
Prisms quality
High class BaK-4.
8/8.0
Antireflection coatings
Yellow-pink-green on objectives. Yellow on prisms. Yellow-orange on eyepieces. Low intensity.
5/5.0
Warranty [years]
lifetime
6/6.0
Final result

76.8%


9th place in the overall ranking of the 10x42 binoculars test.
146 / 190 pkt
Econo result
44th place in the econo ranking of the 10x42 binoculars test.
-5pkt.
Summary
Pros:
very solid housing, convenient to hold,
good transmission,
very low astigmatism,
slight coma,
chromatic aberration quite well-corrected,
negligent light fall-off at the edge of the field,
high quality of prism and coatings,
almost imperceptible inner flares,
perfectly circular exit pupils clearly seen in the black background,
good warranty conditions.
Cons:
whiteness rendition could have been better.

The binoculars virtually without faults, although, taking into account the price, you could expect better results when it comes to the sharpness of the field at its edge, the distortion correction or the whiteness rendition.