Hawke Frontier ED X 8x42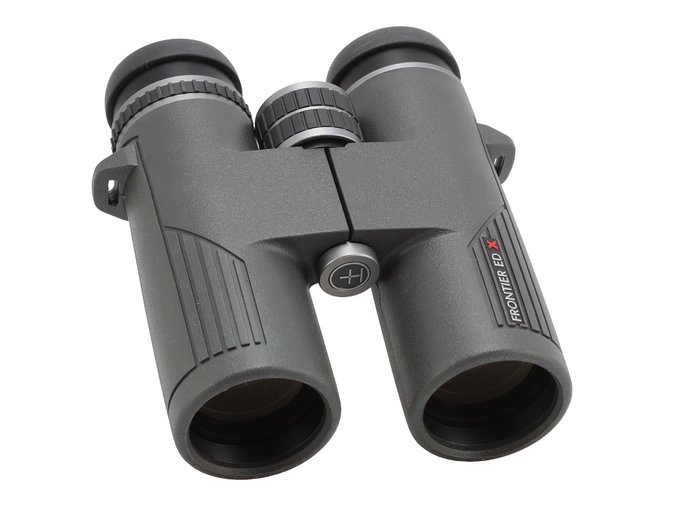 The Frontier series, produced by the UK Hawke company, is divided into two lines: the cheaper Frontier HD X and the more expensive Frontier ED X. Both of them feature 8x32, 10x32, 8x42 and 10x42 models which come in two rubber armour versions, either gray or green.
According to official declarations of the producers, the Frontier ED X binoculars are supposed to feature everything a flagship, top-of-the-range device has to have nowadays. There is low dispersion ED glass in the optical system, all air-to-glass surfaces are fully multi-coated, Schmidt-Pechan roof prisms, phase correction and dielectric coated, are made of BaK-4 glass,. Apart from that the objective lenses have hydrophobic layers to repell water and moisture.
The chassis is made of magnesium alloy and covered by high-quality rubber armour. The binoculars are fully sealed, nitrogen purged and waterproof.
Buyers get in the box a top-notch accessory kit too: a stylish hard case with a strap, all caps, a cleaning cloth, and harness adaptors. The product comes with a 10-year warranty period of the producer.
Manufacturer data
Magnification
Lens diameter
Angular field of view
Prisms
Eye relief
Weight
Price
8
42
142/1000(8.1o)
BaK-4/roof
18 mm
692 g
1699 PLN
Results of the review
Real front lens diameter
Left: 42+/- 0.05 mm
Right: 42+/- 0.05 mm
8 / 8.0 pkt
Real magnification
7.73+/- 0.05x
3/3.0
Transmission
84.5+/- 1%
12/25.0
Chromatic aberration
Very low in the centre, a bit lower than medium on the edge. A nice result!
8/10.0
Astigmatism
Slight.
8.2/10.0
Distortion
Distance of the first curved line from the field of view centre compared to the field of view radius: 32% ± 4%.
3/10.0
Coma
Starts in a distance of 65% of the field of view radius and is high on the very edge.
5/10.0
Blurring at the edge of the FOV
Blur occurs in a distance of 74% +\- 3% from the field of view centre.
4/10.0
Darkening at the edge the FOV
Distinct.
2.8/5.0
Whiteness of the image
Very nice and exceptionally flat transmission graph. Excellent colour rendering.
4.7/5.0
Collimation
Very good.
5/5.0
Internal reflections

| | |
| --- | --- |
| Left: | Right: |
| | |

Significant drop next to the proper pupil.
3/5.0
Housing
Size typical for the 42 mm class instruments. Good quality rubber armour that sticks to your hands properly well and covers tightly the chassis; still it is a bit loose next to objectives. Comfortable to handle and to look through. Rubberized eyecups with three detention stops.
7.5/8.0
Focusing
Huge, comfortable central ring with ribs; it moves smoothly and is well damped. The focus throw needs an angle of about 440 degrees. Dioptre correction done by a ribbed ring positioned on the right eyepiece. It performs properly well but it moves the outer element.
4.5/5.0
Tripod
There is an exit but you might experience some slight accessibility problems.
2.5/3.0
Interpupilary distance
from 55.7 to 74.1mm
5/6.0
Closest focusing distance
2.10 meters.
2/2.0
Eyepieces FOV
Apparent field of view of 60.4 deg (according to simple formula) and 55.6 deg (according to tangent formula).
11/20.0
Field of view
Measured by us amounted to 7.81 +\- 0.04 degrees and was by 0.29 of a degree narrower than stated in the specifications. A quite wide field for this class of equipment.
5.5/8.0
Quality of the interior of the barrels
Inner tubes are dark and ribbed but not perfectly matted. Bottoms of the prisms are dark gray, without any shiny parts. Very clean, just several specks of dust visible inside.
4.5/5.0
Vignetting

| | |
| --- | --- |
| Left: | Right: |
| | |

OL: 2.33%, OR: 1.09%
5.5/8.0
Prisms quality
Good quality BaK-4.
8/8.0
Antireflection coatings
Greenish-red on objectives and eyepieces, green-yellow on prisms. Medium intensity.
4.5/5.0
Warranty [years]
10
4.5/6.0
Final result

69.3%

131.7 / 190 pkt
Econo result
0pkt.
Summary
Pros:
shapely, stylish chassis made of magnesium alloy,
very good correction of chromatic aberration,
slight astigmatism,
excellent colour rendition,
good quality prisms made of BaK-4 glass,
proper blackening and cleanliness inside the tubes,
coatings of sensible quality cover all air-to-glass surfaces.
Cons:
distinct distortion,
sharpness on the edge of the field of view leaves a bit to be desired,
discrepancies between declared and real parameters,
noticeable brightness loss on the edge of the field of view.
We got interested in the Hawke Frontier ED X 8x42 because their official description sounds really impressive. When it comes to binoculars with classic 8x42 parameters you often deal with a narrow field of view (even on a level of 6.2-6.5 degrees) which makes you think you are looking through a keyhole. The Hawke doesn't have such a problem, with a declared field of 8.1 degrees and a very comfortable eye relief, that of 18 mm.
It's not the end of good news.The binoculars look very sturdy, with their magnesium chassis. It is completely waterproof and, at the same time, it is supposed to weigh just 692 grams, a very good result in the 42 mm class. The accessory kit you get is impressive, the warranty period - quite long. Inside the instrument you get low dispersion ED glass and prisms which feature phase correction and dielectric coating. All of that for a very sensible price of 400 Euro.
I admit our expectations were high and we hoped that, after our test, we would present to our Readers another interesting and completely recommendable pair of binoculars.
Now time for a reality check. The binoculars let us down a bit. First of all we found out the producers are not exactly precise with official parameters. For example the field of view is not 8.1 but 7.8 degrees. Don't get me wrong – 7.8 degrees remains a pretty good result in this class but such a discrepancy leaves bad taste in my mouth. Similar things can be said about the weight – instead of declared 692 grams you get 721 grams. The difference is not huge but it's a pity it doesn't favour the buyer. Then comes magnification – instead of declared 8x you get something near 7.7x. Such slip-ups can happen, and can be tolerated, only in basic and cheapest pieces of equipment, not in a case of a pair of binoculars with the 400 Euro price tag.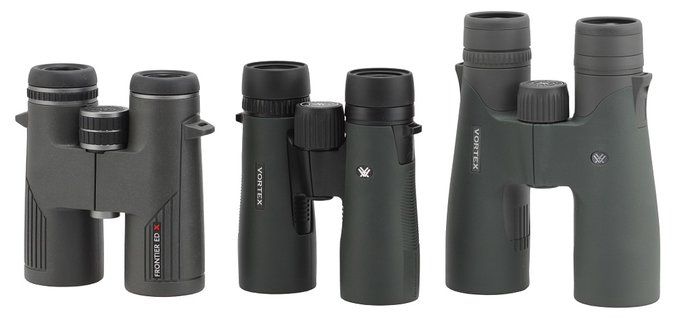 Hawke Frontier ED X 8x42, Vortex Diamondback HD 10x42 and Vortex Razor UHD 10x42.
As we've already started describing the flaws, let's continue that topic. The tested lens doesn't impress when it comes to distortion, sharpness and brightness loss on the edge of the field. We also wouldn't mind a better coma performance. Additionally, the area near exit pupils could have looked much better.
As you see there are a lot of complaints but their number doesn't mean the binoculars don't have any assets, quite the contrary. Let's look at the transmission graph, presented below.
The transmission level in the centre of the visible spectrum reaches 85%, a very decent result at this price point. The flatness of the graph should also be praised as it guarantees good colour rendering.
You should also mention very good astigmatism correction, an important factor when it comes to properly contrasted, high quality images, and influence of ED glass elements which performs very well - chromatic aberration is properly curbed not only in the centre but also on edges of the field.
Of course you shouldn't forget high build quality, cleanliness and proper darkening of interiors of the tubes.
If you buy the Hawke Frontier ED X 8x42 pairs of binoculars you'll be pleased with their performance providing that you won't compare it too often with direct rivals; however if you do so you might find out that on the market there are similarly good pairs of binoculars, or even a tad better ones, to be had for a lower price. In order not to sound groundless we can quote here the Bushnell Forge 8x42, the Delta Optical Chase 8x42, the Olympus PRO 8x42 or a bit more expensive Nikon Monarch 7 8x42. Such a group of strong rivals means the Frontier's ED X market success might be rather difficult to achieve.