Comet 6x24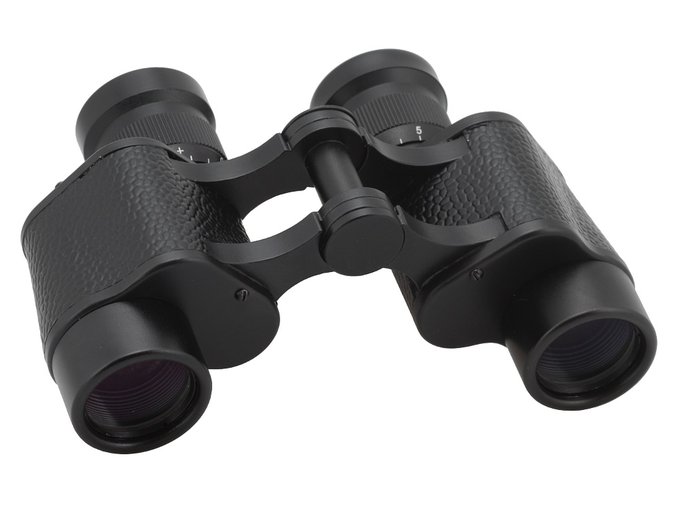 I have been looking for a sensible pair of binoculars for children aged 10 or less for several years. My requirements are simple. An ideal set of binoculars has to be lightweight (less than 400 grams), handy and optically decent. Its magnification shouldn't be big (5-7 times) in order to make it easier for a child to operate the device but its field of view should be very wide indeed (10-12 degrees). A low weight means objective lenses have to be small so we are talking here about diameters of 20-30 mm.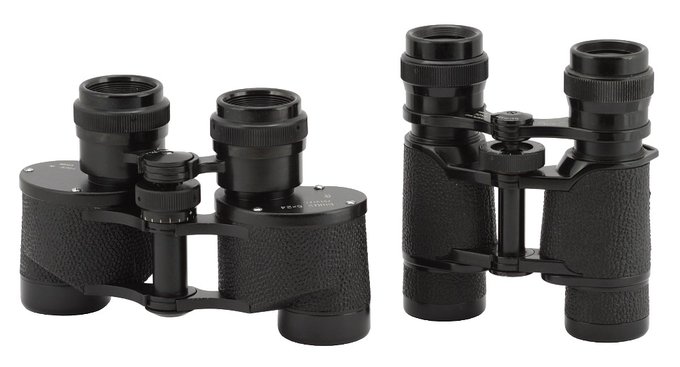 KOMZ 6x24 and Leitz Amplivid 6x24

Such binoculars as the Leitz Amplivid/Trinovid 6x24 or the KOMZ 6x24 would be perfect if only they were cheaper and more affordable. Many contemporary 6-6.5x30 mm models also aren't fit for a child; for example the Levenhuk Sherman Pro 6.5x32 is too heavy, the Nikon Action EX 7x35 too heavy and too big and the field of view of the Vortex Raptor 6.5x32 is too narrow and its eyepieces too vulnerable for off-axis viewing.
For some time I've been observing internet auctions of Chinese producers with more and more interest, focusing on small and handy 6x24 Porro devices. One of them looked like a fake KOMZ 6X24 but I had to reject it. It was too heavy, weighing 520 grams.
The second one looked far more promising – small and handy, weighing just 368 grams, it also offered a quite large field of view amounting to 10.8 degrees. It means eyepieces with an apparent field of almost 65 degrees had to be employed. The eye relief distance of 13.5 mm was sensible and individual focusing, in spite of appearances, wasn't a flaw. Firstly, with 6x magnification, the depth of field is quite significant. Secondly, children's eyesight is far more flexible than the eyesight of an adult so the binoculars' sharpness wouldn't have to be adjusted almost at all. The price was another advantage – at less than 70 Euro the binoculars was very affordable and it came with a case made of leather, a rainguard, and a strap in the box. Some sellers can ask that much for just used accessories taken from old European binoculars. So, for a price of an old leather case you get a set of binoculars plus accessories – brand new. The offer was too attractive to miss so I decided to take a risk and import the device. Was it a hit or a miss?
Manufacturer data
Magnification
Lens diameter
Angular field of view
Prisms
Eye relief
Weight
Price
6
24
190/1000(10.8o)
BaK-4/Porro
13.5 mm
368 g
250 PLN
Results of the review
Real front lens diameter
Left: 25.4+/- 0.05 mm
Right: 25.4+/- 0.05 mm
8 / 8.0 pkt
Real magnification
6.13+/- 0.1x
3/3.0
Transmission
80.6+/- 1%
10/25.0
Chromatic aberration
Distinct in the centre, high on the edge.
3.3/10.0
Astigmatism
A quite sensible result at this price point.
6/10.0
Distortion
Distance between the first curved line and the field centre compared to the field of view radius: 43% +\- 5%
4/10.0
Coma
Appears in a distance of 50% of the field of view radius and is high on the very edge.
2.8/10.0
Blurring at the edge of the FOV
Blur occurs in a distance of 75% ± 5% from the field of view centre. That result is an average value because one eyepiece differs from the other. What's more, in one eyepiece the upper left-hand side of the field is less sharp than the lower right-hand side…
4/10.0
Darkening at the edge the FOV
Moderate.
4/5.0
Whiteness of the image
Greenish-yellow hue.
3/5.0
Collimation
Lefts a bit to be desired.
3.5/5.0
Internal reflections

| | |
| --- | --- |
| Left: | Right: |
| | |

Distinct. Very bright areas near exit pupils.
1/5.0
Housing
Very small and shapely Porro design with a classic look. The build quality of the casing is surprisingly high. All moves as it should. Sensible eyecups but without any regulation.
7/8.0
Focusing
Individual. Moves with different resistance and in some positions there are leaps…Additionally you can hear squelching.
2/5.0
Tripod
Lack of any exit but it's hardly pertinent in this class of parameters.
1.5/3.0
Interpupilary distance
from 42 to 76mm
6/6.0
Closest focusing distance
2.90 meters.
1/2.0
Eyepieces FOV
Apparent field of view of 55.8 deg (according to simple formula) and 52.0 deg (according to tangent formula).
7.5/20.0
Field of view
Measured by us amounted to 9.10 +/- 0.04 degrees and it was by as much as 1.7 degrees narrower than stated in the specifications. A typical field for this class of equipment.
0/8.0
Quality of the interior of the barrels
It would be difficult to talk about any darkening of the interior because this pair of binoculars simply lacks it. The tubes are ribbed and dark close to the objective lens but when you move away from it you see clear, shiny aluminum, not covered by anything. The same situation can be observed deeper and near the prisms. The prism cell features a lot of glue which is grey in one tube and white in the other. Some specks of dust on the prisms.
1/5.0
Vignetting

| | |
| --- | --- |
| Left: | Right: |
| | |

OL: 0.80%, OR: 0.65%
7/8.0
Prisms quality
Good quality BaK-4.
8/8.0
Antireflection coatings
Greenish-purple everywhere. Still they differ from one another in both optical paths, both in objectives and in eyepieces. Medium intensity.
3.5/5.0
Warranty [years]
1
1/6.0
Final result

51.6%

98.1 / 190 pkt
Econo result
0pkt.
Summary
Pros:
small, shapely and classic casing,
genuine leather accessories in the box,
good quality prisms made of BaK-4 glass,
moderate brightness loss on the edge of the field of view,
antireflection coatings covering all air-to-glass surfaces.
Cons:
field of view noticeably narrower than declared,
different antireflection coatings in both optical paths,
lack of darkening inside the tubes so weak performance against bright light,
uneven performance of individual focusing,
different sharpness near the edge of the field for particular eyepieces,
distinct coma,
noticeable chromatic aberration.

The binoculars look very nice and seem to be rather solid. Indeed, they are small and physically light. Still a closer look reveals that the quality control in the factory that produced them is non-existent. The coatings differ in colour distinctly in every eyepiece; that's why the transmission graph, presented below, we had to divide into two optical paths. Fortunately the results are roughly the same.

The coatings' quality in itself is not especially high. If in a Porro device with classic, achromat objectives and typical eyepieces the transmission in the centre of the visual spectrum amounts to about 80% it is not an impressive result.
Producers somehow didn't know that the edges of elements and the interior of the binoculars should be darkened. Accordingly you see raw, shiny aluminum inside… Areas next to exit pupils and performance against bright light leave a lot to be desired as a result.
If you look through the binoculars you notice at once that the field of view was stated incorrectly. It seems it is definitely closer to 9 degrees than to the declared value of almost 11 degrees. What's more, in one eyepiece the edge blur is definitely larger than in the other one.
My conclusions? Lax quality control at this price point is only to be expected but the field of view, narrower by almost two degrees, makes this model simply unfit for children. If you happen to go to China and can choose among several dozen of specimens perhaps you'll be lucky enough to find a model worth buying. Importing that piece of equipment, even for 70 Euro, is a huge risk – your money can be wasted.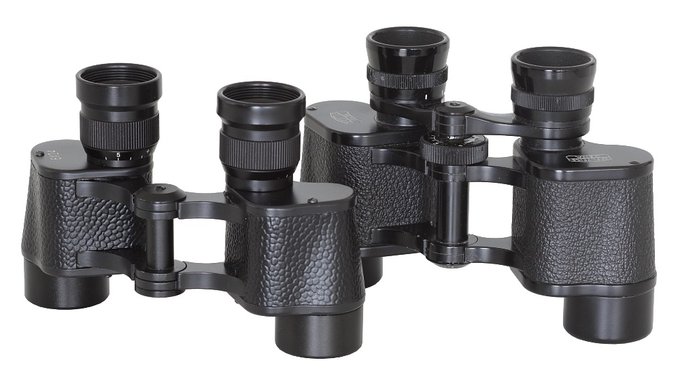 Comet 6x24 and Carl Zeiss Jena Sportur 6x24