Fujinon TechnoStabi TS-X 14x40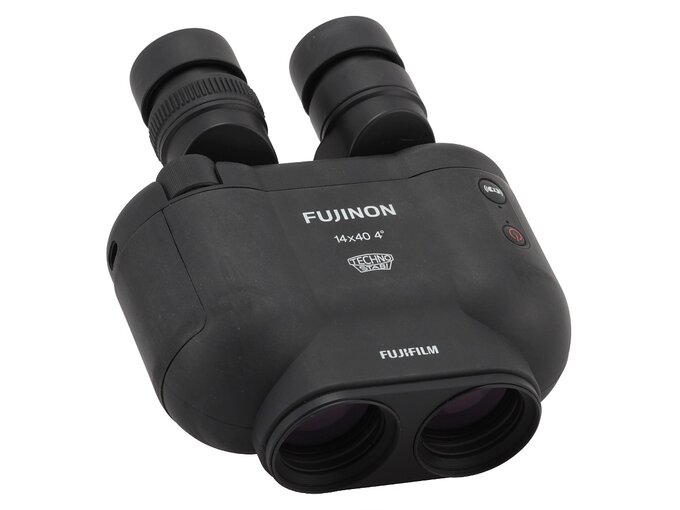 Image-stabilized binoculars constitute a quite narrow class of optical instruments and that segment has been dominated for many years by two producers, Canon and Fujifilm. Some might also add Nikon to that list because they feature such binoculars in their line-up as well but the truth is that Nikon binoculars have also been produced by Fuji.
For some time now Fujifilm have been refreshing their line of stabilized binoculars including the 14x40 model.
The producers boast of optical stabilization based on prisms shifting that allows to move them in a range of +/-6 degrees. The mechanism is powered by four AA (Ni-MH) batteries which allow you up to 22 hours of constant work. Despite the presence of electronic parts the binoculars are nitrogen-purged and water-resistant up to a depth of 1 meter for 5 minutes.
When it comes to optics we are informed that all air-to-glass surfaces are covered by high quality EBC antireflection coatings and the prisms are made of BaK-4 glass.
Buyers get in the box with the binoculars: a solid case with a strap, caps for objectives and eyepieces, and a separate strap for the instrument itself. The Fujinon comes with a warranty period of 10 years for optics and mechanics, and 2 years for electronics.
Manufacturer data
Magnification
Lens diameter
Angular field of view
Prisms
Eye relief
Weight
Price
14
40
70/1000(4o)
BaK-4/roof
13 mm
1300 g
6749 PLN
Results of the review
Real front lens diameter
Left: 40.02+/- 0.05 mm
Right: 39.99+/- 0.05 mm
8 / 8.0 pkt
Real magnification
14.02+/- 0.05x
3/3.0
Transmission
73.5+/- 1%
7/25.0
Chromatic aberration
Negiligible in the centre, a bit lower than medium on the edge.
8.3/10.0
Astigmatism
Slight.
8.5/10.0
Distortion
The distance of the first curved line from the filed centre compared to the field of vision radius: 90% ± 4%
10/10.0
Coma
Appears in a distance of 75% of the field of view radius and is a tad lower than medium on the very edge.
8.2/10.0
Blurring at the edge of the FOV
The blur occurs in a distance of 97% ± 2% from the field of view centre.
10/10.0
Darkening at the edge the FOV
Very low.
4.4/5.0
Whiteness of the image
Relatively flat transmission graph with a slight dip near 540 nm. Slightly yellowish colouring with some blue accents.
4.3/5.0
Collimation
Perfect.
5/5.0
Internal reflections

| | |
| --- | --- |
| Left: | Right: |
| | |

A bit of reflections in an area very close to exit pupils.
4/5.0
Housing
Very big physical dimensions for the 40 mm class – the binoculars are very bulky. Good quality rubber armour that sticks to your hands. Eyepieces of ordinary size with stiff, rubberized eyecups with four detention stops. Produced in Japan.
8/8.0
Focusing
Focusing wheel positioned on the right side of the binoculars' chassis. Its dimensions are moderate and it is covered by fine ribbing without any markings. Its working range amounts to 320-330 degrees. Dioptre correction situated on the right eyepiece; it moves the outer element.
4.5/5.0
Tripod
No tripod exit. Image stabilized instrument.
3/3.0
Interpupilary distance
from 55.2 to 73.5mm
4/6.0
Closest focusing distance
4.0 meters.
2/2.0
Eyepieces FOV
Apparent field of view of eyepieces amounts to 55.5 degrees (simplified formula) and 51.7 degrees (tangent formula).
7/20.0
Field of view
Measured by us amounted to 3.96 +/- 0.04 deg and was in accordance with official specifications within the margin of error. A typical field for this class of equipment.
5.5/8.0
Quality of the interior of the barrels
Dark inner tubes but not everywhere as matt as they should be. A lot of apertures inside. The bottom is dark gray. Some specks of dust on the prisms.
3.7/5.0
Vignetting

| | |
| --- | --- |
| Left: | Right: |
| | |

OL: 3.95%, OR: 2.49%
4.5/8.0
Prisms quality
High quality BaK-4.
8/8.0
Antireflection coatings
Green on objective lenses, green-yellow on prisms, green-purple on eyepieces. Medium intensity.
4.5/5.0
Warranty [years]
2
2/6.0
Final result

72.3%

137.4 / 190 pkt
Econo result
0pkt.
Summary
Pros:
low chromatic aberration,
slight astigmatism,
good coma correction,
sharp image practically till the very edge of the field of view,
negligible brightness loss on the edge of the field,
sensible colour rendering,
good quality BaK-4 glass prisms,
dark areas near exit pupils,
efficient image stabilization.
Cons:
poor transmission,
truncated exit pupils.
The Fujinon Technostabi 14x40 got in our test a very good but, unfortunately, not outstanding score. Why? A lot of points we gave for excellent results in the most important optical categories such as astigmatism, coma, distortion, chromatic aberration, or image quality because in these areas everything was in perfect order. Such a performance exactly should be expected from an expensive pair of binoculars with a moderate field of view that reaches less than 56 degrees.
However, there are two things the Fujinon lacks and a better transmission level is the first of them. A stabilized system is not the simplest possible and here you also have rhomboid prisms that allow you to regulate the distance between eyepieces. As a result the overall transmission of the tested instrument barely exceeds 70% and is definitely too low for a set of binoculars sold at this price point.
The second slip-up we found concerns truncated exit pupils. It shouldn't have happened in binoculars with a not so wide field of view which, additionally, because of its specific design, doesn't have any strict limits when it comes to physical dimensions and weight.
As a kind of consolation you should add that, apart from excellent correction of the majority of basic optical aberration, the Fujinon also features very efficient image stabilization that really performs well. Its only flaw is an irritating, whinying sound when you activate and/or deactivate it. The sound is so loud and high that it might scare off objects you would like to spot, especially when you go out for some wildlife observations.