Leupold BX-4 Pro Guide HD 12x50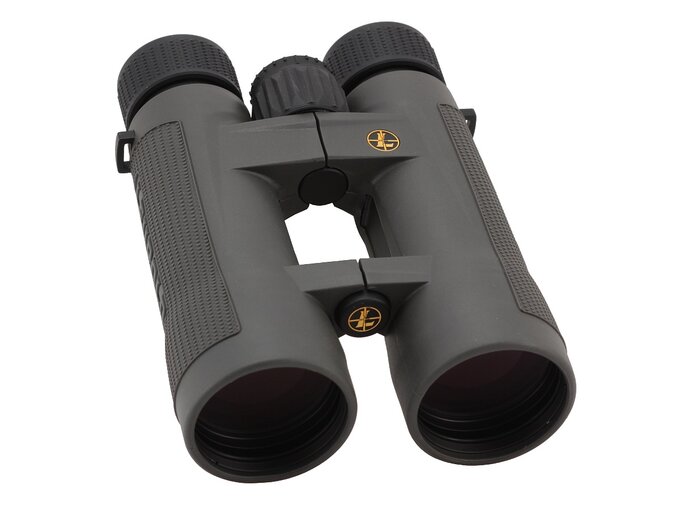 The BX-4 Pro Guide HD series produced by American Leupold consists of six roof-prism pairs of binoculars with the following parameters: 8x32, 10x32, 8x42, 10x42, 10x50, and 12x50.
The optical system, described shortly as HD, features fluorite elements that are supposed to ensure a perfect correction of chromatic aberration.
The producers claim that all optical elements of binoculars from this series are antireflection multi-coated. Apart from that, the surfaces of outer elements are covered by hydrophobic coatings and Schmidt-Pechan prisms are phase-correction coated.
The chassis of the binoculars is nitrogen-purged and waterproof. Buyers get in the box with the instrument: objective caps, a rainguard, a strap, a case, and a cleaning cloth for optics. The series comes with a lifetime warranty of the producer.
Manufacturer data
Magnification
Lens diameter
Angular field of view
Prisms
Eye relief
Weight
Price
12
50
84/1000(4.8o)
BaK-4/roof
16 mm
808 g
4469 PLN
Results of the review
Real front lens diameter
Left: 49.71+/- 0.05 mm
Right: 49.75+/- 0.05 mm
7 / 8.0 pkt
Real magnification
12.14+/- 0.05x
3/3.0
Transmission
82.6+/- 1%
11/25.0
Chromatic aberration
Moderate in the centre, a bit higher than medium on the edge.
5.5/10.0
Astigmatism
Corrected in a sensible way. Stars spark a bit.
6.5/10.0
Distortion
Distance between the first curved line and the field centre compared to the field of view radius: 92% ± 4%
10/10.0
Coma
Appears in a distance of 75-80% of the field of view radius and on the very edge is a bit lower than medium.
8.6/10.0
Blurring at the edge of the FOV
Blurry areas appear in a distance of 88.5% ± 3% from the centre.
7.5/10.0
Darkening at the edge the FOV
Slight.
4/5.0
Whiteness of the image
The highest transmission level, slightly exceeding 90%, can be observed in the red part of the spectrum. A bit slanted graph. Images feature red-orange hue.
4/5.0
Collimation
Perfect.
5/5.0
Internal reflections

| | |
| --- | --- |
| Left: | Right: |
| | |

Relatively dark area near exit pupils.
4/5.0
Housing
Classic 'open hinge' design with very moderate dimensions for the 50 mm class. Good quality rubber armour with very pronounced texture on both sides that ensures you a firmer grip. The armour sticks to the chassis very well, near objective lenses you can pull it away just a bit. Rubberized eyecups with three detention stops. The binoculars is comfortable to hold and to look through. Produced in Japan.
7.5/8.0
Focusing
A big, rubberized central wheel with scallop. It moves smoothly and is properly damped. The focus throw amounts to an angle of 730 degrees (in our opinon it's a bit too much). For individual focusing you get an additional ring on the central wheel that can be pulled out. Nothing moves outside so the binoculars remains completely weather-sealed.
5/5.0
Tripod
There is an exit but far from the centre of mass.
2.5/3.0
Interpupilary distance
from 56.8 to 76.3mm
5/6.0
Closest focusing distance
2.7 meters.
2/2.0
Eyepieces FOV
Apparent field of view of 59.0 degrees according to simplified formula or 54.5 degrees according to tangent formula.
10/20.0
Field of view
Measured by us amounted to 4.86 ± 0.04 degrees and was slightly wider than stated in official specifications. A typical field for this class of equipment.
5/8.0
Quality of the interior of the barrels
Inner tubes are dark, matt, with several apertures. The cell with focusing element and the bottom of the prisms are dark, slightly rough. We didn't spot anything disturbing. Several specks of dust on the prisms.
4.2/5.0
Vignetting

| | |
| --- | --- |
| Left: | Right: |
| | |

OL: 0.42%, OR: 0.53%
7/8.0
Prisms quality
Hight quality BaK-4 glass.
8/8.0
Antireflection coatings
Greenish-purple on objective lenses, green on the prisms, green-yellow-purple on the eyepieces. Medium intensity.
4.5/5.0
Warranty [years]
lifetime
6/6.0
Final result

75.2%

142.8 / 190 pkt
Econo result
0pkt.
Summary
Pros:
shapely, lightweight casing, made of magnesium composites,
imperceptible distortion,
low coma,
sensible sharpness on the edge of the field of view,
slight brightness loss,
decent colour rendering,
almost circular exit pupils,
prisms made of BaK-4 glass,
good quality antireflection coatings,
lifetime warranty.
Cons:
a bit too low transmission for this price point.
Our Leupold BX-4 Pro Guide HD series tests we started with the 8x42 model. It fared relatively well, getting almost 138 points, a very sensible result. Still, taking its price-point into account, we admit it left us a bit unsatisfied.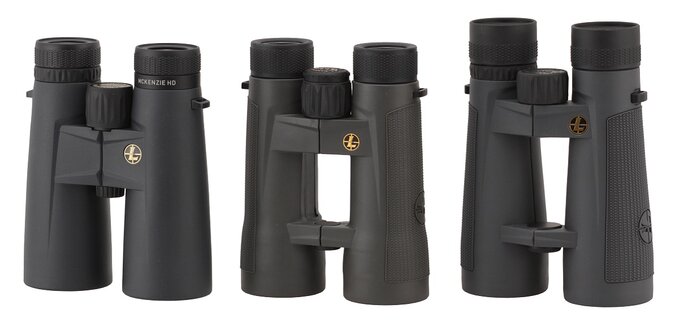 Leupold BX-1 McKenzie HD 12x50, Leuopold BX-4 Pro Guide HD 12x50 and Leuopold BX-5 Santiam HD 12x50.
The result of the BX-4 Pro Guide HD 12x50 is a bit better, reaching almost 143 points – the binoculars got more points when it comes to sharpness on the edge of the field of view, better coma correction, and a better accordance with declared parameters. Still there were also areas where we noticed some steps backward. The bigger model doesn't correct astigmatism so well and its transmision graph is more slanted; as a result, its colour rendering is worse.
The score and the price of about 1000 USD place the Leupold BX-4 Pro Guide HD 12x50 in a very sensible position in
our 12x50 binoculars ranking
. The Leupold is a bit weaker than the Meopta Meostar, and also over 200 USD cheaper than that pair of binoculars; on the other hand it fares noticeably better than the Delta Optical Chase ED 12x50 being also about 500 USD more expensive.
The difference in price between the Delta and the Leupold is significant and you might think the gain is not that big. Still you have to remember the fact that the graph showing correlation between our test score and the price is hardly linear; in fact it flattens when the price of the binoculars increases and it means that just a slight improvement of optical prowess will cost you noticeably more. Some might think paying an extra sum of money for just slightly better performance is quite justifiable and some might not. Both groups of customers are right because every person has different requirements and expectations. I only say we should be grateful we can enjoy a rich choice in this segment.
Finally a small spoon of tar in this barrel of honey. Even a decade ago for over 1000 USD you could buy a pair of binoculars from a top-of-the-range, very renowned producer and thieir every aspect would be as refined and polished as you could only wish. Nowadays the same sum of money is barely enough for binoculars that are indeed produced in Japan but their manufacturers order products in different factories and they are quite lax when it comes to official specifications. The field of view of the tested Leupold is a good example of such an approach – its value is different on the official site of the producer, on the site of its Polish distributor, and also on the chassis of the binoculars themselves...