Vortex Crossfire HD 12x50
The Vortex Crossfire HD series consists of four models: the 8x42, the 10x42, the 10x50 and the 12x50. All of them are roof prism Schmidt-Pechan devices but on the site of the producer you can't find any information concerning dielectric or phase-correction coatings. Instead, we are said that all air-to-glass surfaces are covered by multilayer anitreflection coatings.
The HD symbol in the name of the instrument does not mean there is low dispersion glass inside. However, the producer mentions clearly the fact that the optical system has been optimized to correct chromatic aberration.
The casing of the binoculars is waterproof and nitrogen-purged. The binoculars come with a lifetime warranty period.
Manufacturer data
Magnification
Lens diameter
Angular field of view
Prisms
Eye relief
Weight
Price
12
50
83/1000(5.2o)
BaK-4/roof
15 mm
836 g
959 PLN
Results of the review
Real front lens diameter
Left: 50.02+/- 0.05 mm
Right: 49.99+/- 0.05 mm
8 / 8.0 pkt
Real magnification
12.03+/- 0.05x
3/3.0
Transmission
76+/- 1%
8/25.0
Chromatic aberration
Medium in the centre, a bit higher than medium on the edge.
3.5/10.0
Astigmatism
Noticeably sparkling stars. An average result.
4.5/10.0
Distortion
The distance of the first curved line from the field centre compared to the field of view radius: 40% ±4%
4/10.0
Coma
Appears in a distance of 65% of the field of view radius and is high on the very edge.
3.9/10.0
Blurring at the edge of the FOV
Blur occurs in a distance of 71% ±3% from the field of view centre.
3/10.0
Darkening at the edge the FOV
Easy to notice but still medium.
2.8/5.0
Whiteness of the image
The highest transmission level for orange-red light and such is the hue in images provided by the binoculars.
3.1/5.0
Collimation
Perfect.
5/5.0
Internal reflections

| | |
| --- | --- |
| Left: | Right: |
| | |

A bit of brighter areas near the exit pupils but, overall, a very sensible performance at this price point.
3.1/5.0
Housing
Very nice and stylish, with sensible physical dimensions. Rather lightweight for the 12x50 class. Padded with good quality rubber armour that sticks to your hand pretty well and can't be pulled away next to objective lenses. Comfortable to hold – thumb indents certainly help here – and to look through. No shoddy workmanship. Rubberized eyecups with smooth regulation. Everything works just fine – especially at this price point. Produced in China.
8/8.0
Focusing
Big and comfortable central wheel with ribs moves smoothly and is properly damped even though from time to time you can hear squelching of grease. Its full working range amounts to an angle of 610-620 degrees. Dioptre correction done by a comfortable ring on the right eyepiece that performs as it should. It moves the outer element.
4.3/5.0
Tripod
A quite comfortable access combined with front caps fixing.
3/3.0
Interpupilary distance
from 60 to 76.8mm
4/6.0
Closest focusing distance
2.1 meters.
2/2.0
Eyepieces FOV
Apparent field of view amounting to 62.9 degrees (simplified formula) or 57.6 degrees (tangent formula).
12.5/20.0
Field of view
Measured by us amounted to 5.23 ± 0.04 degrees and it was in perfect accordance with field stated in official specifications. A wide field for this class of equipment.
6.5/8.0
Quality of the interior of the barrels
Inner tubes are dark, quite matt, and ribbed. The bottom is gray and probably not covered by anything; inner tube keeping the prisms in place is dark and matt. The outer ring fixint the focusing element shines a bit. Very clean inside.
3.8/5.0
Vignetting

| | |
| --- | --- |
| Left: | Right: |
| | |

OL: 0.49%, OR: 0.25%
7.5/8.0
Prisms quality
High quality BaK-4.
8/8.0
Antireflection coatings
Different shades of green on objective lenses and eyepieces; prisms are green-yellow. Medium intensity.
4.5/5.0
Warranty [years]
lifetime
6/6.0
Final result

64.2%

122 / 190 pkt
Econo result
0pkt.
Summary
Pros:
ergonimic casing that is very nice to look at and seems to be solid,
round exit pupils on a relatively black background,
sharp images up from 2.1 metres,
tubes very clean inside and properly blackened,
good quality prisms made of BaK-4 glass,
antireflection coatings covering all air-to-glass surfaces,
lifetime warranty.
Cons:
weak transmission,
a bit too high chromatic aberration,
distinct coma.
At the beginning of our summary we would like to give you the price of the tested binoculars so you have a proper referrence point. We are speaking about a sum of 200 USD – a really low-range price point when it comes to Vortex products.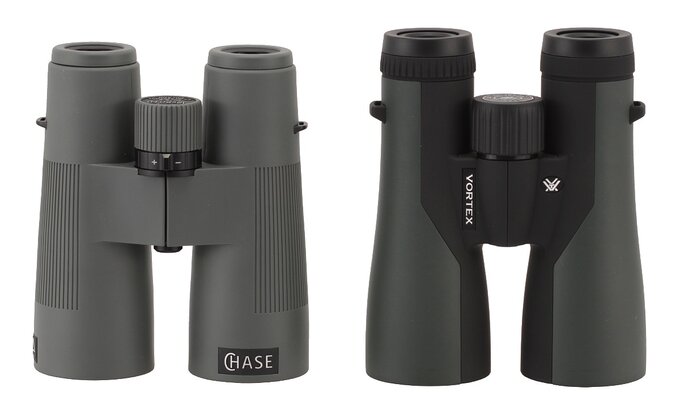 Delta Optical Chase 12x50 ED and Vortex Crossfire HD 12x50.
For such a moderate price you get all features characteristic for Vortex products: very nice design of the casing, a lifetime warranty, a rich accessory kit of a sensible quality. What's more, the binoculars' specifications are exactly as stated by the producer – their field of view and magnification are in perfect accordance with them.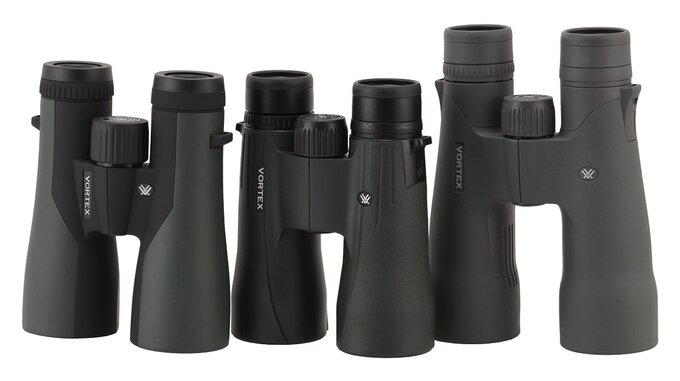 Vortex Crossfire HD 12x50, Vortex Viper HD 12x50 and Vortex Razor UHD 12x50.
The stylish casing, made of plastics, looks solid, being also weather-sealed and nitrogen-purged. The tubes are sensibly blackened and optics inside - very clean. Apart from a shapely casing, the prisms, made of BaK-4 glass, are so fitted that they don't truncate exit pupils. Producers claim that all air-to-glass surfaces are antireflection multicoated and it is indeed the case even though we speak here about these simpler coatings that reflect a lot of green, blue, and purple light.
To sum up this part of our review, the producers did try to provide a lot of nice features at this price point. Still there are no miracles and a piece of equipment that comes so cheap has to have some compromises. You can find them easily, looking at a transmission graph we show below.
As we mentioned earlier the coatings aren't of the best quality; also prisms generate more losses of light because the producers don't say anything about their coatings so most likely they are one of the cheapest. As a result colour rendition is just average and the transmission in the middle of the visible spectrum doesn't reach even 80%.
You can try and charm your potential buyers with HD letters in the name of your binoculars but if you don't use good low-dispersion glass it is difficult to correct chromatic aberration - the Crossfire found out that much to its cost. This aberration can be noticed in the centre of the field without any problems and it only becomes more pronounced on its edge, along with quite distinct coma. In other optical categories the binoculars have results close to a medium level but, what's important, without any serious slip ups.
As a result the final score of the Vortex Crossfire HD is very decent. It might be a sensible option if you don't want to spend more than 200 USD – for that sum you will get a very shapely and stylish pair of roof prism binoculars. However, if you don't limit yourself to roof prism devices you might find out that there are many 12x50 Porro binoculars that provide a similar image quality for even lower prices.