Bushnell Engage 8x42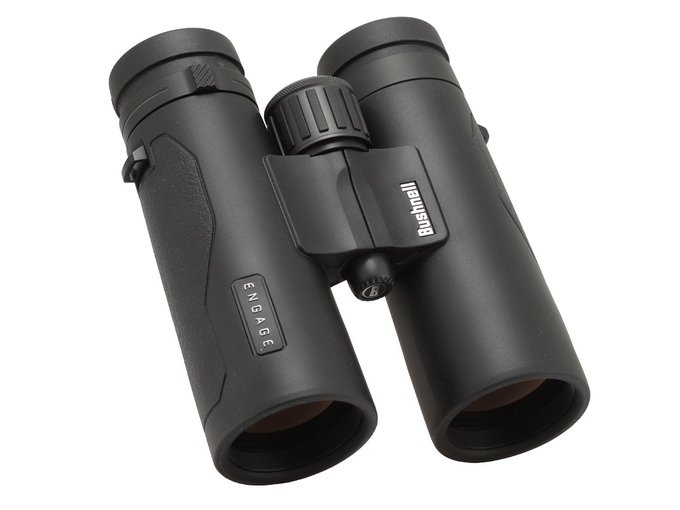 In 2018 Bushnell company remade completely their line-up of binculars and the Engage series was one of the novelties, presented at that time. It comprised of four roof prism models with the following parameters: 8x42, 10x42, 10x50 and 12x50.
The construction of the tested pair of binoculars is based on Schmidt-Pechan roof prisms which are PC-3 phase coated. The reflective surfaces are covered by DPC (Dielectric Prism Coating) layers and all air-to-glass surfaces are coated by FMC layers (Fully Multi-Coated). In the optical path you find low dispersion ED Prime Glass.
The binoculars are compliant with IPX7 (can be immersed into water in the depth of 1 meter for up to 30 minutes) and are nitrogen purged. The outer elements are covered by hydrophobic EXO protection layers.
Buyers get a joined cap for eyepieces, two objective caps with special fixing, a strap, a soft pouch, a hard case, a cleaning cloth and an additional harness. The binoculars come with l15-year warranty of the producer.
Manufacturer data
Magnification
Lens diameter
Angular field of view
Prisms
Eye relief
Weight
Price
8
42
142/1000(8.1o)
BaK-4/roof
19 mm
666 g
1499 PLN
Results of the review
Real front lens diameter
Left: 41.95+/- 0.05 mm
Right: 41.96+/- 0.05 mm
7 / 8.0 pkt
Real magnification
7.91+/- 0.05x
3/3.0
Transmission
85.1+/- 1%
13/25.0
Chromatic aberration
Slight in the centre, high on the edge.
5.6/10.0
Astigmatism
Moderate.
6.8/10.0
Distortion
Distance of the first curved line from the field of view centre compared to the field of view radius: 70% ± 3%
8/10.0
Coma
Appears in a distance of 55-60% from the field of view centre and is high on the edge of the field.
3.3/10.0
Blurring at the edge of the FOV
Blur occurs in a distance of 70% ± 4% from the field of view centre.
3/10.0
Darkening at the edge the FOV
Noticeable
3.2/5.0
Whiteness of the image
Slightly greenish hue.
4/5.0
Collimation
Perfect.
5/5.0
Internal reflections

| | |
| --- | --- |
| Left: | Right: |
| | |

Moderate. A lot of bright areas near exit pupils.
2.6/5.0
Housing
Shapely and handy for the 42 mm class. Padded with black, rubber armour which sticks to your hands quite well so is comfortable to handle. The armour sticks out near objectives a bit. Rubberized eyecups with 4 detention stops but their working range is rather slight. What's more, after extending one eyecup seems to be positioned higher than the second one. Produced in China.
6/8.0
Focusing
Huge, ribbed central wheel which moves smoothly and is well damped. The focus throw amounts to an angle of 570 degrees. A shiftable dioptre correction ring on the right eyepiece. It is difficult to operate and it moves the outer element.
4.3/5.0
Tripod
Available but a bit diffcult to access.
2.5/3.0
Interpupilary distance
from 55.7 to 73.2mm
4/6.0
Closest focusing distance
1.60 meters.
2/2.0
Eyepieces FOV
Apparent field of view of 61.9 deg (according to simple formula) and 56.9 deg (according to tangent formula).
11.5/20.0
Field of view
Measured by us amounted to 7.83 +/- 0.05 degrees and was by 0.27 of a degree narrower than stated in specifications. A very sensible field for this class of equipment.
5.5/8.0
Quality of the interior of the barrels
Interior of the tubes is dark and nicely matted, the bottom too. You can notice some slight specks of dust. On one of the prisms or on one element before it, there are slight water stains.
3.5/5.0
Vignetting

| | |
| --- | --- |
| Left: | Right: |
| | |

OL: 1.52%, OR: 2.53%
5.5/8.0
Prisms quality
Good quality BaK-4.
8/8.0
Antireflection coatings
Pink on objectives, pink-green-yellow on eyepieces, greenish on prisms. Medium intensity.
4.5/5.0
Warranty [years]
15
5/6.0
Final result

66.7%

126.8 / 190 pkt
Econo result
0pkt.
Summary
Pros:
shapely and handy barrel,
moderate astigmatism,
very good distortion correction,
sensible colour rendition,
sharp images already from 1.6 metres,
proper blackening of inner tubes,
good quality prisms made of BaK-4 glass.
Cons:
high coma level,
significant chromatic aberration on the edge of the field,
wide out-of-focus area on the edge of the field of view,
a lot of bright patches near exit pupils,
truncated exit pupils.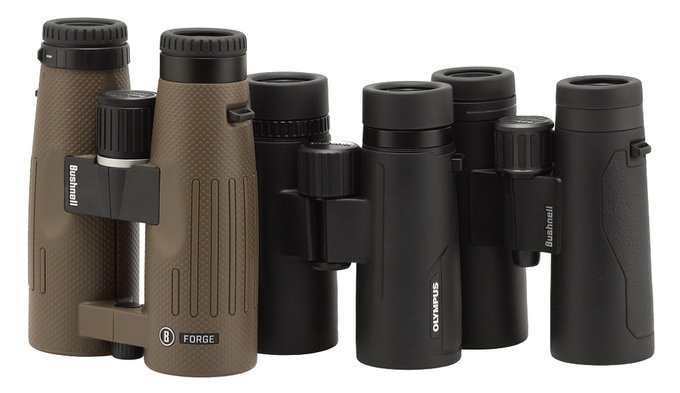 Bushnell Forge 8x42, Olympus PRO 8x42 and Bushnell Engage 8x42.
I admit it, the tested lens didn't impress me much. A result of less than 120 points at this price point is nothing to boast of. What's important, average results don't concern only the 8x42 model but also the rest of the series - I had an opportunity to look through the Engage 10x50 and my impressions were similar to the ones I got when handling and testing the 8x42 binoculars.
If you have about 300 USD to spend I suppose you can use it better than buying the Bushnell Engage 8x42. After all the same company, Bushnell, offer two other series which are, in our view, far more interesting even if similarly priced – we think here about the Nitro and Forge lines.
What's curious, it seems that even people at Bushnell company are aware of weaknesses of the Engage line. Lately on their webside you could find an announcement about the new Engage DX series which appearance and parameters are just like those of the Engage series but their price is lower. Is it a way to degrade an unsuccessful series of binoculars to a lower price point?