Carl Zeiss Terra ED 8x42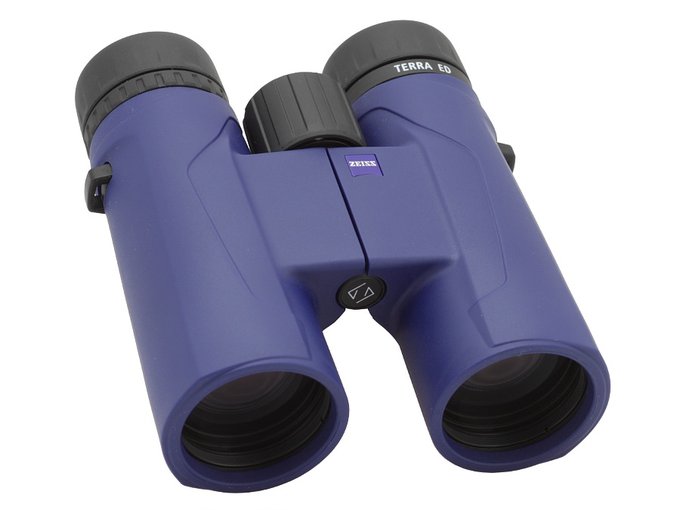 In January 2013 Zeiss surprised everybody by presenting a new series of binoculars called Terra ED and produced in China. The 8x42 and 10x42 models were shown as the first. In March 2015 the 8x32 and 10x32 models were added and, several months later, they were joined by the 'babies' – the 8x25 and the 10x25 instruments.
The following chart presents a comparison between technical parameters of different Terra ED binoculars. You deal here with roof prism Schmidt-Pechan instruments with phase correction coated prisms made of BaK-4 glass. As their name indicated in their optical construction the ED low dispersion glass was used.
Additionally the binoculars are submersion-proof (up to a pressure of 100 mbar) and might be used in temperatures ranging from -15 to +60 degrees C. They come with a two-year guarantee period from the producer.
Manufacturer data
Magnification
Lens diameter
Angular field of view
Prisms
Eye relief
Weight
Price
8
42
125/1000(7.1o)
BaK-4/roof
18 mm
720 g
1800 PLN
Results of the review
Real front lens diameter
Left: 42.05+/- 0.05 mm
Right: 42.04+/- 0.05 mm
8 / 8.0 pkt
Real magnification
7.88+/- 0.1x
3/3.0
Transmission
82.6+/- 1%
11/25.0
Chromatic aberration
Moderate in the centre, a bit higher than medium on the edge.
5.8/10.0
Astigmatism
Medium.
5.5/10.0
Distortion
Distance between the first curved line and the field of view centre compared to the field of vision's radius: 88% ± 5%
10/10.0
Coma
Appears in a distance of 55% of the field of view radius and is between medium and high values on the very edge.
3.7/10.0
Blurring at the edge of the FOV
Blur occurs in a distance of 66% ± 3% from the field of view centre.
2/10.0
Darkening at the edge the FOV
Moderate.
3.5/5.0
Whiteness of the image
Noticeable loss of blue light so the images have yellow-green hues. Red colour transmission by 7% higher than in the middle of the range.
3.8/5.0
Collimation
Perfect.
5/5.0
Internal reflections

| | |
| --- | --- |
| Left: | Right: |
| | |

Slight.
4.1/5.0
Housing
Handy and shapely for the 42 mm class, comfortable to hold and to look through. Good quality rubber amour but a bit too slippery and it sticks out a bit near the objectives. Rubberized eyecups with smooth regulation. Produced in China.
7.6/8.0
Focusing
Huge and comfortable central wheel which moves quite loosely and its whole range amounts to 360 degrees. Individual focusing done through another comfortable ring on the right eyepiece. It moves the outer element.
4.5/5.0
Tripod
You can buy additional brand name adapter.
2/3.0
Interpupilary distance
from 57.8 to 76.1mm
5/6.0
Closest focusing distance
1.65 meters.
2/2.0
Eyepieces FOV
Apparent field of view of 55.9 deg (according to simple formula) and 52.1 deg (according to tangent formula).
8/20.0
Field of view
Measured by us amounted to 7.10 +/- 0.03 degrees and it was in perfect accordance with official specifications. A quite typical field for this class of equipment.
5/8.0
Quality of the interior of the barrels
Dark, matt tubes with a lot of ribbing and apertures. Dark bottom. Some isolated specks of dust.
4.6/5.0
Vignetting

| | |
| --- | --- |
| Left: | Right: |
| | |

OL: 0.87%, OR: 1.11%
6.5/8.0
Prisms quality
Good quality BaK-4.
8/8.0
Antireflection coatings
Green on objectives, green-purple on eyepieces, green on prisms. Medium intensity.
4.5/5.0
Warranty [years]
2
2/6.0
Final result

65.8%

125.1 / 190 pkt
Econo result
0pkt.
Summary
Pros:
solid-looking casing,
excellent distortion correction,
moderate brightness loss on the edge of the field,
slight flares,
proper blackening and cleanliness inside the tubes,
good quality prisms made of BaK-4 glass,
sensible coatings.
Cons:
a bit too high coma level,
average sharpness on the edge of the field of view.

The result the Chinese Zeiss got in our test is undoubtedly good but also nothing more than good. If you yearn for a Zeiss but you can't afford any of the Conquest HD or Victory models the Terra ED line-up seems to be something right for you. I bet you'll be pleased with your purchase too.
Still it can't change the fact that the rivals don't let the grass grow under their feet. For a similar amount of money you might purchase such pairs of binoculars as e.g. the Nikon Monarch 7, the Kowa BD Prominar XD, the Vanguard Endeavour ED, the Bushnell Elite ED, the Vixen New Foresta HR or the Olympus EXWP. All of them are similarly priced as the Zeiss but in majority of cases they are optically a bit better than the binoculars tested above.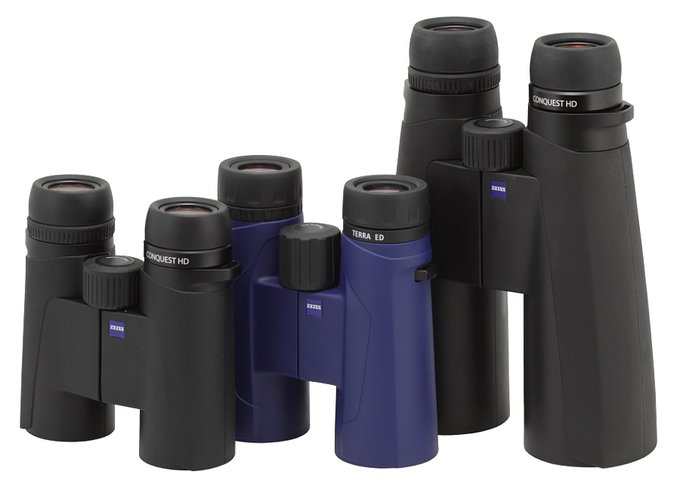 Zeiss Conquest HD 8x32, Zeiss Terra ED 8x42 and Zeiss Conquest HD 8x56.

If you want, for a change, to buy a solid roof prism pair of binoculars with similar optical properties as the Terra ED and produced in Germany, not in China, you can always get interested in the Ranger or the SkyHawk series of Steiner.
To sum up the Terra ED models won't have it easy on the market as their situation is rather unenviable. The competition remains fierce and this particular pair of binoculars won't be treated favourably just because they feature the blue Zeiss company logo.