Swarovski EL 8x32 WB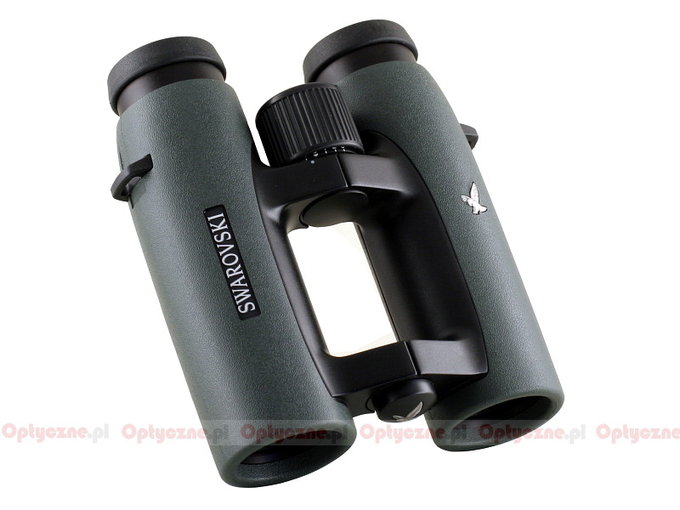 The high-end EL Swarovski series consists of instruments boasting the highest quality and price. Not so long ago it used to consist of four roof-prism models with the following parameters: 8x32, 10x32, 8.5x42 and 10x42. Lately the company has launched upgraded models with the 'Swarovision' word in their names.
All the optical elements of the tested binoculars are covered by antireflection multilayer coatings of very high quality (SWAROTOP/SWARDOUR on eyepieces and SWAROBRIGHT on prisms). According to the producer, the usage of these coatings reduces the light loss on one air-to-glass surface to just 0.2%. Additionally, the prisms are covered by the so-called P coating which damps down any effects of light reflection and interference at the edges of roof prisms. The latest binoculars from this series also feature special coatings, applied to all four exterior lenses, which make removing dust, dirt and other pollution easy giving a non-smear effect.
The casing of this pair of binoculars is made of magnesium alloys, armoured with antiallergic rubber of the highest quality. The instrument is airtight, shockproof, dustproof, nitrogen-purged and watertight to a depth of 4 m. The EL series binoculars can be stored in the temperatures range from –30 to 70 degrees C and they work correctly in the range from –25 to +55 degrees C.
The buyer gets the following accessories included in box: a stylish and functional bag, a lift carrying strap, a hinged rainguard eyepiece cover, objective lens covers with rubber straps allowing you to fix them to the body and, what's interesting here, a SnapShot adapter. The binoculars come with a 10-year guarantee.
Manufacturer data
Magnification
Lens diameter
Angular field of view
Prisms
Eye relief
Weight
Price
8
32
140/1000(8o)
BaK-4/roof
15 mm
610 g
7299 PLN
Results of the review
Real front lens diameter
Left: 32.05+/- 0.05 mm
Right: 32.05+/- 0.05 mm
8 / 8.0 pkt
Real magnification
7.84+/- 0.05x
3/3.0
Transmission
91.1+/- 1.5%
19/25.0
Chromatic aberration
Corrected well in the centre but momentarily still visible. Significant at the edge.
5/10.0
Astigmatism
No reservations whatsoever. The stars look like "pinheads".
9.5/10.0
Distortion
The distance of the first curved line from the field centre compared to the field of view radius: 36% +/- 5%
3/10.0
Coma
Appears in the distance of about 75% from the field centre and at the very edge is medium at most.
7.5/10.0
Blurring at the edge of the FOV
The blur occurs in the distance of 83% +/- 3% from the field centre.
6/10.0
Darkening at the edge the FOV
Negligible.
4.9/5.0
Whiteness of the image
Perfect. Flat transmission curve.
5/5.0
Collimation
Perfect.
5/5.0
Internal reflections

| | |
| --- | --- |
| Left: | Right: |
| | |

For such an equipment class we should expect a better performance. The result is surprisingly average. It's enough to compare it with the pupil area of the Zeiss Victory and the Leica Ultravid to see that the Swarovski really lags behind here.
2.1/5.0
Housing
Long and slender but very comfortable. Excellent to hold and to look through. Very good armouring material- it sticks to your hand perfectly. Thumb grooves make it very convenient to hold and operate using one hand only. Nothing sticks out or comes off. Twist-up plastic eyecups can be regulated smoothly.
7.9/8.0
Focusing
Comfortable and smooth central screw (full turn of 560 degrees). Individual focusing on the central wheel through click-stop. Nothing moves outside.
4.7/5.0
Tripod
Optional tripod adapter. In our 8x32 binoculars test we granted all the instruments the average mark of 1.5 points as in the case of the equipment of this class a tripod adapter is rarely used.
1.5/3.0
Interpupilary distance
from 55.2 to 74.3mm
5/6.0
Closest focusing distance
1.65 m
1.5/2.0
Eyepieces FOV
Apparent field of view of 62.5 deg (according to simple formula) and 57.3 deg (according to tangent formula).
12.5/20.0
Field of view
Measured by us amounted to 7.97 +/- 0.03 degrees and it was in accordance with specifications. A huge field for this class of equipment.
6.5/8.0
Quality of the interior of the barrels
Inner tubes black and matt, the bottom likewise. You can see shiny screws. Isolated specks of dust.
4.2/5.0
Vignetting

| | |
| --- | --- |
| Left: | Right: |
| | |

OL: 0.9%, OR: 0.0%
7.5/8.0
Prisms quality
High class BaK-4.
8/8.0
Antireflection coatings
Green-yellow on objective lenses and eyepieces. Yellow on prisms. Low intensity.
5/5.0
Warranty [years]
10
4.5/6.0
Final result

77.3%

146.8 / 190 pkt
Econo result
0pkt.
Summary
Pros:
sturdy magnesium housing which is very comfortable to hold,
high transmission,
sensational whiteness rendition,
negligible astigmatism,
low coma,
good sharpness at the edge of the field of view,
very low brightness loss at the edge of the field,
good darkening inside the binoculars,
prisms of high quality,
efficient antireflection coatings,
wide selection of accessories included in box.
Cons:
noticeable distortion,
significant chromatic aberration at the edge of the field,
the background of exit pupils is too light.
The score the Swarovski EL 8x32 WB reached in our test is really very good. The problem is that over such a high-end series instrument from such a prestigious producer with the price tag of over 1500 Euro we should only ooh and aah – the results should be simply outstanding with no slip-ups whatsoever. The Swarovski had slip-ups, though, and in the least expected areas to boot. They occurred in strictly optical categories and we do wonder why – for such a high price we should expect an optically perfect instrument after all. We don't like the significant distortion, the large chromatic aberration at the edge of the field and too light background of exit pupils. To tell you the truth binoculars twice cheaper can fare better in these categories.
We can feel slightly dissatisfied even in those categories where the tested instrument gets high scores, like transmission or colour rendition. Let's have a glance at its transmission graph which is presented below.
In the range from 450 to 680 nm the curve is very flat so the binoculars gives you splendid colour fidelity. In this range the transmission amounts to 90 to 92% so rather high for a roof-prism Schmidt-Pechan instrument. The problem is that nowadays such a transmission level can be had buying even much cheaper binoculars, produced not only in Japan but also in China. It's enough to look at the transmission graph of the Vixen New Forest 8x32, tested by us not so long ago, to find out that, although it is almost 10 times cheaper it can compete successfully with the Swarovski here! The expensive Swarovski compared to another cheaper rival, the Steiner Night Hunter XP, fares definitely worse. What's more, its transmission decreases very quickly at extremes of the visible spectrum – such a strong decline hasn't been observed in any of the Swarovski's serious competitor.
What could be written in the summary, then? If you already own this set of binoculars you will enjoy using it for sure because this instrument is very well-made. The question is whether or not it is worth its steep price. It seems to me that we can make a better use of our money if we decide to buy other binoculars of this class - you can certainly find something cheaper and better at the same time.