Steiner Navigator Pro 7x50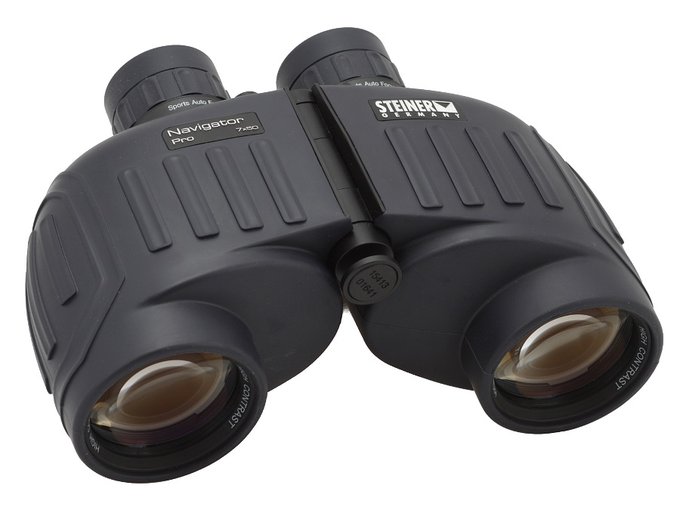 If you are looking for marine binoculars the German Steiner company offers you two specialized series: the cheaper Navigator and the more expensive Commander. In both cases you deal with Porro prism 7x30 and 7x50 instruments, available with or without compass built-in.
In 2014 the Navigator binoculars were superseded by the Navigator Pro models. As the following chart shows it in both models the field of view was enlarged slightly and in the case of the 7x50 device the producer reduced its physical weight. Also the casing and armour was slightly changed along with the quality of sealing (the increase of water-pressure proof from 2 to 5 metres).
Although the Steiner Navigator Pro 7x50 is designed to be used near or on the water it should be emphasized that its parameters make it also a great device for observations in poor lighting conditions (I mean here night hunting, astronomy, forestry and generally observations in the twilight).
The Navigator Pro 7x50 is a huge, solid pair of binoculars with an individual focusing system. It is water-pressure proof down to a depth of five meters and it comes with a 10-year warranty period of the producer. Buyers get in the box: objectives and eyepieces caps, a strap for the binoculars and a case with a separate strap.
Manufacturer data
Magnification
Lens diameter
Angular field of view
Prisms
Eye relief
Weight
Price
7
50
123/1000(7o)
BaK-4/Porro
? mm
1030 g
1699 PLN
Results of the review
Real front lens diameter
Left: 50+/- 0.05 mm
Right: 50+/- 0.05 mm
8 / 8.0 pkt
Real magnification
6.91+/- 0.1x
3/3.0
Transmission
85.5+/- 1%
13/25.0
Chromatic aberration
Very low in the centre, a bit lower than medium on the edge.
8/10.0
Astigmatism
Moderate.
6.5/10.0
Distortion
The distance between the first curved line and the field centre compared to the field of view radius: 71% ± 4%
8/10.0
Coma
Appears in a distance of 75% of the field and is a bit higher than medium on the very edge.
7.3/10.0
Blurring at the edge of the FOV
Blur occurs in a distance of 88% ± 4% from the field of view centre.
7.5/10.0
Darkening at the edge the FOV
Very low.
4.2/5.0
Whiteness of the image
The highest transmission level for green light so the images have greenish cast. For the red light the transmision amounts to 76%. A noticeable loss of blue light.
2.8/5.0
Collimation
Perfect.
5/5.0
Internal reflections

| | |
| --- | --- |
| Left: | Right: |
| | |

Light areas near exit pupils.
2.3/5.0
Housing
A big and solid Porro construction, short but wide. High quality rubber armour but more slippery than in the Commander series. Comfortable to hold in big hands. Rubberized, folded eyecups. Nothing sticks out, nothing comes off. Produced in Germany.
7.8/8.0
Focusing
Individual on both eyepieces. Small ribbed rings, The scale ranges from -5 to +5 dioptres but you can exceed that even by two points.
5/5.0
Tripod
No. In the place of the tripod mount there are stripes for the objective caps.
0/3.0
Interpupilary distance
from 57.5 to 75mm
5/6.0
Closest focusing distance
4.2 metra
1/2.0
Eyepieces FOV
Apparent field of view of 47.6 deg (according to simple formula) and 45.2 deg (according to tangent formula).
3/20.0
Field of view
Measured by us amounted to 6.89 +\- 0.05 degrees and it was by 0.11 of a degree narrower than stated by the producer. A bit too narrow field for this class of equipment.
5/8.0
Quality of the interior of the barrels
Dark tubes, slightly matted. You can't see the bottom, In the left tube minimal amount of specks of dust, in the right a bit more of them.
3.3/5.0
Vignetting

| | |
| --- | --- |
| Left: | Right: |
| | |

OL: 2.30%, OR: 0.63%
6/8.0
Prisms quality
BaK-4 glass prisms but cut near the edges. Slight 'diamonds' visible in one of eyepieces even if you look straight on. They become distinct when you look at an angle. With the exit pupils straight ahead you get: OL: 2.96%, OR: 1.11%
5.5/8.0
Antireflection coatings
Purple –pink on objectives, purple-yellow on eyepieces. Prisms reflect a lot of light so it suggests they are not covered at all.
3.5/5.0
Warranty [years]
10
4.5/6.0
Final result

65.9%

125.2 / 190 pkt
Econo result
0pkt.
Summary
Pros:
very solid, fully sealed casing,
very good correction of chromatic aberration,
negligible distortion,
moderate coma,
sharp image across almost the whole field of view,
low brightness loss on the edge of the field of view.
Cons:
no coatings (or weak coatings) on prisms optical elements,
truncated and darkened exit pupils near the very edge,
interior of the tubes leaves something to be desired.

The previous Navigator 7x50 had let us down a bit so we waited impatiently for the test of the new version of that model. Let's face it, there was a lot of room for improvement and the changes introduced by the producer looked good, at least in theory.
Unfortunately, as shown by our test, little changed. The transmission in the centre of the visible spectrum remains exactly the same as previously, still amounting to 85%. It is not enough for a good class, modern Porro pair of binoculars. It seems either weak prism coatings or the lack of those is to blame. It is a serious flaw. The fact that the loss of blue light seems to be lower than in the case of the predecessor is small comfort even though the colour rendering is indeed better.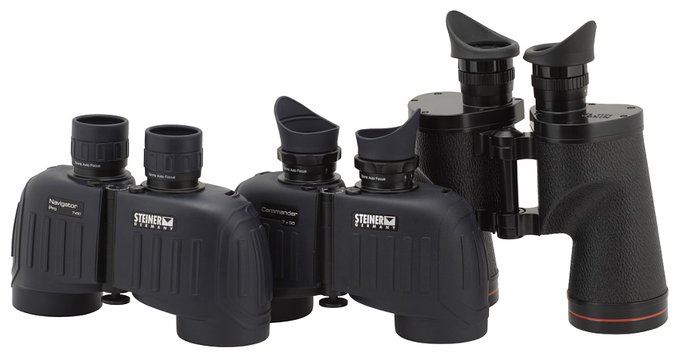 Steiner Navigator Pro 7x50, Steiner Commander 7x50 and Nikon 7x50IF WP SP.

The field of view problem looks a bit silly. In the case of the predecessor it was supposed to be 6.7 degrees but measured by us amounted to 7.0 degrees. When it comes to a new model it is supposed to be 7.0 degrees but it seems it is closer to 6.9 degrees. As you see little changed.
In other testing categories the results of the new model and its predecessor are very much alike. Potential differences stem from measurement errors and the fact that two different specimen never have the same results.
Fortunately you still can say something positive about the Navigator Pro 7x50. For fans of classic Porro devices it is an instrument very pleasing to the eye, comfortable to hold and to look through. While touching it you can feel the superb build quality and the very solid casing; it makes you think this particular pair of binoculars will endure a lot. High endurance and solidity are, after all, one of main assets of Steiner instruments and it seems the Navigator Pro doesn't lag behind in this category.
To sum up, apart from cosmetic changes in the casing the new Navigator Pro almost doesn't differ from its predecessor. The fact that such a renowned producer as Steiner didn't take proper care of the good transmission of their product pains us a lot. Although the final result in our test exceeds 120 points and, as such, is not bad at all, it fits better popular Porro binoculars sold at a different price point, say around 100-200 Euro. The Steiner is about 200 Euro more expensive and here we see its biggest problem.