Nikon Monarch binoculars – practical applications
3. Mid range binoculars: 42 mm objective lenses
You can safely state without going over the top that the 42 mm models, both the older ones and the newer from the Monarch 5 and Monarch 7 series, are the most popular devices in the whole "monarchy" line-up. They are so popular for a reason- the number of their practical applications never ends. They are good for tourists and sailors, they are perfect for bird watchers and hunters. I admit Nikon don't have it easy in these market segments; it is the biggest piece of cake so the competition is fierce, with at least 10 other major companies vying for their share.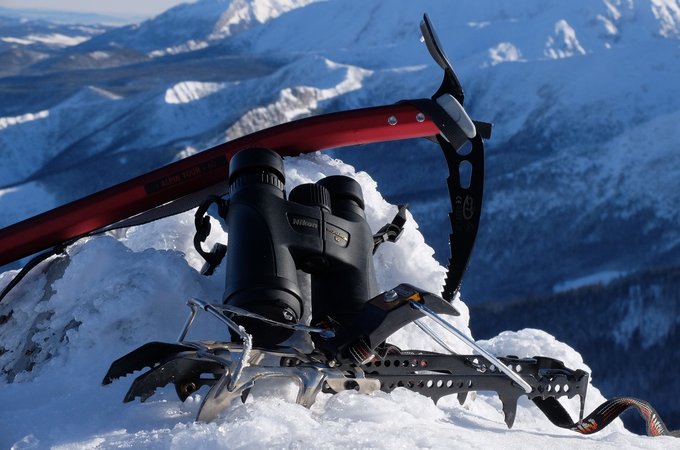 29 December 2016, the Giewont summit; if you are equipped with crampons, an ice axe and a good pair of binoculars your mountain trek must be a success!
Let's return to the mountains. This winter I took the Monarch 7 8x42 with me. I wanted to kill two birds with one stone, so to speak: my pair of binoculars had to be light enough for a mountain trek and fast enough to observe night sky. With a weight of 650 g, a field of view of 8° and an exit pupil of 5.25 mm the Monarch didn't disappoint me in any way. One of the employees of the Tatra National Park said that the Monarch 7 10x42 was a perfect pair of binoculars for field work, like yearly counting of chamois…I am not surprised by that opinion, taking into account the fact that you deal here with a sturdy instrument covered by soft rubber armour, with a wide field of view amounting to 6.7° and its exit pupil of 4.2 mm allows you comfortable observations before dawn and in the dark, when the animals aren't scared by numerous tourists anymore.
The 42 mm Monarchs have been received very well by participants of the Warsaw's Bird Academy. First they were handled during lectures about birds and in spring last year the binoculars were taken to outdoor trips e.g. to the banks of Narew and Biebrza rivers or to the Kozienice Forest. When the participants borrowed binoculars I always asked people wearing glasses whether they suffer from astigmatism. If they said 'yes' I foisted the Monarch 5 on them with premeditation. That pair of binoculars boasts of an enormous eye relief of almost 2 cm, achieved at the expense of a bit limited field of view. For those without astigmatism Monarch 5 instruments seem to be not especially attractive but for those with cylindrical lenses these binoculars are simply irreplaceable.

Please Support Us
If you enjoy our reviews and articles, and you want us to continue our work please, support our website by donating through PayPal. The funds are going to be used for paying our editorial team, renting servers, and equipping our testing studio; only that way we will be able to continue providing you interesting content for free.

- - - - - - - - - - - - - - - - - - R E K L A M A - - - - - - - - - - - - - - - - - -


- - - - - - - - - - - - - - - - - - - - - - - - - - - - - - - - - - - - - - - - - - - - - - - -
As we've already mentioned birds: 42 mm binoculars are perfectly tailored to suit the needs of ornithology fans. An instrument of a bird watcher cannot be too big and too heavy as it would limit their mobility and wouldn't be comfortable to hold. It also cannot be too small because in dense, shadowed forest it might be too dark to distinguish important details. That's why the 8x42 and 10x42 models are perfect. In autumn, during the Nysa Bird Fairs (BirdFair.pl) many bird watchers, professional ornithologists among them, had an opportunity to handle all Monarch 7 series binoculars and, for the first time in Poland, also new Monarch HG models. The new binoculars were met with an enormous amount of interest. In the evening, during an unofficial meeting over a beer, the HG model was the only device circulating from hands to hands. The next day there were practical tests organized at the Nysa Lagoon and many participants praised the Monarchs, comparing them very favourably to the products of rival companies.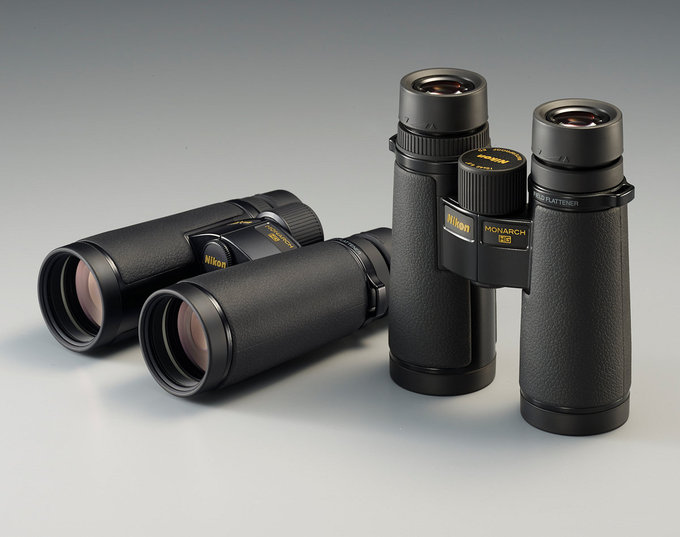 The Nikon Monarch HG family