Leica Ultravid 12x50 HD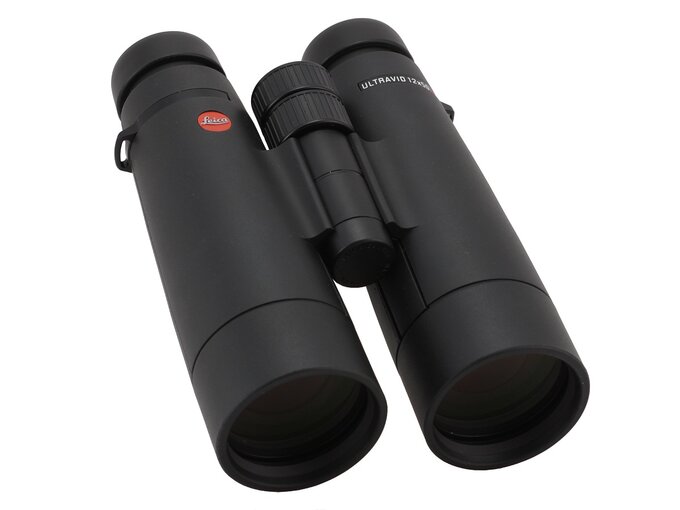 The Ultravid HD series was launched in 2007, superseding the Ultravid series. It consists of roof prism models with objective diameters ranging from 20 to 50 mm. All the binoculars from this series have prisms put in the Schmidt-Pechan system. To ensure high transmission they are covered by dielectric HighLux (HLS) coatings and, additionally, P40 phase coatings.
Compared to the previous version, the producer used fluorite glass in the objective lenses and better antireflection coatings which are supposed to assure the transmission level higher by 3% compared to the predecessor. What's more, the outer optical surfaces were covered by AquaDura coatings which task is to make the water roll off very quickly. These coatings also make the cleaning of optical elements easier – the traces of damp, mud or fingerprints are supposed to be very easy to remove. The 12x50 HD model is also supposed to have the field of view wider by 0.1 degree than a normal Ultravid 12x50. Physically, the Ultravid binoculars are not visibly different from each other, what can be clearly seen in the picture below (the older model is on the left, the HD version – on the right).
The magnesium barrel of the binoculars is covered by soft, matt rubber, which is supposed to guarantee a reliable hold even in difficult conditions. Additionally, it is waterproof down to a depth of 5 meters, and nitrogen-filled. The HD Ultravid devices can be used in the temperature range from –25 to +60░C.
The buyers get a neoprene strap, a Cordura case, a rain guard and caps for objective lenses in the box. The binoculars also come with a 10-year-long guarantee period.
Manufacturer data
Magnification
Lens diameter
Angular field of view
Prisms
Eye relief
Weight
Price
12
50
100/1000(5.7o)
BaK-4/roof
13 mm
1000 g
9990 PLN
Results of the review
Real front lens diameter
Left: 50.08+/- 0.05 mm
Right: 50.06+/- 0.05 mm
8 / 8.0 pkt
Real magnification
12.09+/- 0.05x
3/3.0
Transmission
87.5+/- 1%
15/25.0
Chromatic aberration
Very low in the centre, average on the edge.
7.5/10.0
Astigmatism
A sensation – practically point-like images of stars.
9.6/10.0
Distortion
The distance of the first curved line from the filed centre compared to the field of vision radius: 39% ± 4%
4/10.0
Coma
Appears in a distance of 75-80% of the field of view radius and is medium on the very edge.
8/10.0
Blurring at the edge of the FOV
The blur occurs in a distance of 85% ± 3% from the field of view centre.
7/10.0
Darkening at the edge the FOV
Moderate.
3.9/5.0
Whiteness of the image
The transmission curve is a bit slanted, with the highest values for orange so images are tinted orange a bit. Mind you, that effect is not especially pronounced.
4/5.0
Collimation
Perfect.
5/5.0
Internal reflections

| | |
| --- | --- |
| Left: | Right: |
| | |

Every producer should take a leaf out of Leica's book when it comes to areas close to exit pupils – they are as perfect as actually possible.
4.8/5.0
Housing
Stylish and relatively shapley for the 12x50 class. Good quality rubber padding, smooth and matt, which sticks well to your hand despite the lack of texture. Thumb indents allow you a firmer grip. Rubber adheres well to the chassis of the binoculars and doesn't stick out in any place. Rubberized and properly profiled eyecups are a joy to use. Produced in Germany.
8/8.0
Focusing
Comfortable and big central wheel (its full turn amounts to about 450 degrees) moves smoothly and is properly damped. A click-stop mechanism, positioned on the central wheel, is responsible for individual focusing. Nothing moves outside.
5/5.0
Tripod
Optional tripod adapter.
2/3.0
Interpupilary distance
from 58.6 to 75.7mm
5/6.0
Closest focusing distance
3.05 meters.
2/2.0
Eyepieces FOV
Apparent field of view of 69.5 deg (according to simplified formula) and 62.5 deg (according to tangent formula).
15.5/20.0
Field of view
Measured by us amounted to 5.75 +/- 0.03 deg and was in accordance with official specifications. A wide field for such an equipment class.
7.5/8.0
Quality of the interior of the barrels
Inner tubes are black, dark and matted, with a lot of apertures. The bottom is dark and matt. Very clean!
5/5.0
Vignetting

| | |
| --- | --- |
| Left: | Right: |
| | |

OL: 0.59%, OR: 0.52%.
7/8.0
Prisms quality
High quality BaK-4.
5/8.0
Antireflection coatings
Green-yellow-dark blue on objective lenses, purple-green on the prisms, orange-green-yellow-purple on eyepieces. Low intensity.
5/5.0
Warranty [years]
10
4.5/6.0
Final result

79.6%

151.3 / 190 pkt
Econo result
0pkt.
Summary
Pros:
solid and comfortable casing,
wide field of view,
quite good correction of chromatic aberration,
negligible astigmatism,
slight coma,
not especially bothersome brightness loss on the edge of the field,
good performance against bright light, negligible glare,
very good blackening inside the tubes,
more or less circular exit pupils,
high quality coatings and prisms.
Cons:
a tad too high distortion level.
Hubertus Pro Hunting, the distributor of Leica sport optic products n Poland, unfortunately has been ignoring our requests concerning Leica binoculars we wished to test. This time the situation didn't change – our request to take part in the 12x50 instruments test was left unanswered.
Still where's the will there's a way: I contacted the 6x7 shop, also a distributor of Leica products in our country, and the managers were able to rise to the occasion – we got instruments for testing in the last possible moment. As we lacked time and different companies still experienced stock shortages caused by the Covid-19 pandemic, we decided to test the Ultravid HD series binoculars, as it was available, not the harder-to-get Ultravid HD+ one.
It's worth remembering that the newest HD+ model features the same optical system as its predecessors; it differs in Schott HT glass elements with higher transmission in the blue part of the visible spectrum. You can assume that the HD+ binoculars show distincly higher purple and blue light transmission and slightly higher transmission level in the centre of the spectrum. As a result their colour rendering might be improved too.
I think the HD+ model would get in our test a result by 2-3 points higher than the HD device we test here. Perhaps we will be able to check that in the future.
The Leica Ultravid 12x50 HD didn't surprise us with its result, as it was very similar to results of other models from this series, namely the 10x42, and the 10x50 tested previously.
Despite the fact that you deal here with an optical system designed almost 30 years ago the performance of the binoculars is practically flawless, completely able to defeat many direct rivals. Still, when you stack it up against an equally renowned competitor, the Swarovski EL Swarovision, its task becomes very difficult. Swarovski offers a much newer pair of binoculars, designed a bit over 10 year ago, and the age difference is really visible, especially on the edge of the field. The Swarovski instrument is able to offer you a higher image quality with preserving the same size of the field and its eye relief distance is definitely more comfortable.
The Swarovski EL prevails also when it comes to colour rendering but you have to remember the fact that, if you had compared it to the HD+ model, the difference could have been far smaller.
To sum up the Leica Ultravid 12x50 HD is an excellent pair of binoculars, practically devoid of any flaws. Still, when it comes to the premium segment, every nuance counts and in that area we think the Swarovski fares a tad better. I suppose, after three decades of their market careeer a brand new set of 50 mm binoculars should be taken into account – they would allow Leica to soar to a new optical level, reserved for the top of the top. Anyway it would profit both Leica and all fans of binoculars, their potential customers – and I wish it with all my heart.