Swarovski EL 12x50 Swarovision
In 2009 the most expensive, top-of-the-range binoculars series of Swarovski celebrated 10th anniversary of their launch. Marked as EL instruments, the series consisted of four roof prism models with the following parameters: 8×32, 10×32, 8.5×42, and 10×42.
The Swarovski company decided that such a round anniversary deserved refreshing the binoculars a bit. In October 2009 they informed that two new Swarovski EL Swarovison models, the 8.5×42, and the 10×42, were going to be introduced to the market. What's interesting, they decided to leave the 32 mm instruments in peace for some time and they launched brand new 50 mm binoculars instead. As a result in January 2011 we were shown the 10×50 and 12×50 Swarovski EL Swarovision and only in January 2012 new versions of the 8×32 and the10×32 models were launched as well, ending the whole operation.
In July 2015 the producers revamped the design of the series a bit again, adding, among other things, a strap connector with a bayonet catch, hinged objective lens covers, a new, structured rubber armour and also new focusing wheels, with strengthened surface and excellent anti-slip properties. Perhaps also antireflection coatings were improved as well but overall optical construction remained unchanged.
The company also boasts of objective lenses based on fluorite glass, wide angle eyepieces with field flattener lenses, and a field that is even larger than before. Combine it with top-of-the-range SWAROBRIGHT, SWAROTOP, and SWARODUR coatings and you get bright images that are sharp in every detail due to maximized transmission of the instrument. The non-stick SWAROCLEAN coating on the outer surfaces of eyepieces and objectives means considerably easier cleaning.
Buyers get in the box with the binoculars: a case, a strap, a set of caps and a digiscoping adapter. The binoculars come with a 10-year warranty period.
Manufacturer data
Magnification
Lens diameter
Angular field of view
Prisms
Eye relief
Weight
Price
12
50
100/1000(5.7o)
BaK-4/roof
19 mm
998 g
11200 PLN
Results of the review
Real front lens diameter
Left: 50.11+/- 0.05 mm
Right: 50.12+/- 0.05 mm
8 / 8.0 pkt
Real magnification
11.97+/- 0.05x
3/3.0
Transmission
90.1+/- 1%
18/25.0
Chromatic aberration
Practically imperceptible in the centre, a bit higher than medium on the edge.
7.3/10.0
Astigmatism
Almost point-like images of stars. As close to perfection as you can get.
9.1/10.0
Distortion
The distance of the first curved line from the field centre compared to the field of view radius: 93% ±3%
10/10.0
Coma
Starts in a distance of 80-85% of field of view radius and is low on the very edge.
8.5/10.0
Blurring at the edge of the FOV
Sharp field practically up to the very edge.
10/10.0
Darkening at the edge the FOV
Practically zero.
4.8/5.0
Whiteness of the image
Crystal clear image without any colour fringing. The transmission curve has a slight dip in the centre of the visible spectrum.
4.9/5.0
Collimation
Perfect.
5/5.0
Internal reflections

| | |
| --- | --- |
| Left: | Right: |
| | |

lightly brighter area near the exit pupil.
3.7/5.0
Housing
Solid and very stylish. Excellent design. Very comfortable to hold and to look through (with thumb indents ensuring you a better grip). The rubber armour is a bit rough helping you to handle the instrument safely. Regulated eyecups with 4 click-stops. During our test both objective cap hinges broke down. Produced in Austria.
7/8.0
Focusing
Comfortable, big central wheel with full working range of as much as 730 degrees – a bit too much. It is sufficiently damped down and easy to turn. Individual focusing done through a click-stop mechanism positioned on the central wheel. Nothing moves outside.
5/5.0
Tripod
An optional brand-name adapter should be bought separately.
2/3.0
Interpupilary distance
from 55.2 to 74mm
5/6.0
Closest focusing distance
2.90 meters.
2/2.0
Eyepieces FOV
Apparent field of view amounts to 68.5 degrees (according to simplified formula) and 61.8 degrees (according to tangent formula).
15/20.0
Field of view
Measured by us amounted to 5.72 ± 0.04 degrees and was in perfect accordance with official specifications. A very wide field for this class of equipment.
7.5/8.0
Quality of the interior of the barrels
Black and matt tubes with a lot of ribs. Dark bottom. Very clean.
4.8/5.0
Vignetting

| | |
| --- | --- |
| Left: | Right: |
| | |

OL: 0.23%, OR: 0.53%
7.5/8.0
Prisms quality
High quality BaK-4.
8/8.0
Antireflection coatings
Pink-yellow-green on objectives. Yellowish-green on prisms. Green-yellow-pink on eyepieces. Low intensity.
5/5.0
Warranty [years]
10
4.5/6.0
Final result

87.2%

165.6 / 190 pkt
Econo result
0pkt.
Summary
Pros:
solid, very stylish casing of excellent qualiity,
high transmission in the whole visible spectrum,
excellent correction of astigmatism,
negligible distortion,
very low coma,
imperceptible chromatic aberration in the field centre,
clear and sharp images practically till the very edge of the field,
negligible brightness loss on the edge of the field,
sensational colour rendering,
wide field of view,
perfect blackening inside the tubes,
high quality prisms and coatings.
Cons:
chromatic aberration on the very edge of the field of view could have been a tad lower,
during our test both objective cap hinges broke down.
Our summary should be rather short because the final score of the tested binoculars leaves nothing to add. Among all EL Swarovison binoculars, tested by us so far, the 12x50 model got the highest number of points. Partially it might be caused by the fact that you deal here with the newest product, with improved coatings among other things. We are pretty much aware that Swarovski have been improving their coatings all the time even though they never inform officially about introducing newer versions.
Still the transmission graph, shown above, is the proof that antireflection coatings of the EL 12x50 model are excellent indeed. Not only the instrument can exceed a level of 90% in the wide range of the spectrum but also the graph is very flat, providing fantastic colour rendition.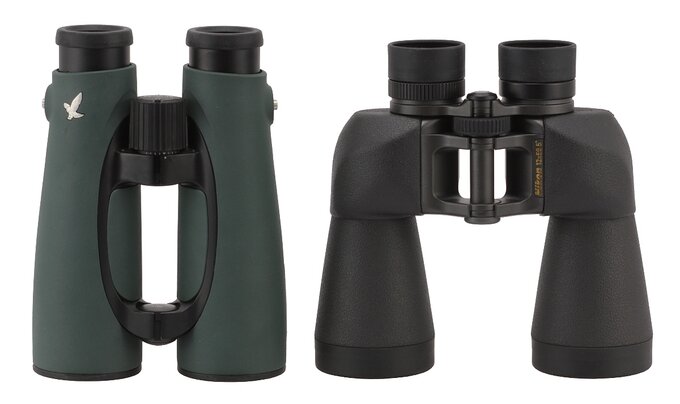 Swarovski EL Swarovision 12x50 and Nikon SE 12x50 CF.
You also should emphasize the fact that, out of the whole EL Swarovision series, the 10x32 and the 12x50 models had the most difficult task before them because they feature eyepieces with the widest field of view. Despite the standards set so high, the tested pair of binoculars managed to provide excellent sharpness even on the edge of such a wide field of view, limiting efficiently coma, distortion and brightness loss. In fact, only when it comes to chromatic aberration, visible very slightly but still, we could express any reservations at all.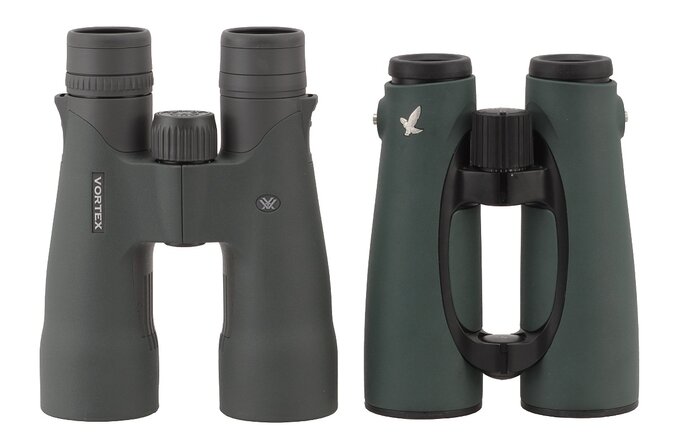 Vortex Razor UHD 12x50 i Swarovski EL Swarovision 12x50.
Finally I admit I got a bit annoyed because of these wretched cap hinges that broke down during our not especially long test. Nobody pulled them in purpose or tried their resistance in any way. After another handling of the binoculars one of the caps fell on the table – just like that. After 2-3 weeks the second cap followed suit. At this price point we consider it a real slip-up; the problem with cap hinges has been reported by EL Swarovision users for some time now. Such a reputable and renowned company should have thought of a better, more durable solution. Many cheaper pairs of binoculars can deal with such an issue better; it reflexes very poorly on Swarovski Optik that they still sell binoculars flawed by such a shortcoming.
Still let's forget about these flawed caps for a moment because the rest is as close to perfection as you can wish. The binoculars are a joy to use and few other optical instruments can match them, by providing such crystal-clear image quality across such a wide field of view, corrected perfectly up to the image periphery.